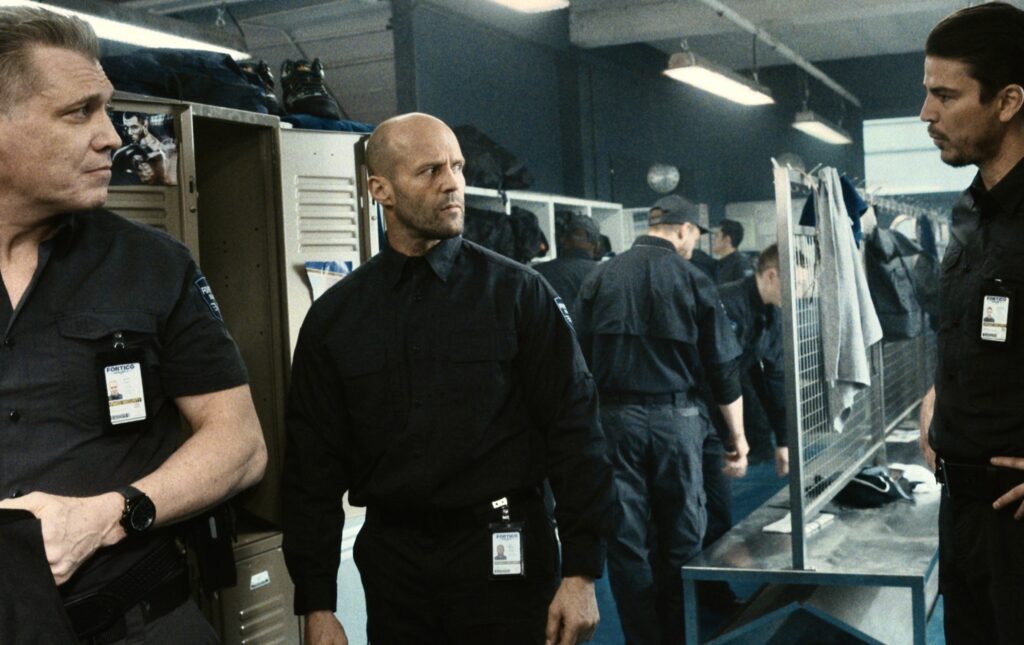 "If he's not a cop, what is he?" That's the question of the day at Fortico Securities, an armored truck company, as the staff of guards wonders aloud about a new employee. Team player? Rogue?
It's been 27 years since the very sly British director Guy Ritchie and perennial tough-guy actor Jason Statham marked their impressive screen debuts in the snarky, violent hit Lock, Stock and Two Smoking Barrels. Fans have good reason to be happy that the two blokes are back together again. They may be less enthusiastic about the movie.
This L.A.-set crime/action/thriller is based on the 2004 French film Le Convoyeur. The English translation of that title is Cash Truck, which gives the premise away. The two writers of the original movie, Eric Besnard and Nicolas Boukhrief, are listed as co-writers on this one, but anyone who knows Ritchie's career can detect his swag. He's far more than just the third screenwriter. He's it.
An armored truck filled with money is ambushed, as a cement truck driven by robbers blocks its path. The security guards are killed and innocent folk too. Shortly after that, Patrick "H" Hill (Statham) shows up at Fortico looking for work. The very affable supervisor Bullet (Holt McCallany, Mindhunter) mentors H and hooks him up with a dimwitted partner named Boy Sweat Dave (Josh Hartnett, Black Hawk Down). On their first mission, crooks, led by a real dolt (rapper Post Malone), try to rob their vehicle. Dave cowers. H, who barely passed his driving and firearm tests, takes charge shooting and killing the adversaries like he's a trained assassin. Who knew?
The seemingly unpredictable carnage may have fooled those not in the know. But Statham devotees could easily discern that H was sandbagging his co-workers. He's the alpha. He doesn't play, he dominates.
As the story unravels, typical Guy Ritchie plot devices emerge. Crooked people are exposed. Cursing and trash talk fill the air. Guys have weird names (Moggy, Hollow Bob). Herds of thugs roam like packs of dogs: Bullet has his armed guards. H has a gang. A devious man named Jackson (Jeffrey Donovan, TV's Burn Notice) directs a troop of ex-militia robbers. Even for a Ritchie crime/thriller, which rarely features females in lead roles, there are a whole lot of guys on screen: Andy Garcia, Laz Alonso, Babs Olusanmokun, Cameron Jack, Darrell D'Silva… So many it is hard to keep track of who's who. 
Ritchie's first film Lock… and his second film Snatch established him as a filmmaker with an ultra-cool bravura. Short, jumbled scenes. Lots of violence. Cheeky dialogue. Young actors on their way to bigger roles. Cool clothes. The hippest musical score and playlists. Ingenious camerawork. It's a flare so specific, fun and modish that other directors mimicked it. But none get it right. And now, with a dull LA setting, a jumbled inconsequential revenge storyline and no dazzling gunfights, it's like he's forgotten who he is. He's Guy Ritchie damn it. He should act like it.
The cast is functional—only Statham stands out. The one female supporting role of note is an employee played by Niamh Algar (Raised by Wolves). You'd think, given the scarcity of estrogen on the screen, that she might have been given a juicy pivotal role. She has not, and it's a missed opportunity.
Why didn't the soundtrack feature the latest rap, hip-hop or heavy metal music instead of a draconian musical score (Christopher Benstead, Aladdin)? Why did the camera boringly stay in one spot in the back of the truck during the first heist (cinematographer Alan Stewart, Aladdin)? None of the sets stand out (production designer Martyn John). The clothes are decent, but when you consider that costume designer Stephanie Collie worked on the gangster series Peaky Blinders, these threads don't match those. The deft editing (James Herbert, Aladdin) can't cover up a blemished plotline and awkward time jumps.
Ritchie is either off his game a tad, or his decision to play things down is a mistake. Nothing is as clever as it could be. The violence on display is not as balletic as that in the John Wick movies. The gunfights aren't as raw and nasty as those in the recent thriller Nobody. And that film's lead, Bob Odenkirk, sweats more testosterone than Statham. How did that happen?
Fans of revenge films may be satiated. Fans of Ritchie and Statham may shrug their shoulders and reminiscent about the old days when two young Brits amassed a cult following by being brash and innovative.
Trailer: https://www.youtube.com/watch?v=my4eXuV0MbI
In theaters May 7th.
Visit NNPA News Wire Film Critic Dwight Brown at DwightBrownInk.com and BlackPressUSA.com.