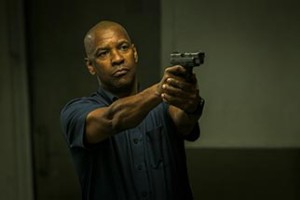 By Dwight Brown NNPA Film Critic
The last time they worked together, Denzel Washington and director Antoine Fuqua conjured up Training Day. That collaboration won Washington an Academy Award for Best Actor, and it was the only time in Oscar history that a black man won Best Actor in a film by a black director. Now, the successful duo goes back to the well once more for another powerful and violent movie. Do they yield the same results?
This film adaptation is based somewhat on the 1980s TV series The Equalizer. Screenwriter Richard Wenk, who wrote The Mechanic that starred Jason Statham, doesn't dig very deep. On his side is a universal premise that bad deeds should be avenged and someone, a hero or antihero, should be the avenger. Wenk doesn't take that enticing notion anywhere. His pedigree doesn't lead one to believe he can add more than two dimensions to any character or think beyond a formulaic screenplay. And he doesn't.
Robert McCall (Washington) is a man with a secret past who works in a Boston hardware store (think Home Depot). There are inklings that the robust worker with the sarcastic sense of humor is more than just employee of the month. He's helping a fellow portly co-worker lose weight so he can get a better job, which is a relatively innocent endeavor. The store gets robbed while McCall stands by the cash register. A crying cashier has her wedding ring stolen by the robber. Miraculously she finds it in her cash register the next day. Magic? No. McCall? Yes.
When McCall sees people being wronged, he secretly fixes their problems, often brutally. He has to up his game when he notices Teri (Chloë Grace Moretz, The Amityville Horror), a fellow customer in his favorite diner, is in distress. She's a prostitute who is having problems with her pimp (Marton Csokas). McCall, the equalizer, steps into action again, only his power is tested when he goes up against the Russian mob and a crooked cop (David Harbour).
Fuqua is great at choreographing gruesome, highly kinetic crime scenes that add tension and dread. He did it in Training Day, Brooklyn's Finest and The Replacement Killers. That cacophony of violence is on view here and it escalates into a final action sequence in the hardware store. That's when the film sinks into predictable B-movie territory and the one-note shallow lead character, predictable script and a lack of originality crescendo into a heap of violent nothingness.
This would be no more than a standard issue crime/action/thriller except Washington is such a strong actor you want to watch his performance until he is through rendering it. He holds down the screen with sheer vibrato. Supporting actors like Melissa Leo and Bill Pullman are decent, but it's Washington's movie.
Training Day left you emotionally paralyzed. This paint-by-numbers film, though powerful when you watch it, largely thanks to its lead actor, has no lasting emotional affect. None.
Visit NNPA Syndication Film Critic Dwight Brown at DwightBrownInk.com