Traveling to South Florida for a concert, sporting event, dance performance or show gets even better when you add dining, drinking and delectable desserts to the trip.
These exciting shows, fests, tourneys and welcoming venues beckon. These great restaurants are holding a table for you. To join the fun and visit Miami, Hollywood and Delray Beach just check out the places, buy a ticket, book a reservation and pack your bags.
Watch the Miami Heat play ball and eat the finest Mediterranean cuisine.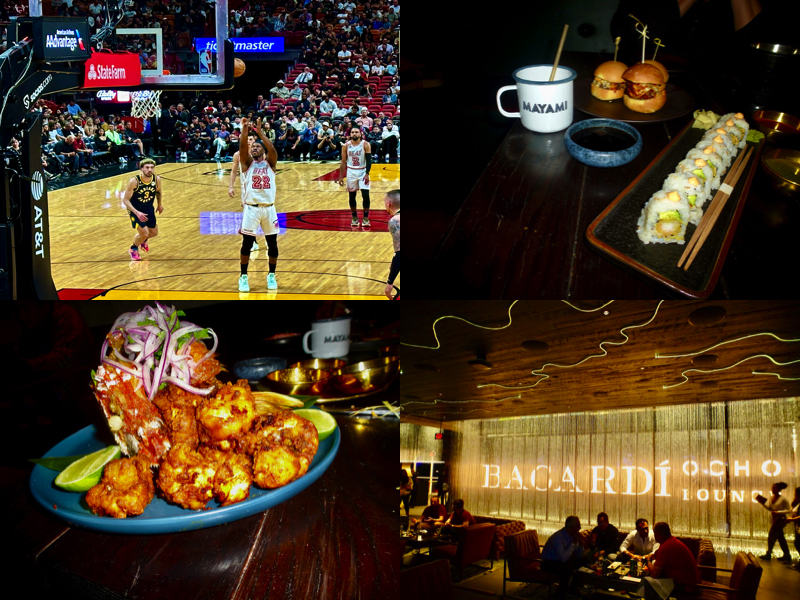 The three-time NBA championship Miami HEAT basketball team calls the downtown Miami-Dade Arena home and plays October to April. Join fans in the 19,600-seat arena as they roar every time a Heat's player makes a three-pointer. This is the house that Shaquille O'Neal and Dwyane Wade built. The one that Tyler Herro and Jimmy Butler play in. The in-crowd meets and greets in the plush Bacardí Ocho Lounge or the chic VIPish Courtside Club. The "Straight Jokes No Chaser Comedy Tour," with D.L. Hugely, and Madonna and Sam Smith concerts are coming to M-DA.
Lovers of Mediterranean food head to Wynwood, Miami's hippiest neighborhood, to dine at Mayami Wynwood. The friendly staff and party vibe attract foodies who eat and admire the aerialists, fire dancers, top DJs and live music that rock the house.
Suggestions: 1). Mayami Beer. 2.) Oysters on the Half Dozen. 3.) Alambre de Filet Mignon Taco Bowl or the crunchy, delectable Crispy Snapper.
See Broadway musicals and ballets at the Adrienne Arsht Center. Eat classic Cuban Food on Lincoln Road.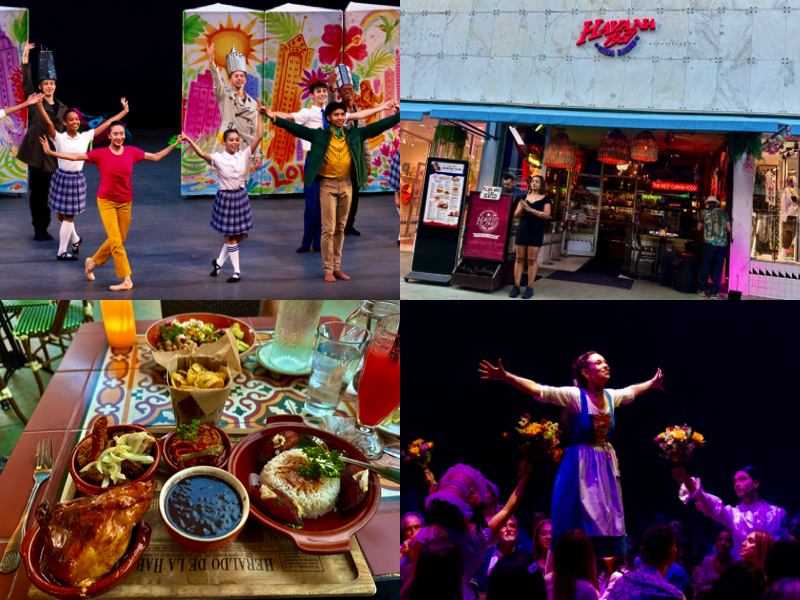 Adrienne Arsht Center for the Performing Arts of Miami-Dade County contains three performing arts venues. Dance lovers frequent the Sanford and Dolores Ziff Ballet Opera House for performances like the spirited, kids-oriented "Rita Finds Home," presented by the Miami City Ballet and shows like Wicked. The John S and James L. Knight Concert Hall features signature series from Jazz Roots to Free Gospel Sundays. Innovative theater comes alive at Carnival Studio Theater, where a recent immersion version of Beauty and the Beast was pure magic.
Eating at the Havana 1957 Cuban restaurant on scenic Lincoln Road means you can people watch and experience tasty Cuban comfort food simultaneously. The '50s Cuban décor is as alluring as the 150+ varieties of rum at the Mojito Bar.
Suggestions: 1.) Hatuey Cuban Beer 2.) Corn Tamal.3.) Cuban Sampler: Succulent Chicken, Ropa Vieja and Lechón – with rice beans and plantains.
Experience the glory of Cuban ballet and feast on exquisite Asian fusion food at the elegant Setai.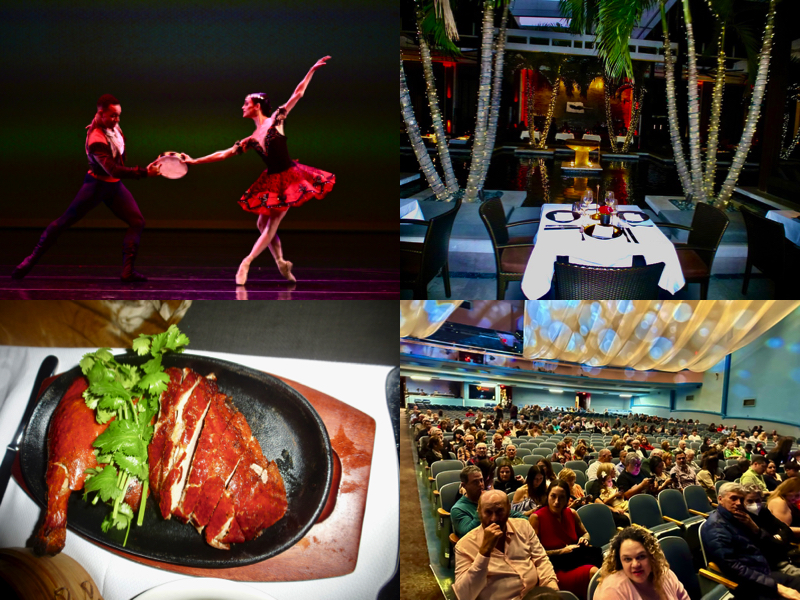 Before the modern Adrienne Arsht Center existed, performing arts enthusiasts came to the historic Miami-Dade County Auditorium in the Cuban neighborhood of Little Havana. Audiences can spend a night with the very talented Cuban Classical Ballet of Miami, or Korea's Bereishit Dance Company or with romantic vocalists Julio Gutiérrez and Cachita Lopez. The diverse programming over 70 years has featured performances by Marian Anderson, Luciano Pavarotti and Celia Cruz.
Jaya at The Setai Miami Beach hotel attracts sophisticated diners who love Southeast/Northeast Asian cuisine. The gorgeous indoor/outdoor dining room is centered around a shallow pool where small lights strung on trees reflect in the water like jewels. When only the best will do, dine at Jaya.
Suggestions: 1.) Setai Sunset Martini. 2.) Caspian Sea Classic Ossetra Cavier. 3.) Tasty Peking Duck or succulent Lamb Chops 4.) Coconut Sticky Rice Pudding.
See big-star concerts at Seminole Hard Rock Hotel & Casino Hollywood and indulge at Abiaka Wood Fire Grill.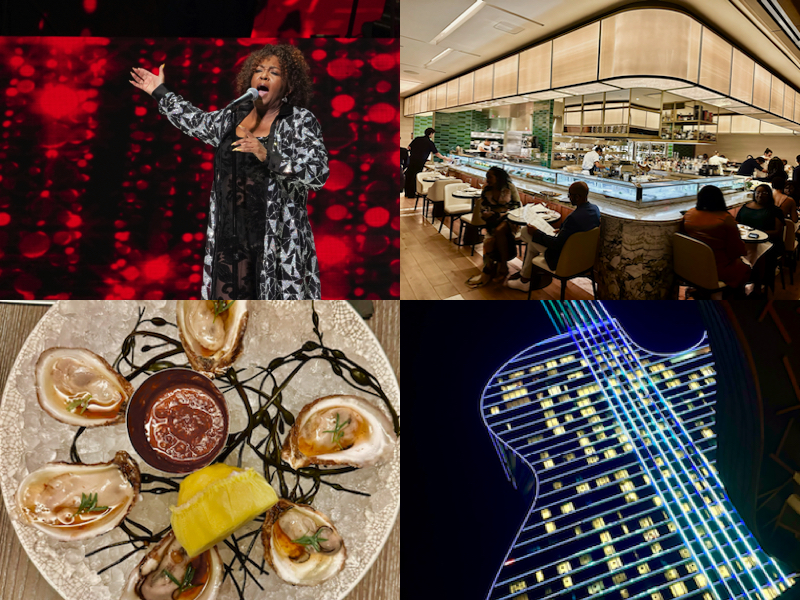 Gamblers, vacationers and music lovers gather at Seminole Hard Rock Hotel & Casino Hollywood for live concerts, great food and dreams of striking it rich. Hard Rock Live is the hotel's 7000-person capacity venue where Anita Baker and Bruce Springsteen had fans dancing in the aisles. Future shows by Janet Jackson, Katt Williams and Tom Jones attest to the variety and star power on stage. And you can even count your gambling winnings as you sit by Florida's largest outdoor pool.
Pull up a chair at the hotel's Abiaka Wood Fire Grill for a tasty sit-down meal. Orangewood and White Oak charcoal add natural flavors to locally sourced fresh meats and seafood. Pair any of 100 wines with a meal you'll remember.
Suggestions: 1.) Dade Cocktail. 2.) Fish Fry appetizer. 3.) Seared Scallops. 4.) The Cornbread Pudding with Berry Compote is worthy of its reputation.
Watch world-class tennis players and join folks at a friendly farm-to-table restaurant.
Tennis fans come to the annual Delray Beach Open, where ATP players vie for singles and doubles titles. Frances Tiafoe won his first tour tournament here. Christopher Eubanks and Australian Open quarterfinalist Ben Shelton played this year. The event is big enough to attract the best athletes, small enough for fans to meet the pros. DBO is a well-respected tune-up event for the famous Miami Open, which is run by James Blake.
Delray Beach's popular shores, streets and restaurants attract locals and tourists—especially on Sundays. In fact, brunch time is a great time to eat at Gary Rack's Farmhouse Kitchen, which honors the environment and supports local purveyors.
Suggestions: 1.) FHK Breakfast (new potato fries, eggs, chicken sausage, toast) 2.) Mushroom Tacos. 3.) Nut and Seed Crusted Chicken with Side Apple-Kale Slaw.
Commune with thousands of jazz and soul music fans and experience luxurious old-world Italian dining too.
Jazz, R&B, gospel and neo-soul enliven the Jazz in the Gardens music fest at the Hard Rock Stadium in Miami Gardens. An Opening Night Party, a Women's Impact Luncheon and Saturday and Sunday concerts make everyone smile. Mary J. Blige, H.E.R. and the Isley Brothers have rocked this fest. This year, Jill Scott and El DeBarge (old school), Ari Lennox (new school), Erykah Baduh (experimental R&B), Chandler Moore (contemporary worship) and Charlie Wilson (hip-hop funk) continue that mellow vibe.
Il Mulino New York – Miami is the classiest restaurant in Sunny Isles and is located on the first floor of the elegant Acqualina Resort and Residence on the Beach. The swankest diners treasure the venerable Italian atmosphere and breathtaking views of the pool and Atlantic Ocean. Top notch service from a bygone era. High quality cuisine.
Suggestions: 1.) Veuve Clicquot, Rose. 2.) Rigatoni Alla Bolognese. 3.) Veal Scallopini Al Marsala. 4.) The restaurant's homemade after-dinner drink, Grappa is divine!

Come to South Florida for the sporting events, shows and concerts and stay for dinner!