Sundance 2021 attracted films from all over the world. Many telling stories we could relate to. Many telling stories that astonished us. From thrillers to feminist homages, dramas to car trip movies they came from all corners of the globe. All had something important to say. Some won awards.
These films will find their way to art houses near you or streaming services beamed into your living rooms.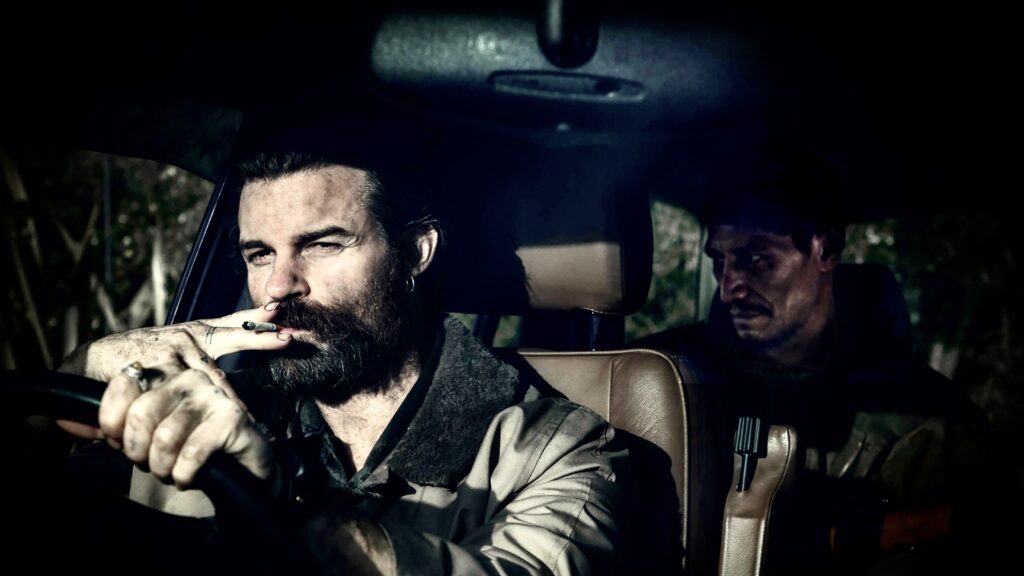 Coming Home in the Dark (***)
Thinking about a family hiking trip? You might forgo that after being scared to death by this relentless thriller, which pulls every ounce of hope out of its protagonists in the first 15 minutes. The setting is the New Zealand wilderness. Mom (Miriama McDowell) and dad (Erik Thomson) with their teenage sons (Billy Paratene and Frankie Paratene) have stopped to catch their breath in the middle of nowhere surrounded by scenic mountains. Two heartless thugs, Mandrake (Daniel Gillies) and Tubs (Matthias Luafutu), approach them. The family's nightmare starts with a robbery, descends into murder and escalates into kidnapping and carnage. When the couple lets a car pass without yelling for help, Mandrake utters some heart-stopping words: "… this will be the moment you'd wished you'd done something." Mental cruelty. Memories of child abuse. Unhinged, inescapable violence. Stomach churning gore. Fans of the midnight movie genre will be floored by writer/director James Ashcroft's sensibilities. Repulsive to view, but you can't take your eyes away until the footage bleeds its way to the finale.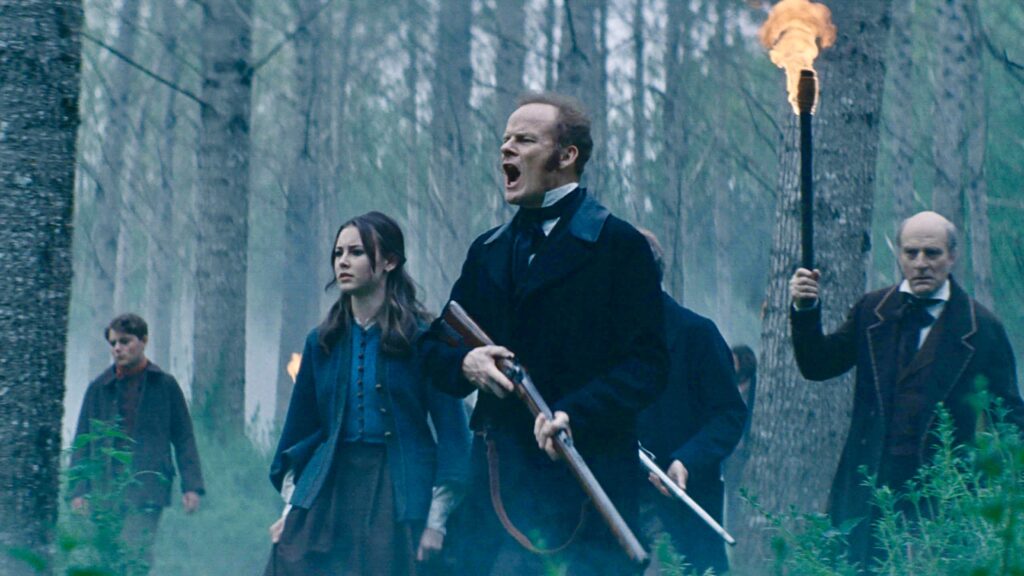 Eight for Silver (***)
Nothing ruffles the life of Seamus Laurent (Alistair Petrie) more than the curse a gypsy woman put on his land. In the1880s, the brutal land baron hired mercenaries to kill her clan who claimed they were the rightful owners of his property. Now his family is being haunted by her ghost and a monster that chomps on throats. A visiting pathologist, John McBride (Boyd Holbrook), hunts the beast. This is not your average Gothic werewolf film. This one has classy production elements, builds intense suspense and features strong performances. Writer-director Sean Ellis lays on the foggy woods atmosphere, creep around the corner nervousness and merciless bloodletting just thick enough to keep viewers intrigued for 1hr 53 min. If there's a flaw, it's in the main attraction. The creature looks way too sci-fi, when it should have been just skin and fur. Target audience will focus on the fear and fight for life angles. The kind that will scare the bejeezus out of them.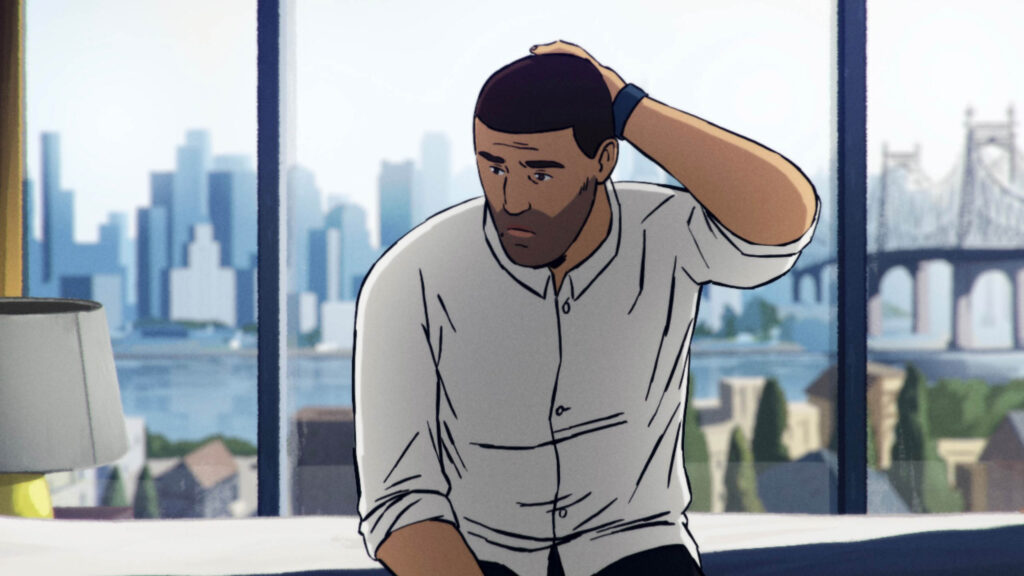 Flee (***1/2)
World Cinema Grand Jury Prize: Documentary
What's it like to be an adolescent immigrant all alone in a new country—and gay? Audiences don't have to wonder. This hybrid documentary mix of hand-drawn animation and archival footage reveals all. Filmmaker Jonas Poher Rasmussen tracks the traumatic life of Amin (pseudonym), who fled Afghanistan as a boy with his mother and siblings, was marooned in Moscow and eventually sought and received asylum in Denmark, by himself. Interviewer to the refugee who is now an adult: "What is home to you?" Amin: "It's somewhere not temporary." That seems pretty basic, unless you've lived your life running from war and tyranny. Many traumatic moments on view from being entombed on a flimsy human smuggling boat in the Baltic Ocean, to getting robbed by Moscow police and trying to sort out sexuality after a strict conservative upbringing. It's no wonder the very naive Amin asks a Danish counselor for medicine to cure his homosexuality. He doesn't know any better. For him, truth and lies are constructs that enabled him to survive. And his vivid recollections trace a horrific immigrant backstory, one that is both unique and all too common. Innovative doc filmmaking. Impressive visuals. A very personal and harrowing story laid bare.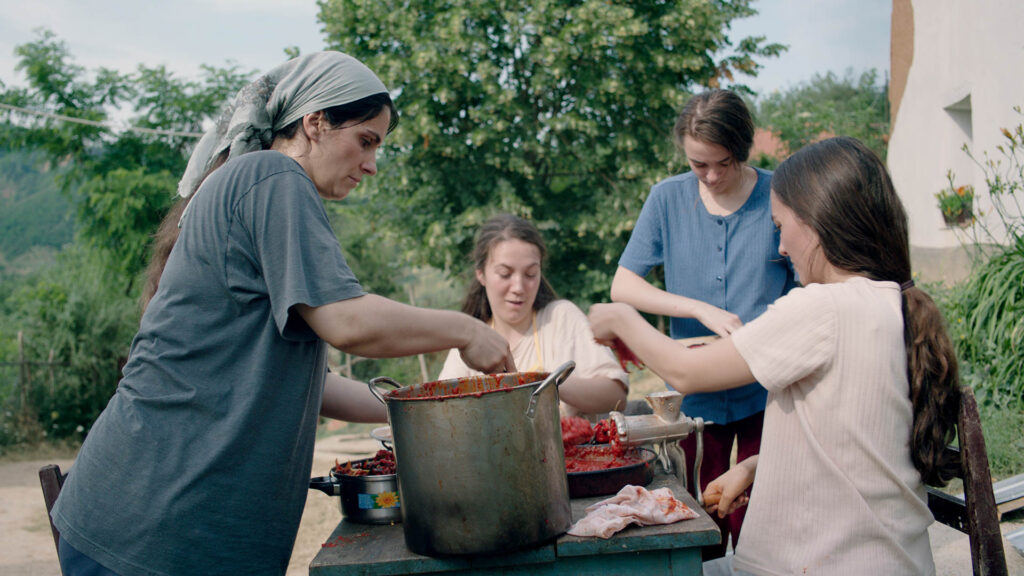 Hive (***)
Audience Award: World Cinema Dramatic
World Cinema Grand Jury Prize: Dramatic
Directing Award: World Cinema Dramatic
In the midst of armed conflict, the most basic needs become desperate life-threatening problems. Such is the case for wife and mother Fahrije (Yllka Gashi) during the Kosovo War, when her husband goes missing and she must provide for her family. Her idea is to start a female cooperative that will make homemade ajvar (red bell pepper condiment) to sell in street markets and a local grocery store. She'd done something similar before with the honey from the beehives on her land. But Fahrije miscalculates the depth of resentment the men in her patriarchal village will rain on her. They expect her to obey and not show entrepreneurial tendencies. With just her first film, writer/director Blerta Basholli creates an empowering feminist story that is both perilous and encouraging. Fahrije, deftly played by Gashi, faces sexual abuse, scorn and vandalism –and still tries to prevail. Very simple grassroots-looking filmmaking makes what's on view all the more realistic. A fact-based allegory guaranteed to inspire.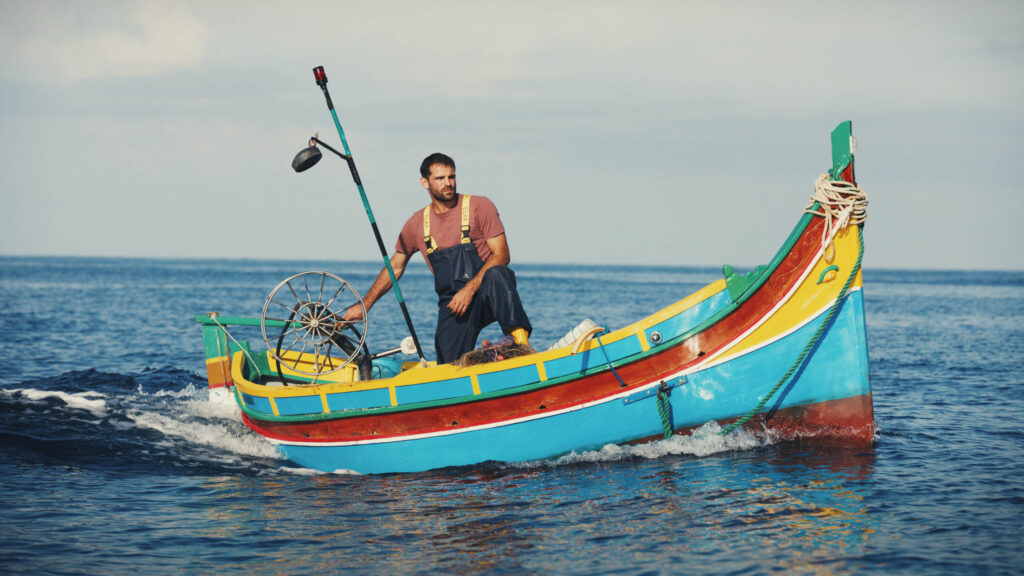 Luzzu (***1/2)
World Cinema Dramatic Special Jury Award: Acting
The times are changing all around Jesmark, a local Maltese fisherman who owns a small luzzu fishboat that's been in his family for generations. These days, his livelihood is being hampered by new ecosystem regulations, crooked black market sellers and larger boats. Jes can barely feed his family, his wife looks down on his career and his special needs son requires expensive medicine. That's the basis of filmmaker Alex Camilleri's intimate story that depicts the clash between the old world and the new. Ingeniously he casts local fisherman in main roles, including the naturally gifted Jesmark Scicluna. His seamless performance pulls you through the lead character's transition from innocent fisherman, to gas salesman carrying gallons of petrol, to low-level henchman. The incessant leak in Jesmark's luzzu is a poignant metaphor. His way of life is dying. Finding out if he can survive and begin again will hold viewers' attention. Well shot (Léo Lefèvre cinematographer), edited (Alex Camilleri) and blessed with charming music (Jon Natchez composer). An authentic and affecting depiction of an ordinary man struggling to exist in a modern and corrupt world.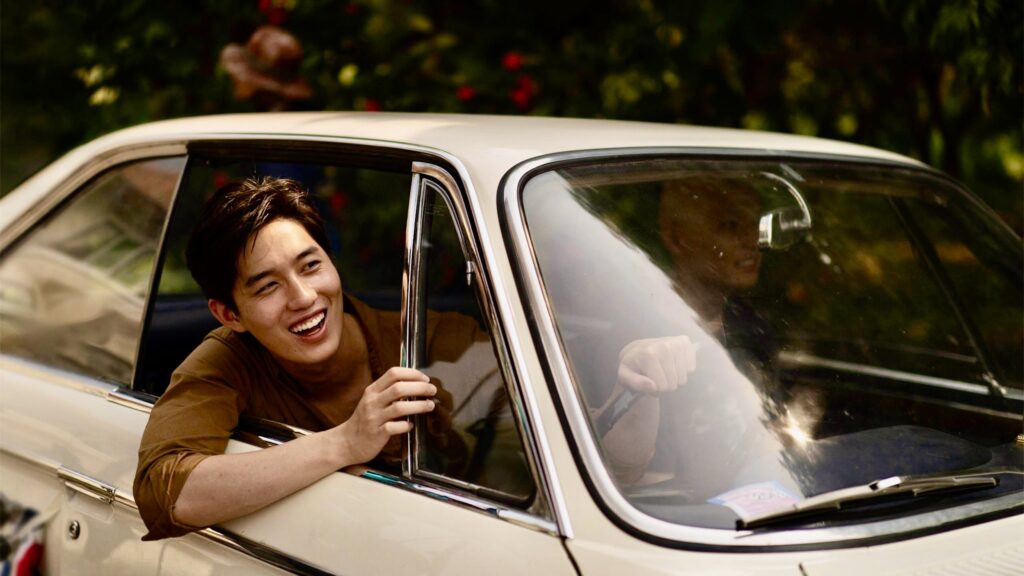 One for the Road (**1/2)
World Cinema Dramatic Special Jury Award: Creative Vision
It's one last road trip through Thailand and fortunately for viewers, they're invited. Veteran director Wong Kar Wai (In the Mood for Love) is the producer of Thai director/writer Baz Poonpiriya's ode to bromance. Boss (Tor Thanapob), a thirtysomething New York City bartender and ladies' man, receives a disturbing phone call from his old buddy Aood(Ice Natara), who lives in Bangkok. Aood has a terminal illness and wants Boss to drive him on a bucket-list car tour through Thailand so he can visit his old girlfriends. Playboy at the wheel. Sad sack riding sidekick. Best actors in the film are Aokbab Chutimon as Noona an actress trying to film a wedding scene and Violette Wautier as Prim. The bad news is that the main characters aren't all that likable, the plot wears thin and too-frequent flashbacks kill momentum . The good news is audiences vicariously get a scenic trip around one of Asia's most beautiful countries in a vintage eggshell white 1970s BMW that plays eight-track cassettes of Cat Stevens singing "Father and Son." On this travelogue, the trip to Chiang Mai alone is worth the gas money.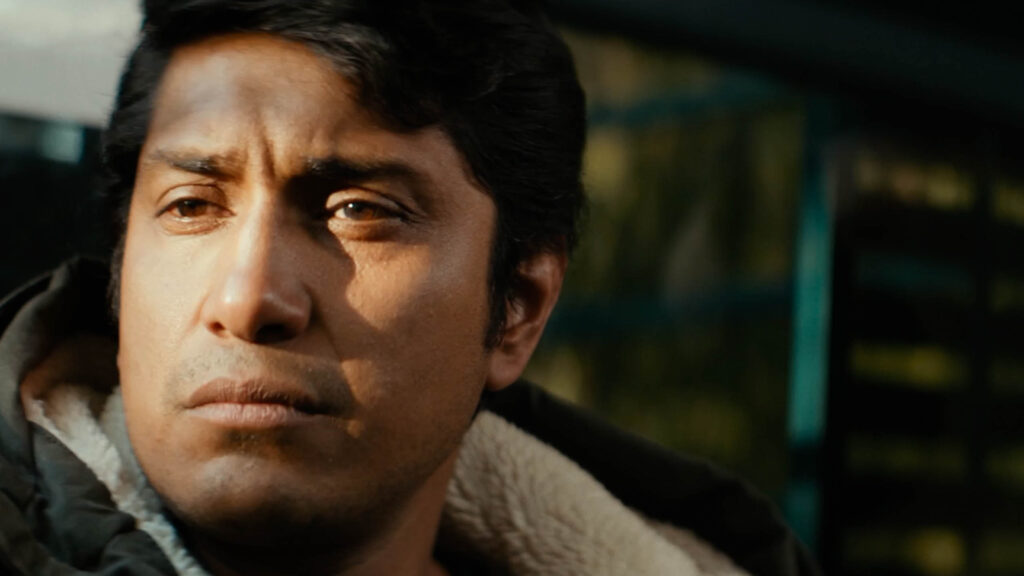 Son Of Monarchs (**1/2)
Alfred P. Sloan Feature Film Prize winner
Years ago, young Mendel and his older brother Simon walked through the woods in Michoacán, Mexico playing with butterflies, symbols of their cultural heritage. As adults, Mendel (Tenoch Huerta), now a New York City biologist, is estranged from Simon (Noé Hernández) an ex-coal miner. Past trauma and misunderstandings have brought them to the brink as the brothers reunite in their hometown for a funeral. Writer/director Alexis Gambis sets up the makings for a solid family drama, then walks away from potent dynamics by making a film so ethereal that it forgets its roots. Wish there was more of a point to the story. More meat. As is, there's just enough plot for a short film and not a feature. What saves this movie from itself is the entrancing cinematography (Alejandro Mejía), splendid production design (Sofia Guzman), colorful art direction (Maria Camila Botero and Lia Nessim Macia) and a transcendental musical score (Cristóbal Maryán). Add in a simmering and explosive performance by Hernández and a deeply moving one by Huerta—whose chiseled, worn face is very photogenic. Mendel to his sibling: "I left with all the demons you placed inside me." It shows.
For more information about the Sundance Film Festival go to: https://www.sundance.org/festivals/sundance-film-festival/about
For a complete list of SFF award-winners go to: https://www.sundance.org/blogs/news/2021-sundance-film-festival-awards-announced.
Visit NNPA News Wire Film Critic Dwight Brown at DwightBrownInk.com and BlackPressUSA.com.