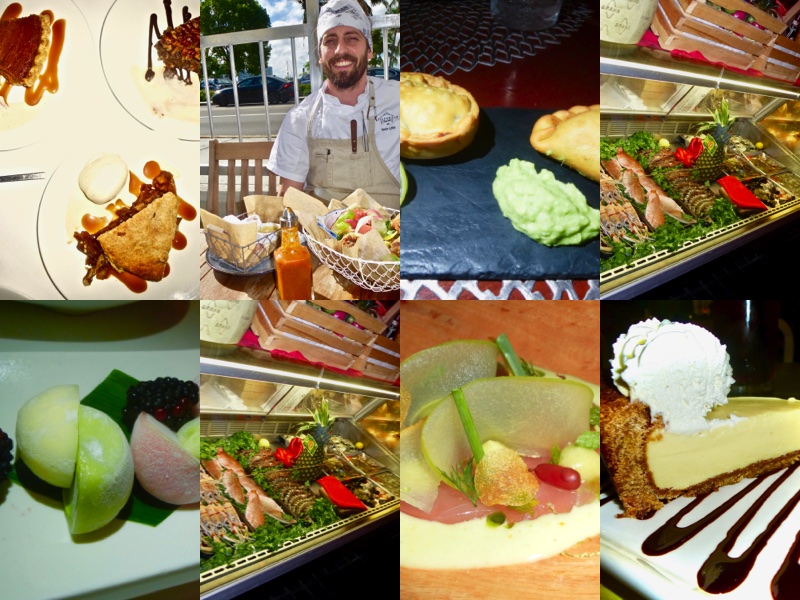 Milan, Paris and Barcelona are often known as the world's food capitals. These days, Miami restaurants can compete with any of those cities' finest eateries. And now, you don't even have to leave the shores of South Beach to experience top cuisine. Just enjoy the sun and surf, then lunch or dine at an excellent restaurant that's just around the corner from the Atlantic Ocean.
(To read article and see all the accompanying photos on HUFFPOST, click here.)
Stubborn Seed offers a tasting menu that is world-class.
From the outside, this intimate restaurant on 101 Washington Avenue in the swank South of Fifth section looks like it could be a cool experience. Walk in past the bar, find a table, sit and stare. The concrete floors and industrial look feel modern. The staff is friendly, the floor-to-ceiling-windows almost bring the outside in. The menu is simple, you won't find hundreds of items listed. You will see an impressive array of innovative choices.
You could pick off the menu, à la Carte. But wise diners should choose the eight-course tasting menu, which changes periodically. Put your evening meal in the hands of the inventive chef Jeremy Ford and your night out becomes a dining experience that is simply spiritual. There will be a connection with the food that will hit all your senses: sight, taste, smell, touch… In the later part of the 1900s, famed chef Frédy Giradet ran his world-renown restaurant Giradet in Crissier, Switzerland, and it was known as the best restaurant of the 20th century. Stubborn Seed compares well to that acclaimed establishment.
Hints: 1.) The tasting starts with the addicting Bread Service (warm bread with fennel pollen that you dip in garbanzo chili dip). Next, taste the Lavash (delicate chicken liver mousse with smoked chili jam). Then the Smoked Foie Gras is unlike any you've ever tried (homestead boniato tortellini, marcona almond, spiced quince). 2.) Diminutive Oysters (with radish, Thai chili mignonette and fresno pepper oil) are served in a Japanese looking box on a bed of mini stones. 3.) The Lobster swims in a lake of green curry with caramelized cauliflower. The Short Rib is so tender it melts in your mouth like caramel.
Katsuya an inventive blend of Japanese/California cuisine.
As you walk down the lobby hallway at the SLS South Beach Hotel and head into the high-ceiling-room that houses Katsuya, you're awed by the vastness of the room and the oversized prints on the wall. Phillippe Starck designed the interiors that feature stark white walls with red- and black-trim. Heightening your senses is the group welcome by the staff as they chant "Irashaimase" ("Welcome. Come in.")
The menu is inundated with Japanese dishes done with an Asian and fresh Cali flair. As you contemplate the menu, with so many tempting choices of meats cooked on a robata grill, sip on Katsuya Sake "Victory" from the venerable Sasaici brewery which is made with water from Mount Fuji. Or to work the California angle, drink a little Far Niente Chardonnay from Napa Valley.
Hints: 1. All the appetizers are tempting, but if you want one of those can't-find-anywhere-else-in-this-world starters, go with the Crispy Rice with Spicy Tuna, a rectangle of seared rice crowned by a perfectly spiced sliver of raw tuna. The mixture of crunchy and soft textures with the exotic blends of rice and tuna is an experience your mouth won't forget. 2.) Presentation is half the reward when ordering the Wagyu Tobanyaki, which is slices of select beef draped around a mound of wild mushrooms with a side of ponzu served on a hot iron skillet. Equally delicious and a house specialty is the Miso-marinated Black Cod served on a dried hoba leaf. 3. End the meal with a festive selection of Mochi and Green Tea Ice Cream.
Leynia is an Argentinean grill inspired by flavors from Japan.
At the Delano Hotel, you walk on wood floors, past huge pillars draped in feathered floor-to-ceiling white curtains and you're in awe. Head down the hall to the back that faces one of the trendiest pool scenes in South Beach and sit on the covered patio that is home to Leynia Restaurant. The open-air eatery with views of tall palm trees and bamboo, bestows a deeply tropical feel. You feel like you are eating on the patio in the back of someone's palatial villa.
Chef Jose Icardi makes this Argentinean Grill brim with flavors from Japan. Open-flame cooking releases smells in the air that will make you hungry even if you're not.
Hints: 1.) Begin with the Baked Crab Hand Roll (snow crab, soy paper, dynamite sauce). Sample the Carne (cantimpalo sausage, pickled apple) and Pollo (chipotle braised chicken) Empanadas. 2.) Segue into the Short Rib Ravioli (truffle essence, fresh basil) entrée, split it with a friend and you won't feel guilty. The Braised Short Ribs (with salsa criolla) must linger in your mouth for a while for you to experience the full, robust flavor. 3.) End the meal, and yes, you have to at some point, with Leynia Beignets that come with vanilla ice cream, cocoa powder and zacapa rum caramel sauce. Then sit back and grin.
Brunch and lunch at The Dutch.
It took a bunch of New York restauranteurs like Andrew Carmellini, Josh Pickard and Luke Ostrom to team up with Miamians Karim Masri and Nicola Siervo to dream up The Dutch, an offshoot of a popular SoHo, New York eatery. They have placed their bundle of joy in one of South Beach's most swank hotels, W, South Beach, where $50 million worth of art lines the lobby walls. On exhibit, often gigantic in proportions, are the works of Andy Warhol, Jean-Michel Basquiat and Salvador Dali. The atmosphere is artsy and inviting, and the later quality also applies to the restaurant.
The ingredients of choice are seasonal market greens, curries, chilies and a cuisine that is best described as homey with a tad of inventiveness. Hotel guests dine morning, noon and night. But you don't have to stay at W to taste the fine food. For a change up, go for the brunch or lunch and your adventurous nature will be rewarded.
Hints: 1.) For a breakfast that will satiate your appetite beyond lunchtime, the tender soft Buttermilk Pancakes with Blueberries and Maple Syrup will do the trick. 2.) For lunch the Lobster Salad with Vadouvan curry spice, mango and cashews is scooped into the center of a coconut and served. 3.) If you're in a pasta mood, you can't go wrong with the Pappardelle, Lamb Ragu with Sheep's Milk Ricotta & Mint.
Hosteria Romana a touch of Italy on Española Way.
Española Way is a short, cobblestone street just south of 15th Street off Washington Avenue. Outdoor cafes with tall umbrellas make you feel like you are in the South of France, Spain or Italy. That's the vibe, so it makes perfect sense to stop into the lane's most treasured Italian restaurant Hosteria Romana. Owner Marco Efrati proudly serves Roman Jewish cuisine, and transports his culture and traditions from his neighborhood of Centro Storico in Rome, Italy to South Beach.
As you sit down at the tables with red and white checkered tablecloths, Italian pop music blares from the speakers. Don't be surprised if you hear the staff singing along to the tunes, clapping their hands and dancing in place. And if you stick around long enough, after 7:30 or so, an opera singer shows up singing arias like "Nessun Dorma" while you dig in.
Hints: 1.) For Act I: Try the Frittura de Gamberi e Calamari (shrimp and calamari fried lightly to perfection). 2.) Act II: Go with the special Tonnarelli con Salsiccia, Funghi Porcini e Rughetta (tonnarelli pasta sautéed in light cream sauce with slivers of Italian sausage). 3.) Act III: The tender, moist Veal Milanese is fried golden brown and smothered in cherry tomatoes and arugula that's been mixed with olive oil. 4.) Act IV: If you've shied away from Panna Cota for dessert at U.S. restaurants because it tends to have a slimy texture, take heart. Here it is fluffy, soft, topped with fresh berries and dented with rolled up cookies.
Red, The Steakhouse – is a home away from home
A very friendly atmosphere brings faithful diners to this supreme steakhouse, night after night. The obvious attractions are appetizers like JB's Steak Tartare C.A.B. Prime Hand Cut Tenderloins (with shallots and capers). The eatery's succulent cuts of meat are well-renowned too: Ribeye, NY Strip, Filet Mignon and the Miyazaki Japanese Kobe.
During the holidays, Red, The Steakhouse, is a special destination for families, couples and singles who want to be in a place where friendly folks gather. The inviting red banquettes, white tablecloths and amiable waiters make this a home away from home particularly during festive occasions like Thanksgiving, when these items are on the menu.
Hints: 1.) The first course should be the Classic Caesar Salad (Romain Hearts, Parmigiano Reggiano and Herbed Croutons). Your body will need the roughage.  2.) The main course is served in separate serving dishes so you can eat family style: There's the mouthwatering Organic Turkey with Gravy and a host of sides: Sweet Potato Fondue, Stuffing, Four Cheese Macaroni & Cheese, Florida Creamed Corn, Whipped Potatoes with Gravy, Sautéed Broccoli & Garlic and Cranberry Sauce. 3.) Since it's a special occasion, splurge on desserts: Sweet Potato Pie, Apple Pie, Pumpkin Pie and Pecan Pie that's filled with nuts.
Stiltsville Fish and Bar a taste of Key West on Sunset Harbour Drive
This Key West-type restaurant with its island feel is at 1787 Purdy Avenue, which is also known as Sunset Harbour Drive. The later name is far more appropriate for the street, as it lines a harbor and trendy residential neighborhood where yachts anchor, people live in two classy high rises and new restaurants shine bright like diamonds.
Two antique white bathtubs, placed at the head of the bar are filled with fresh fish on ice and let you know right away that this is a fish lover's paradise. The affable chef Kevin Little's friendly personality is conveyed in every tasty dish that is served during the dinner hour and at the Friday, Saturday and Sunday brunches. You can also order over the phone, pick up your food and picnic on a bench on the pier overlooking the bay.
Hint: 1.) Snack on Smoked Fish Dip (cherry wood-smoked local fish like snapper, with house pickles, thyme and butter) and homemade crackers. 2.) Tempt your taste buds with the very eclectic Green Eggs & Ham, which are very cheeky and tasty deviled green eggs in a hard-boiled egg white topped with a crispy fried Prosciutto chip. 3.) For the main course the Crispy Whole Snapper for 2 with Lemon basil salsa verde and key lime dust is an obvious choice. Less obvious, but totally delectable, is the Bayleaf & Citrus Crusted Fried Chicken which comes with watermelon pickle salad and Stiltsville hot sauce. The secret of the chicken's sweet flavor? "It's brined in salt and sugar and then lightly dusted with flour and seasonings just before it hits your table," says Chef Little.
Icebox Cafe comfort food and desserts
While you're in the Sunset Harbour area, step over to 1855 Sunset Harbour Drive, to the venerable Icebox Cafe. It has been a staple in South Beach for 15 years and is easily the best bakery/restaurant in Miami Beach. Known for its desserts, that were created by owner Robert Siegmann, Icebox has become a prime destination for those who love breakfast, lunch and dinner.
The look inside is high ceilings, long upholstered banquettes and bleached white wood floors and tables. Guests range from moneyed yacht owners, to elderly people, to energetic smart-phone absorbed millennials.
Hints: 1.) For the breakfast of champions go for The Eggbox, which includes scrambled eggs, cheese, chicken-apple-sausage, roasted potatoes, a choice of a biscuit or whole wheat toast or a sesame bagel multigrain toast. 2.) The Icebox Café Burger is all-natural Angus beef with smoked Gouda, roasted garlic aioli, Bibb lettuce and pomme frites. Surprise your taste buds with a side of sautéed kale. 3.) The three-layer Carrot Cake seems higher than the Empire State Building. But don't go home without trying the house specialty, Deep Dish Key Lime Pie.
Drinkhouse Fire & Ice Bar for a chill time and laughs.
Humans do not live by bread alone. Sometimes an ice-cold drink and a good laugh are as satiating as a fine meal. For those who want to get their hot and cold on, trek to the very unique Drinkhouse Fire & Ice Bar on Collins Avenue just south of Lincoln Road. Walk into the black interior, that's the Experimental Cocktail Fire Lounge, where bartenders are known to spew fire and serve drinks like The Glacier Water and Soul Burner. At the Wednesday Night Live comedy shows, the very funny and dour Kyle Grooms (Dave Chappelle Show) MCs and hosts an array of local comics who stop by to tickle the funny bones of patrons.
The crowd also has the chance to don warm coats, gloves and Ugg-type boots and enter the Ice Vodka Bar, made with 100,000 pounds of glacial ice. The standing tables are made of ice. The bar is made of ice. The cocktail glasses are made of ice. And since the room is just 23-degrees, everything stays cold as the barkeep serves you frosty molecular cocktails. The Ice Bar Experience lasts 30-45 minutes. Hip-hop, top 40 and Electronic Dance Music play and the vibe is out of this world fun, frenzied and cool.
Tennis Anyone? Burn off some of those calories.
After you've eaten the best food and laughed yourself silly, work off some pounds and play some tennis under the ever-present sun. At the Miami Shores Tennis Complex at the Country Club, off Biscayne Blvd on 100th Street in Miami, the tennis instructor Burd Germain oversees the six clay courts and three cushioned hard courts. He's especially good with kids' tennis. At the North Shore Park Tennis Center, adjacent to a baseball field and soccer field on 72nd Street in Mid Miami Beach, Dr. Julio Avilla offers private instruction, hitting lessons and has been known to play very competitive doubles matches when he partners with Martina Navratilova on the 10 perfectly maintained har tru clay courts. If you are looking for a tennis instructor to come to your tennis court or you want to play on Palm Island Park, look up former Orange Bowl tennis finalist and Colombia Tennis Federation top ten teen player Francisco Velasquez.
Years ago, if you wanted a truly culinary vacation, and some fun, you headed to Italy, France or Spain. These days, South Beach is serving up some of the finest and most innovative meals you will find anywhere in the world. Now, the best in cuisine can be discovered on your Miami vacation.
Visit travel writer Dwight Brown at DwightBrownInk.com