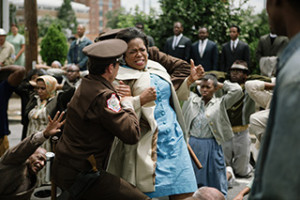 By Dwight Brown NNPA Film Critic
R.I.P. Martin Luther King. Your story has been told. Your legacy passed on. Your strategies for non-violent demonstrations shared. Your ability to change hearts, minds and laws well-documented. Selma, in the most inspiring way, relays MLK's state of grace. It is a worthy homage befitting of America's most iconic Civil Rights Leader. A monumental achievement.
In 1965, African Americans, though guaranteed the right to vote under the 1870s 15th Amendment, were routinely denied the privilege and given literacy and civic tests filled with trivia few would know. In Selma, Alabama, Annie Lee Cooper (Oprah Winfrey) prepared herself for the de-humanizing poll tax experience, but even she couldn't answer all the questions and was denied her right to vote. She wasn't alone. In Alabama there were whole counties where no black person had ever been allowed to vote. Something had to be done.
SNCC (Student Non-violent Coordinating Committee) had been organizing peaceful demonstrations for voting rights for years, to no avail. Reverend Frederick Reese (E. Roger Mitchell, Flight), head of the Selma Teachers Association, invites civil rights activist Dr. Martin Luther King (David Oyelowo, Middle of Nowhere) and the SCLC (Southern Christian Leadership Conference) lead by Reverend Hosea Williams (Wendell Pierce, The Wire) to Selma. A change is gonna come.
King and his inner circle plan a 50-mile march from Selma to Montgomery to bring attention to the plight of Blacks who are denied the right to vote. Meanwhile, he has been in talks with President Lyndon Johnson (Tom Wilkinson, Michael Clayton), pressuring him to push Congress to pass a Federal Voting Rights Act. Johnson doesn't take kindly to the pressure, and is waiting for the "right time." King looks for ways to force Johnson's hand. The two engage in a war of wills as Selma is about to explode on the six o'clock news.
Providence brought director Ava DuVernay on board this ambitious project. Her family hails from Hayneville, a small town between Selma and Montgomery, Alabama. She directed David Oyelowo in the intimate romantic indie drama Middle of Nowhere. She knew how to help him inhabit MLK's persona. She knew how to tell a personal, humane story. She took those strengths and masterfully added them to one of the most landmark moments in American history.
DuVernay excels at directing the marches across the Edmund Pettus Bridge and restaging the inhumane beatings of demonstrators by white police, directed by an evil Sheriff Jim Clark (Stan Houston) and condoned by the segregationist Governed George Wallace (Tim Roth). The behind-the-scenes, devious manipulation by J. Edgar Hoover (Dylan Baker) seems duly vile and sinister under her guidance. The brotherhood and sisterhood of King's inner circle has the majesty, dignity and reverence fitting for heroic characters, under her eye.
Even with all those big events on her plate, DuVernay, uses her skills directing relationships to pay special attention to King's personal life. There's a scene in the movie when Hoover has sent incriminating tape recordings of two people having sex to King's stalwart wife Coretta (Carmen Egojo). That moment when she confronts her husband is one of the most dramatic, intimate and upsetting moments in the movie. It shows the depths to which the FBI was willing to go to destroy King. It demonstrates that a strong love between a husband and wife can even endure sabotage. It also reveals that the man who led this country out from the shadows of segregation and influenced civil rights movements for decades to come, was simply human. He had foibles. He had regrets. Yet his irrepressible spirit endured.
It helps that the producers and screenwriter Paul Webb, with re-writes by DuVernay, chose to show just one major achievement in MLK's life. The March on Washington, Nobel Peace Prize, and assassination, are not in this film. Most location shots are in Selma or the White House. You focus on the stops, starts, setbacks and triumphs of an historic march from Selma to Montgomery and the hopeful passage of the Voting Rights Act. The script's dialogue between MLK and his disciples, his wife and the president are often electric. Especially the verbal sparring with LBJ. MLK in response to the President's snail-pace towards justice: "I came here prepared to talk to you about people. People are dying in the street for this. Punished for wanting, for needing, to participate in the American political process. It cannot wait, sir."
David Oyelowo was born for the role. He looks like Martin, especially after adding a few pound to his frame, a pencil mustache and razor haircut. The voice. The movements. The oratory skills. It's as if MLK entered his sole. Carmen Egojo is the essence of Coretta in appearance and nuance. When she talks, you feel like she is telling secrets from the past. The casting of King's inner circle is excellent: Cuba Gooding, Jr. as civil rights attorney Fred Gray; Common as social activist James Bevel; André Holland (from the film 42) as Andrew Young; Stephan James as John Lewis, one of the last surviving and original Freedom Riders.
Two strong supporting female performances are at the heart of the film too: Oprah Winfrey as the courageous Annie Lee Cooper who smacked a police officer. Lorraine Toussaint (Middle of Nowhere) as Amelia Platts Boynton Robinson, an activist who was beaten unconscious during the massacre known as Bloody Sunday. Both give sterling performances.
Bradford Young's (Ain't Them Bodies Saints) cinematography is rich, graphic and mood-setting. Ruth Carter (Lee Daniel's The Butler) recreates the clothes of the era perfectly and her designs peak in the scene when MLK and Coretta are walking arm-in-arm during a march. Editor Spencer Hart's (Middle of Nowhere) timing is precision as 122 minutes roll by and you can't remember when you weren't at the edge of your seat. John Legend and Common team up for the song 'Glory,' and Legend's old school voice is the perfect conduit for the era.
These days, as demonstrators fill the streets for various causes, sometimes it's important to put events into perspective. To gauge what will happened next, you have to look back in time. Unrest brings progress. Protest brings awareness. Unity brings hope. The sacrifices we make today may not be felt for years to come. But Selma teaches us that when we strive, things change. MLK knew that better then anyone.
Visit NNPA Syndication Film Critic Dwight Brown at DwightBrownInk.com