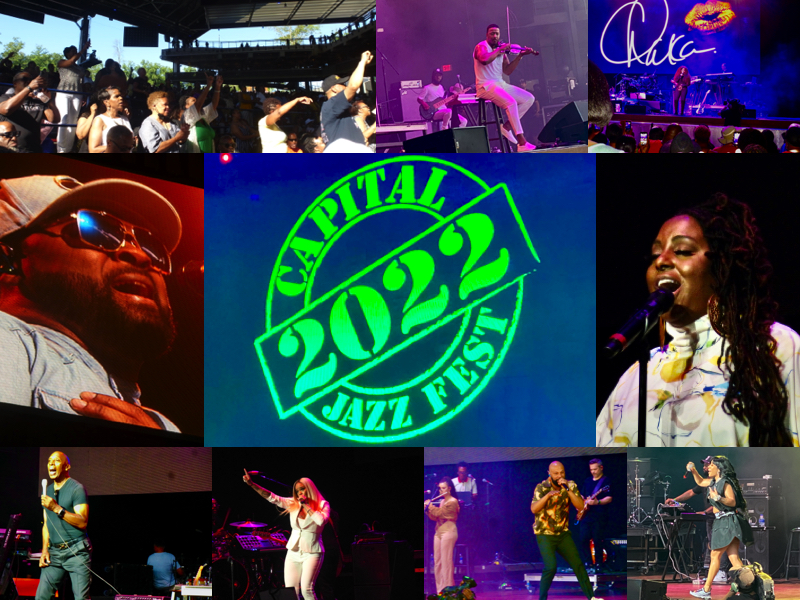 They came by the tens of thousands to the Capital Jazz Fest 2022. Traveling from all parts of the country, on the first weekend in June, to Columbia, Maryland's Merriweather Theater. It's like they were returning to an annual reunion. Enthusiastic music lovers soaked up the jazz, R&B and funk music. They danced, swayed, clapped and sang along whenever they could.
Saturday June 4th
From the early afternoon into early evening, musicians like Adi Oasis, Corey Henry, Deborah Cox and Deere performed.
Common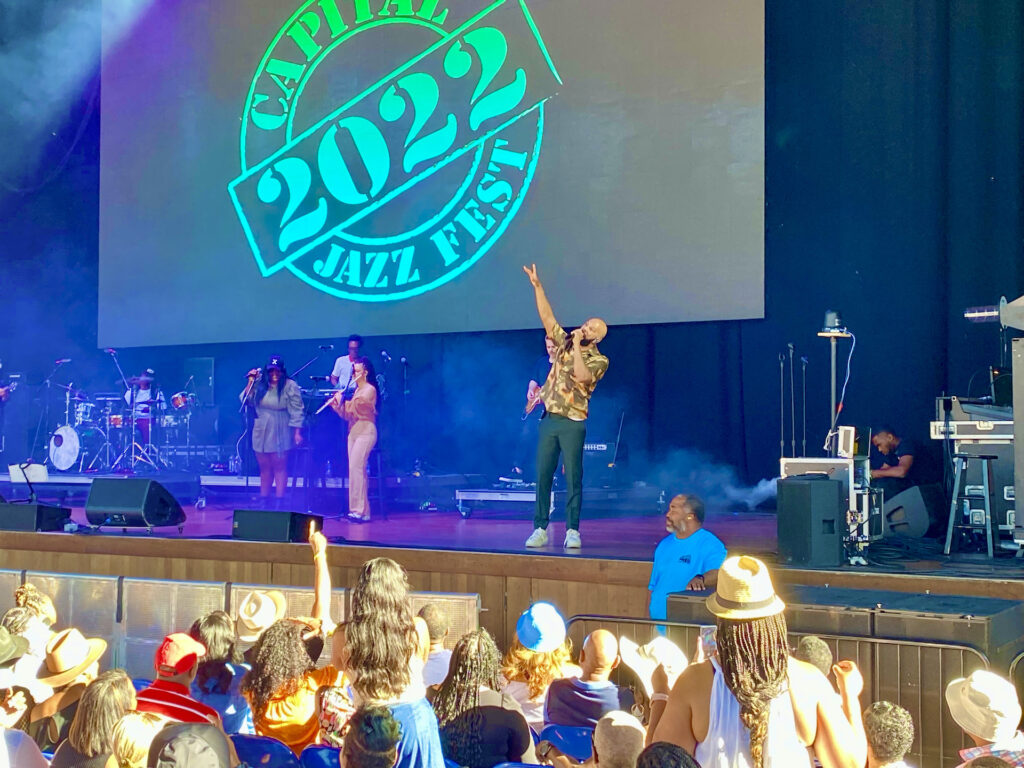 The artistry on view rose to an even higher level when Oscar-winner Common entered and moved around the stage as gracefully as a gazelle. Right to left, up and back. He flaunted his craft by rapping spontaneously and it mesmerized the audience, especially the women: He said: "We salute the queens in the place and the men who brought their queens with them." His best line: "There are times when you'll need someone, and I will be by your side."
Keisha Cole
Next up, African American/Mexican R&B artist and reality TV star Keisha Cole. She's well known for her 2005 platinum-selling album "The Way It Is." She sang her hit single "Love" from that record to an audience that knew all the words. Cole talked freely about how she overcame not being loved by her mother or father but learned to love herself first. Her voice was as strong as ever and her emotions were raw and always authentic.
Music Soulchild
Musician/producer Musiq Soulchild followed. His very unique blend of R&B, funk, jazz and gospel was evident in his fluid vocals. The kind of runs you'd expect from Boyz II Men. Initially his mic was too low and hearing him was a challenge. After a sound fix, he seemed invigorated and by the end of his set the crowd went from a sleepy time to jumping for joy. Still, his best vibe was on his rendering of "Ah Yeah," an alluring and very jazzy song off Robert Glasper's "Experiment" album.
Faith Evans
The night ended with main act Faith Evans. After a video tribute, dressed in white with blonde hair streaming down her back, the legend of hip hop strode around regally. As the first female artist to sign on to Bad Boy Records, she is royalty to many. Her hits "Love Like This" and "Hope" were on her setlist. She endeared herself to the crowd but her fatal error in artistic judgement was leaving the stage for a break in the middle of 40 minute set. The audience dispersed.
Sunday June 5th
The String Queens trio and the jazz quintet Butcher Brown warmed the audience up. Maysa, former lead singer of 1990s British jazz band Incognito, used her sultry voice to slay the crowd. She was followed by the Oakland group Tower of Power and the acapella singers Naturally 7.
Damien Escobar
Crossover violinist Damien Escobar pulled the audience into his orb with his heady mixture of pop, soul and jazz. Very few instrumentalists can capture the attention of thousands for 40 minutes solid, but he did. He peaked with a rousing version of Stevie Wonder's "I Wish," and then hit another height when he dedicated Prince's "Purple Rain" to the victims of the Texas school shooting. It was the most emotionally moving gesture in the entire fest. When he left the stage, half the strings were broken on his blazing violin.
Jeffrey Osborne
Grammy-nominated singer/writer Jeffrey Osborne started his set from the back of the amphitheater. Wearing black pants, a t-shirt and a red jacket, he sang and wound his way down the aisles, until he hit center stage. Everyone was on their feet. His first few songs were energetic, but eventually he settled into his famous ballads. "On the Wings of Love" generated applause. Then the place went wild when he launched into "You Should Be Mine (The Woo Woo Song)." A mic was passed around and those who were daring sang: "Can you woo woo woo." They had their 15 seconds of fame, the rest of the fans cheered them on. When the 74-year-old Osborne took off his jacket and showed his much younger-looking physique, it was enough reason for every man in the place to renew their gym membership. Or start one.
Ledisi
Jazz chanteuse Ledisi impressed everyone with a rocked out version of "I Hear You Knocking," originally recorded in 1955 by New Orleans musician Smiley Lewis. Ledisi, who was also born in NOLA, explained why she loves the lyrics: "I hear you knocking but you can't in." To her it meant keeping people who will bring you down at bay. Jumping around, inspiring the audience and bragging about her Grammy win for an album on her own label, she abandoned protocol, and didn't care: "Y'all get up and dance. I don't care if I make Chaka late."
Chaka Khan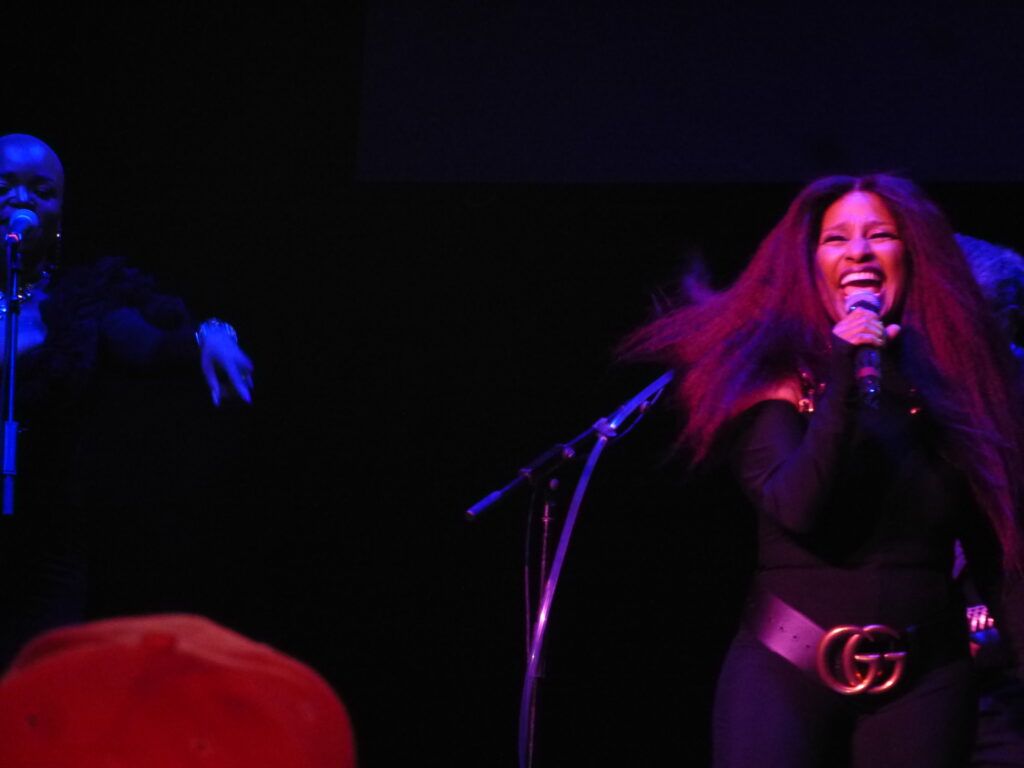 The night ended when funk legend Chaka Khan began her act with "Tell Me Something Good" and showcased her raspy vocals that sound like a muted Miles Davis trumpet. Her pipes are as golden as they ever were. And wearing a skintight black jumpsuit and gigantic Gucci belt, the body on this 69-year-old looked extremely fit. Khan performed some of Rufus' hits, the ones that made her career. The audience didn't need encouragement to sing along to "Sweet Thing" and "Through the Fire." Like Faith Evans the night before, Khan left the stage for a break midway, and again momentum subsided, and the crowd started to leave. Those who remained joined her on "I'm Every Woman," singing as if they were the main act too.
The Fans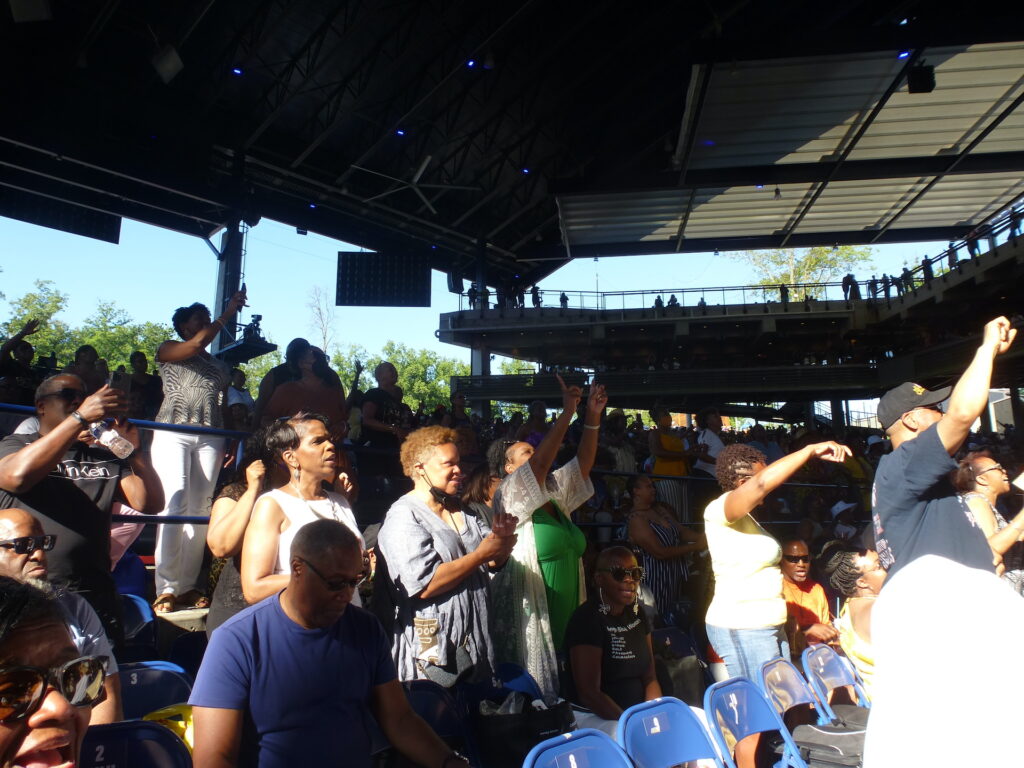 Folks came to Capital Jazz Fest 2022 for the music. They left with hearts full of love, respect for the musicians and a mellow vibe that they took back home.
Visit NNPA News Wire Travel Writer Dwight Brown at DwightBrownInk.com.