It was heaven!
Music fans made their annual pilgrimage to Columbia, Maryland for the Capital Jazz Festival to see top jazz, soul and R&B artists. They celebrated the fest's 30th Year Anniversary and a good vibe permeated every performance.
Friday night featured Fantasia and Joe performances. Saturday and Sunday brought more heavyweight acts, noon to nighttime. A general admission ticket gave festgoers access to the Symphony Woods Stage, where artists tended to be more on the soul/R&B tip. Those who preferred to pay for a reserved seat, migrated to the huge, 19K-seat Pavilion Stage, an amphitheater with a lineup that tends to be a bit more jazz focused.
Saturday June 3rd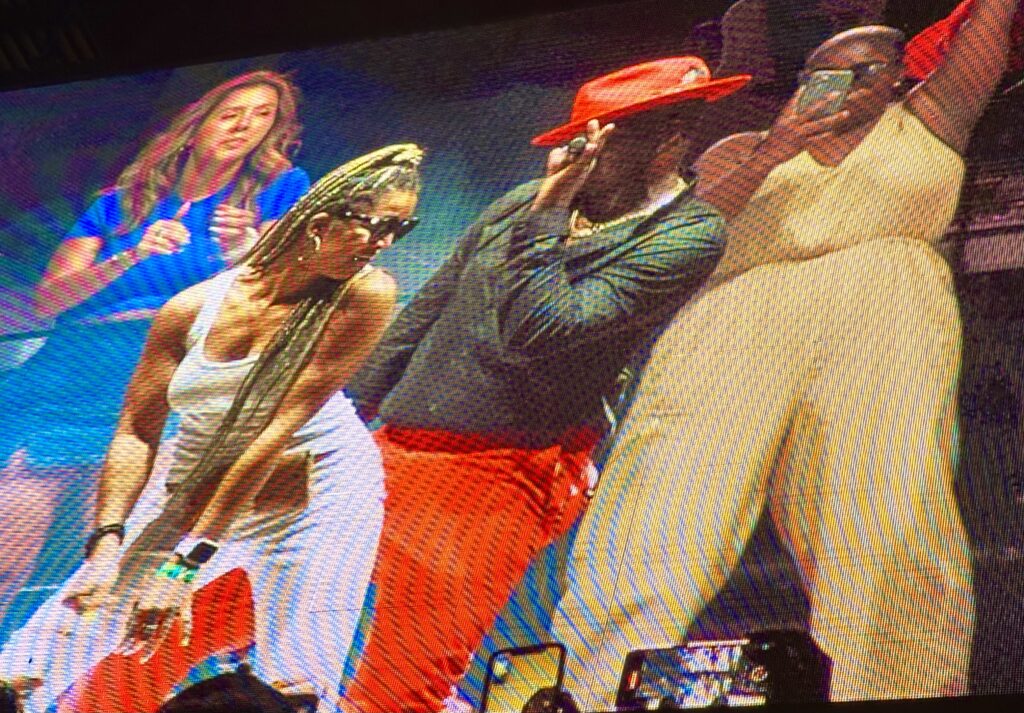 Symphony Woods Stage
Sitting on lawn chairs or standing by the stage, music lovers watched and listened to Lyfe Jennings, Conya Doss and Daley. The energy level increased when Kenny Lattimore took his turn. Dressed in white and very effervescent, he worked the audience like a Las Vegas showman. He put everyone in a dreamy spell when he sang the 1976 Norman Connors hit "You are my Starship." Lattimore crooned: "Oh, you are my starship. Won't you take me tonight? And don't be late. And don't you come too soon."
Lattimore was followed by Stokely, and then the headliner Ne-Yo dazzled everyone. Dressed in fire-engine red, the lover boy romanced the crowd with "Sexy Love," "Because of You" and the very sweet sounding "Handle Me Gently." He dubbed his new material "future classics," before inviting women on the stage to dance with him. Well, some would call it twerking. The crowd chuckled as the ladies almost bumped Ne-Yo off the stage as he clowned around. It was a sight. Absolutely hysterical!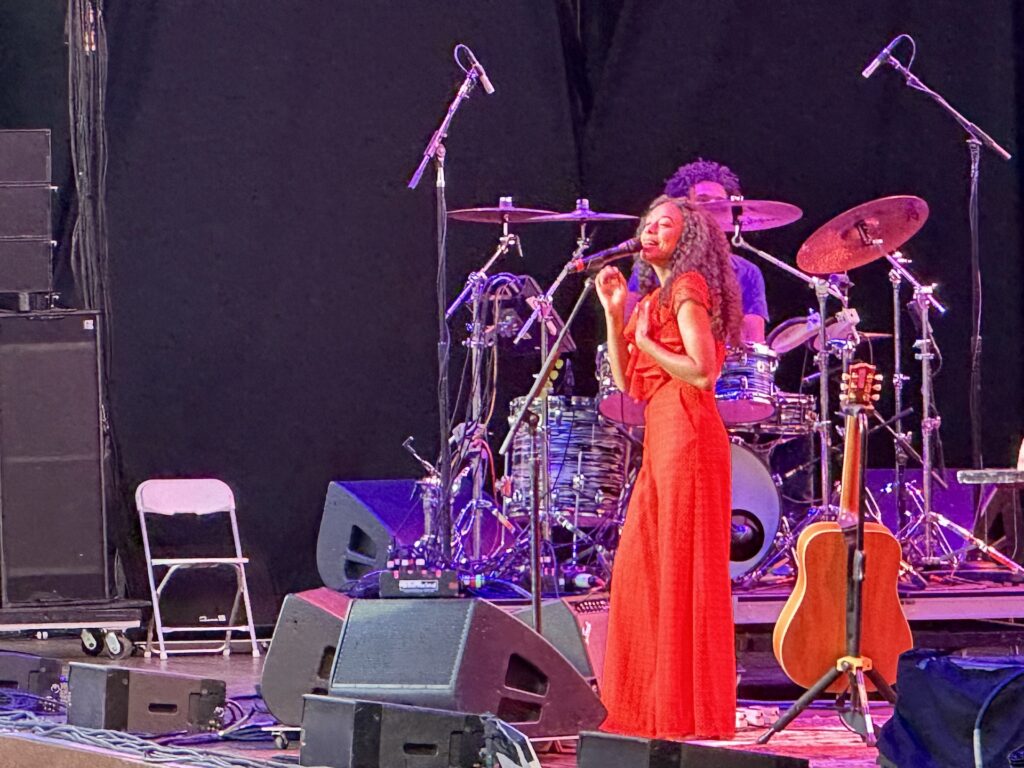 Pavilion Stage
Johnny Britt, Jamison Ross and the incredible chanteuse Kandace Springs were the opening acts on the main stage. The very easygoing group Moonchild brought a jazz groove that was extended when Robert Glasper's band followed. Sitting at his keyboard he delivered his brand of neo-soul-jazz. Known for his sense of humor, he immediately brought up the Chris Brown controversy, which involved Brown asking, "Who the f–k is Robert Glasper" after he lost a Best R&B Album Grammy to the musician. Glasper humored the crowd, adlibbing: "Who the f–k knows who Robert Glasper is?" The audience roared with laughter. Then to tickle them even more, he said, "You'll enjoy this song. If not, I got paid already!" He proceeded to play hits from Black Radio III, the album that made Brown jealous.
She's known for her mellow top-ten song "Put Your Records On," and Corrine Bailey Rae further established her pop/folkish/jazzy style with her set. She'd come from England to the fest and thanked the audience for letting her perform music whose roots were created in the U.S. Jazz icon George Benson ended the evening pleasing an audience that's followed him since his 1976 album Breezin'. At age 80, he sang "Give Me the Night," "This Masquerade" and his other tunes like time hadn't passed by.
Sunday June 4th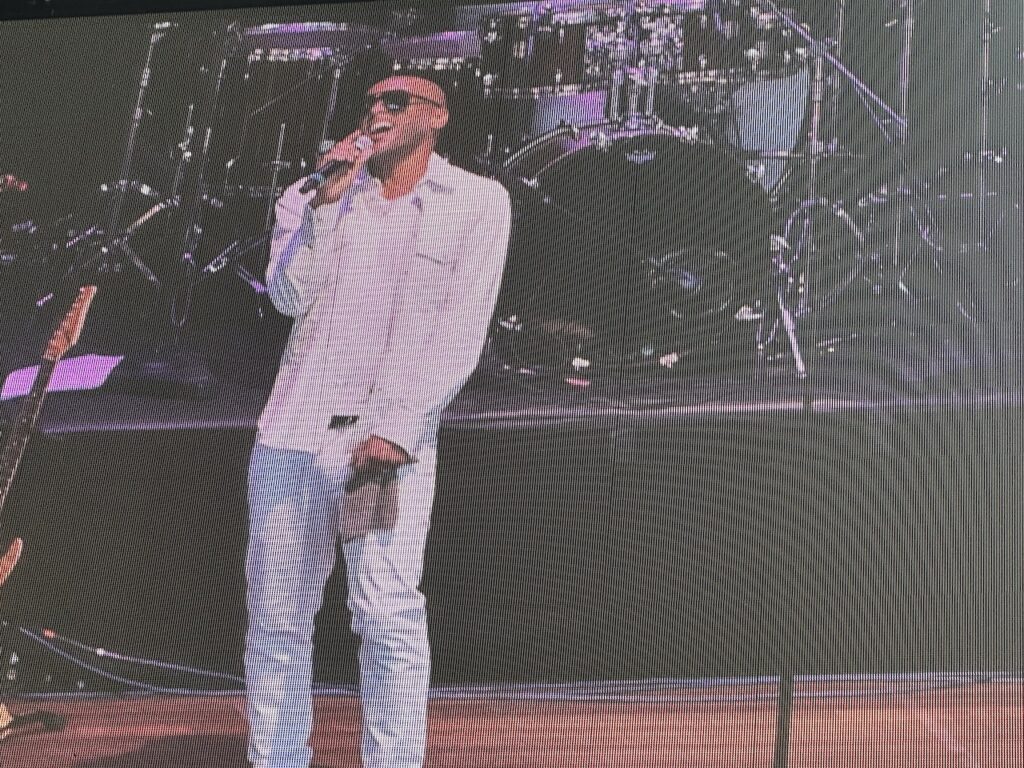 Symphony Woods Stage
With the sun above and temperatures in the low 80s, the folks on the green grass hill in front of Symphony Stage were calm but ready for excitement. Donell Jones' melodious cover of Stevie Wonder's "Knocks Me Off My Feet" and the British '80s R&B band Loose Ends' funk/soul hit "Hangin' on a String (Contemplating)" entranced everyone.
PJ Morton's entire band wore canary-yellow clothes as the singer/songwriter/producer worked the audience like a preacher revving up parishioners. His sing-alongs were popular, especially when he launched into his rendition of the Bee Gees "How Deep is Your Love." Everyone got their gospel church card that day.
Not to be outdone in the fashion department, Peabo Bryson wore a pink suit with gigantic white glasses as a serenaded the audience with "If Ever You're in My Arms" and "Beauty and the Beast." Vocalist extraordinaire Marsha Ambrosius performed next. The night was crowned by the foot-stomping, ever-resilient Isley Brothers. The dark night was a perfect canvas for their sultry songs "Between the Sheets" and "For the Love of You."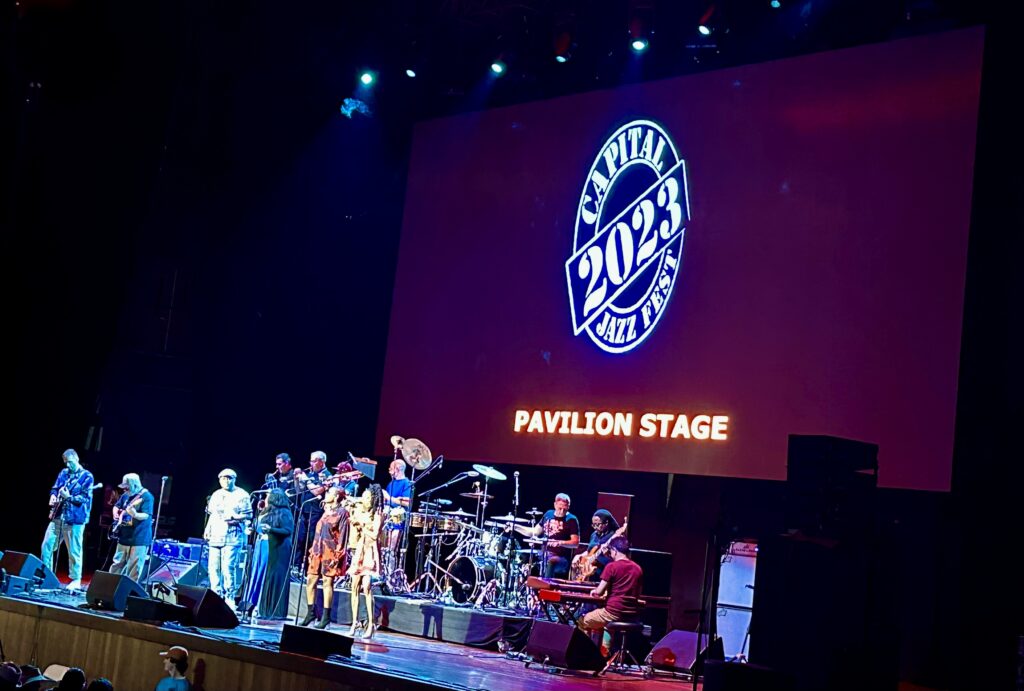 Pavilion Stage
Mike Phillips blew his Sax, Dr. Chelsey Green blazed on her violin, pop/jazz/R&B artist Lindsey Webster sang, and jazz pianist Matthew Whitaker tickled the ivories. They warmed up the crowd for Capital's annual tribute performance. In years past, the classic music of legends like Bill Withers has been showcased. This year Michael Jackson's catalogue received the royal treatment as musical director Wayne Bruce led the band and guest artists made cameos.
Soul man Eric Roberson blasted out "Rock With You" and Maysa cooed "The Lady in My Life." It was hard to imagine who could top that, until Kenny Latimore took the stage and belted "Heartbreak Hotel" like he'd been personally wounded by a bad love affair. That's when the spirit of Michael Jackson engulfed the amphitheater.
From that heady mix, the crowd surrendered to the golden voice of South Africa's Jonathan Butler, a festival staple. His message of love, peace, unity and romance peaked with his interpretation of his recently recorded version of Stevie Wonder's "Where Were You When I Needed You." Not to be outdone, the iconic vocalist Dianne Reeves started her session with Fleetwood Mac's classic tune "Dreams (Thunder only happens when it's raining)." She also dedicated songs to her cousin, the late George Duke.
The British jazz acid band Incognito sealed the 30th annual Capital Jazz Fest. Their debut album Jazz Funk started their long career back in 1981. Forty-two years later original member Jean-Paul 'Bluey' Maunick still leads the group. The most famous member is the smooth jazz singer Maysa, whose rendition of "Deep Waters" is always a crowd favorite.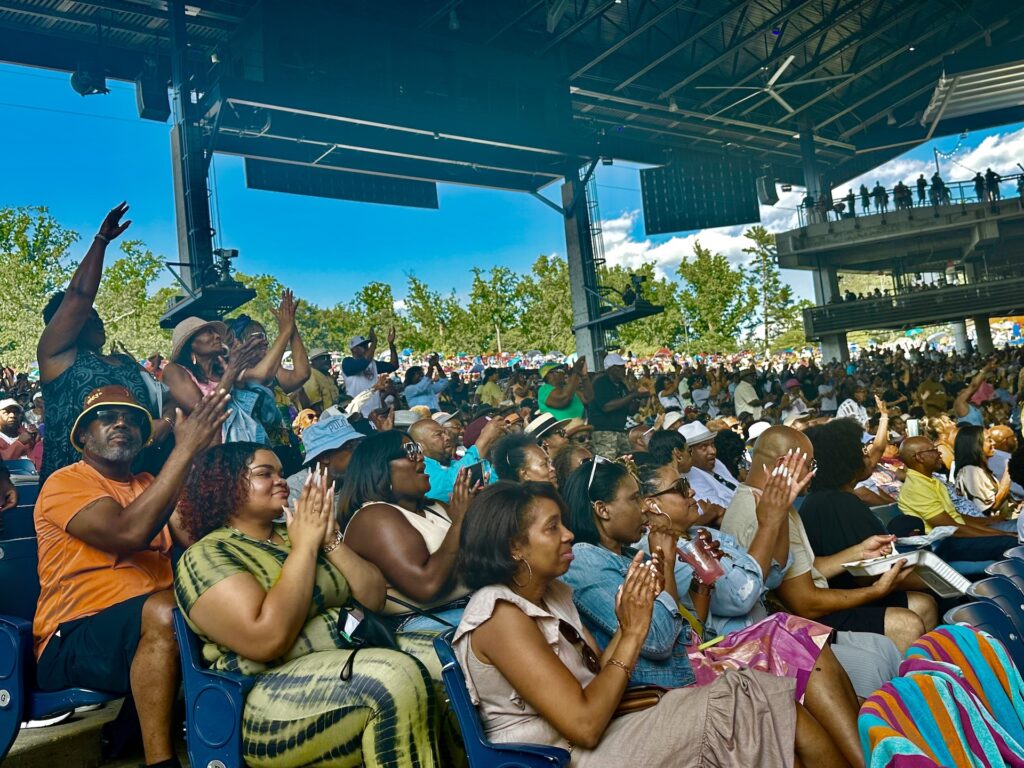 And so, it went. Music lovers and artists from around the world gathered with joy in their hearts and left with a warm feeling that's been known to last until the next Capital Jazz Fest. 
Click here to check out Kenny Lattimore singing Michael Jackson's Heartbreak Hotel or go to: https://www.facebook.com/100011065748818/videos/213961411518530/.
Visit NNPA News Wire Travel Writer Dwight Brown at DwightBrownInk.com.