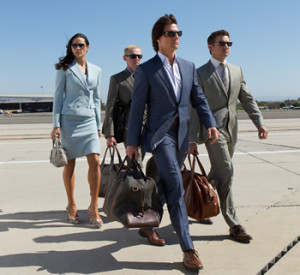 By Dwight Brown NNPA Film Critic
Mission accomplished! This is hands down the best MI chapter in the franchise, with astounding stunts, strong emotional depth, and a break-neck pace that rarely subsides.
IMF agent Ethan Hunt (Tom Cruise) languishes on a cot in a Moscow prison. Feverishly working on his computer, fellow agent and tech wizard Benji Dunn (Simon Pegg) manages to override the prison's security system and open cell doors at will. While he works his magic, Jane Carter (Paula Patton, "Precious," "Jumping the Broom"), another agent, runs through a sewer system under the prison to set an explosive that will give Ethan an escape hatch. He's freed, and you'd think all is well, but it's only the beginning.
Ethan's assignment is to get into the Kremlin to steal documents. Unbeknownst to him, a Russian nuclear extremist, Hendricks (Michael Nyqvist), is in the Kremlin too and plans to steal info that will help him start a nuclear war. The terrorist leaves behind a bomb that explodes. Many people are killed, Ethan is framed and blamed. The Secretary of State tries to intervene, along with covert agent William Brandt (Jeremy Renner), who masquerades as an analyst. Nothing goes right. Ethan and the other agents are forced to go rogue, as the U.S. president disavows them – Ghost Protocol. The four Impossible Mission Force agents try to stop Hendricks from sending a nuclear missile to the U.S.
If you haven't seen the other MI episodes, don't worry. This chapter stands on its own legs. The plotting (Josh Applebaum, Andre Nemec) is pretty clear and unpredictable. The dialogue makes points. (Ethan: "For terrorists, failure is a rehearsal for success.") The locations run from a party scene in Mumbai, to the streets of Moscow, to a restaurant in Seattle. However, the most spectacular scenes are shot in opulent Dubai in the world's tallest building, Burj Khalifa. Visions of Cruise hanging by a thread from the top of the soaring structure will give you vertigo. When he chases the villain into a blinding sandstorm, you can almost feel the sand in your eyes. A climatic, finale scene in a parking garage with a fight scene on hydraulic lifts is perfectly choreographed.
Oscar winning animation director Brad Bird ("The Iron Giant," "The Incredibles" and "Ratatouille") helms this hardboiled, kinetic film. He has never even made a live action movie before, yet he exhibits the instincts and prowess of experts like Brian DePalma, J.J. Abrams and John Woo. Only one or two scenes lag and go astray. Otherwise Bird's pacing is superb and his efforts are thoroughly complimented by those of stunt coordinator Gregg Smrz, fight choreographer Robert Alonzo, editor Paul Hirsch and cinematographer Robert Elswit.
Though the technical crew can take a deep bow, the success of this film rest in the hands of Cruise, who is back in an iconic role where he flourishes. He's in character, stoic, strong, determined and unflappable. He's a superstar who commands the screen. When he's in a sequence your eyes don't leave him. Pegg provides comic relief, Renner is austere as the enigmatic agent, and Paula Patton as the foxy, athletic Jane, rounds out a feature cast that triumphs. Anil Kapoor ("Slumdog Millionaire") as an Indian playboy has swagger. Lea Seydoux as an assassin is venomously sexy.
In most cases, the difference between seeing a film in a regular theater and IMAX are not that great. In this case, when the movie opens with soaring shots over Moscow and takes you to the heights of the glassed fortress in Dubai, the IMAX experience feels far superior.
Mark my words, this action/thriller will dominate holiday movie going and become the most profitable film in the MI series. Mission accomplished.