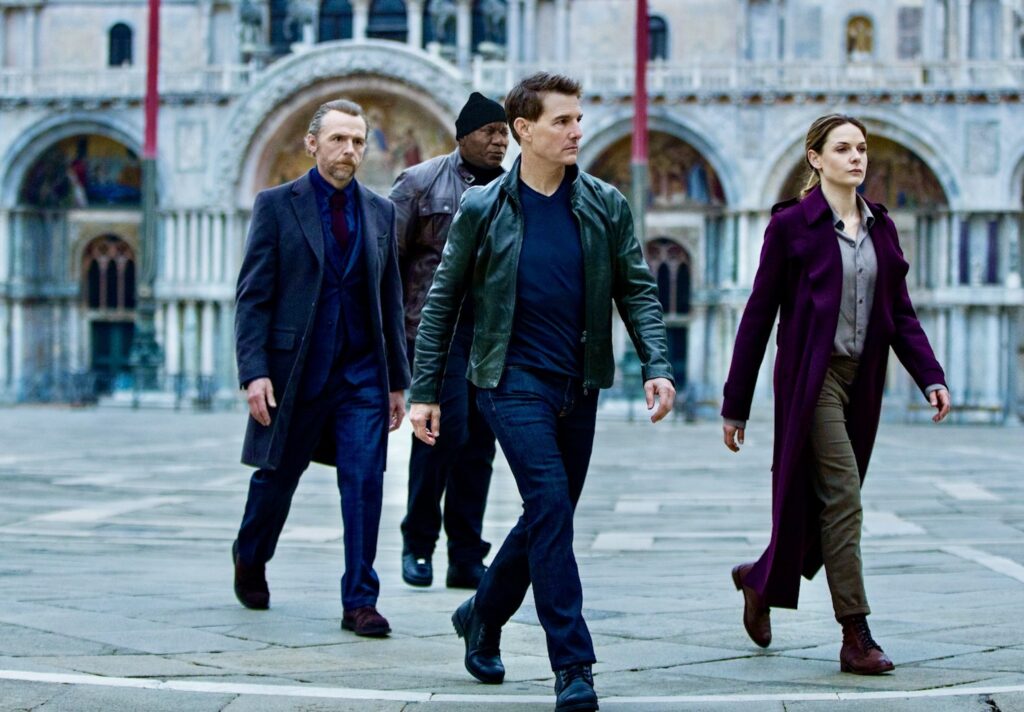 (***)
It doesn't start with a big bang, but it ends with one.
Coming off the heels of the phenomenally successful, $1.4B grossing Top Gun: Maverick, expectations for this Tom Cruise vehicle to ignite the summer box office are high. Will it make a billion dollars? Only audiences will decide.
"The Entity," an AI being, threatens to upend the world. One precious device will start the mayhem. It's a key, a relic that is being hunted by Ethan Matthew Hunt (Cruise), a field agent and operative for the Impossible Mission Force (IMF). He works with his team: the hacker Luther Stickwell (Ving Rhames), tech field agent Benji Dunn (Simon Pegg) and with an assist from former MI6 agent Ilsa Faust (Rebecca Ferguson). They're like family. Hunt: "Your life will always matter to me more than my own."
In fact, the film's thrilling but not astonishingly thrilling beginning consists of Hunt trying to rescue Faust in a desert oasis set upon by villains. Riding over the barren land like something out of the 1962 Lawrence of Arabia playbook, the IMF crusader attempts to save the day with sands blowing in his face, a sharpshooter clearing a path for him and a fight scene that would be far more convincing if it didn't look like it was filmed on a backlot set with an incessant wind machine.
Previous M:I directors have included Brian de Palma, J.J. Abrams and John Woo. All brought their own style to the episodes they created. Oscar-winning screenwriter Christopher McQuarrie (Usual Suspects) turned filmmaker (Mission: Impossible – Rogue Nation 2015, Mission: Impossible – Fallout 2018) handles writing, directing and producing duties. So, this baby belongs to him and Tom Cruise.
McQuarrie's script adds a bevy of duplicitous characters. The most dazzling is a pickpocket thief named Grace (Hayley Atwell), who Hunt can't trust, shouldn't trust, but does. However, she is not the antagonist—there are several. The most venomous is Gabriel (Esai Morales), Hunt's old adversary and a terrorist determined to use the key to fulfil his heinous plans. The characters are in motion. Their subplots play out, sometimes in scenes where dense exposition halts the pace. Showing works better than telling. Show don't tell.
Cinematographer Fraser Taggart captures the many set pieces, car chases, brawls and dazzling escapes that are played out in Abu Dhabi, Venice, Rome, England and European locations. The music blares at the right time (composer Lorne Balfe), hotel rooms, offices and train car interiors (production design Gary Freeman) are up to M:I standards. And 163 minutes roll by unnoticeably (editor Eddie Hamilton) because the action is well-measured and engaging. Especially when Hunt and Grace are in an airport trying to blend into crowds and avoid their enemies' detection. Danger surrounds them as they pass off artifacts and cigarette lighters like magicians with something up their sleeves. Grace: "Is anyone not chasing us?!"
It's easy to like what's on view. Especially when Hunt is running to the rescue like he started a 100-yard dash that turned into a marathon. The final scenes in this Part One of a two-part series hit their peaks like they should. Hunt leaps off a mountain on a motorcycle into thin air. He and Gabriel fight on the roof of a fast-moving train, which strains belief, but who cares? And a daring escape from a dangling locomotive is flabbergasting and must have been hard to film.
The script, direction and certainly Cruise's keen ability to draw you into his predicaments and mindboggling stunts are all on display. Adrenaline-pumping sequences, flirtatious interludes, high pitch drama and a save-the-world plot do their jobs. However, something about the process doesn't feel new.
Action fans have seen car chases with vehicles careening down steps before. Assassins fighting assassins. Gadget trickery, tricky maneuvers and slights of hand. This is the year John Wick: Chapter 4 expanded the whole notion of what immersive action films could be. How they could drain the blood and life out of audiences with sheer audacity, head-scratching fight choreography and over-the-top violence. That's the new gold standard. That's why this Mission… is very good for what it is, but not as astounding as it could be. 
Maybe they're saving the best for last. Maybe they're saving the best for Mission: Impossible – Dead Reckoning Part Two, which will be released June 28, 2024. Maybe that one will start and end with a bang!

Trailer: https://www.youtube.com/watch?v=avz06PDqDbM
Visit NNPA News Wire Film Critic Dwight Brown at DwightBrownInk.com.