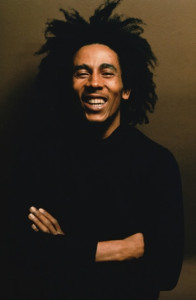 By Dwight Brown NNPA Film Critic
When we think of music icons that died tragically and way too early, Michael Jackson, John Lennon, and more recently Whitney Houston come to mind. But let's not forget Bob Marley. He brought reggae music to the world, was a social activist and lived a controversial life that rivals any of the aforementioned. His legacy is on view in this thoroughly revealing documentary.
Making a detailed, 145-minute, non-fiction film about the international superstar requires help, and director Kevin MacDonald ("Last King of Scotland") received the full cooperation of Marley's son Ziggy, daughter Cedella and wife Rita. In fact, 60 people are interviewed, rare footage and photos assembled meticulously, and the result is a definitive recreation of a life that touched millions.
Marley was born to an African Jamaican mother and had a white father who abandoned him. It left him with a yearning for acceptance that shaped his life, relationships and his music. He married a faithful woman, had several lovers and 13 children. He turned to religion, Rastafarianism, for structure. He looked up to Ethiopian leader Haile Selassie as a father figure. The vehicle that put him on the road to success and international stardom was the group he formed with Peter Tosh and Neville "Bunny" Livingston called The Wailers. When Tosh and Bunny left the group, Bob and a new band, including back-up singers with his wife Rita, persevered taking the group into the stratosphere of fame with songs like "One Love" and "Could you Be Loved."
Bunny and Neville Garrick (The Wailers artistic director who stayed with Marley the rest of his career) lead the choir of friends, family and babies' mommas who talk heartfelt and in great detail about the man who influenced their lives: Marley's humble beginnings in the Parish of St. Ann; growing up as a mixed race child who faced prejudice from black and whites; an attempted assassination; world tours; record deals; healing the political unrest in Jamaica; an untimely death at age 36.
Credit Macdonald for making an informative and surprisingly entertaining documentary. It's not just the mesmerizing music, or the electrifying performances or the vivid recollections, it's the way he and editor Dan Glendenning weave all these parts together into a fascinating mosaic. The girth of their efforts might make this movie a tad long, but for those who endure, the experience is uplifting and cathartic.
You'll walk away from this ambitious documentary longing to hear Marley's voice again (thank heaven for iTunes) and with a deep respect for a man who was a saintly musician. 30 years after Marley has passed on to heaven and Jah, his legacy remains.