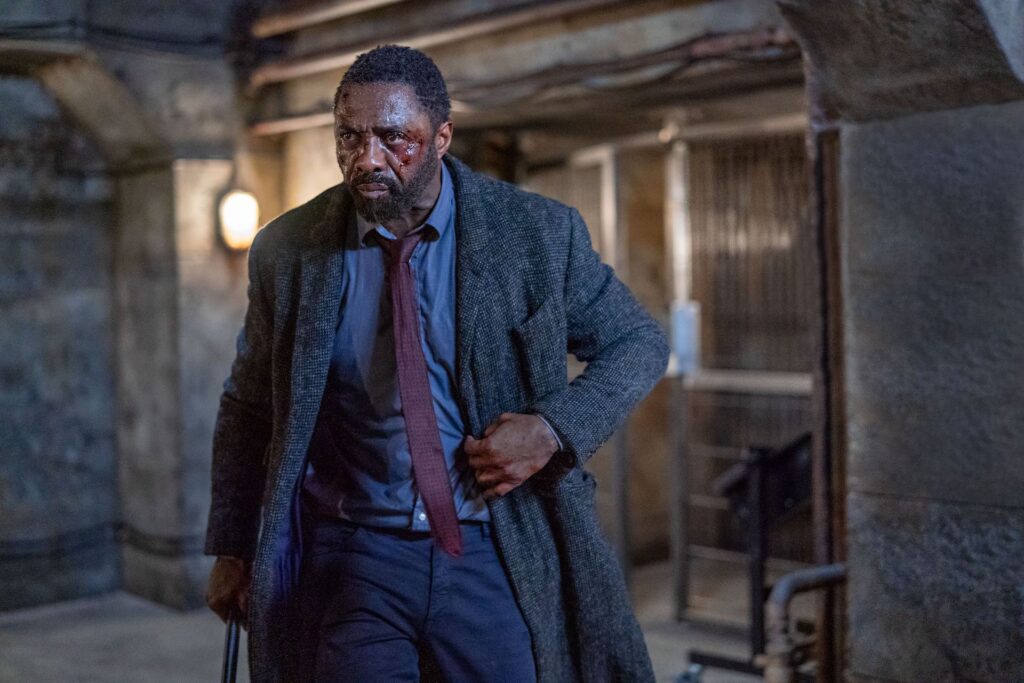 (***1/2)

What a story! Right from the beginning this psychological/crime/thriller grips you and doesn't let up until it's done.
Caleb, a young white male custodian, works a night shift cleaning floors in an empty London office building. He gets a cryptic, threatening call: "Meet me here in 15 minutes … or everyone will get the screenshots." Terrorized that his mother and girlfriend will see something he's ashamed of, he runs out of the building in a panic.
It's pouring rain as he drives towards the destination. A car is stopped in the middle of the road. Someone is laying on the ground, motionless. Shocked, he calls 911 to report his discovery, looks at the dead body and turns to view the passenger. The person stretched out on the pavement gets up and grabs him. Caleb disappears.
The next day law enforcement surrounds the vehicle and investigates. Detective Chief Inspector John Luther (Idris Elba) is among the see of blue. He is shocked when they discover that the passenger in the car is a corpse from years ago. And so, it begins…
For fans of the BBC series Luther, this feature film is a continuation of characters, plotlines and that same astute feel for crime/drama that made the TV show a thrill and Elba an international star. For those who know nothing about the series, no prior knowledge of who, what and where is necessary to be riveted to a narrative that commands attention.
Not sure what is going on in the head of screenwriter Neil Cross, but what comes out is a talent for spinning sick, demented and compulsively entertaining tales. Hard to guess what will happen next. What locations you'll travel to, and exactly how depraved cyber terrorist and serial killer David Robey (Andy Serkis, Rise of the Planet of the Apes) will be. You can bet that his evil, cunning deviltry will snare innocent victims, kill them and horrify the entire city. And that through the internet and media, he will scare people into becoming pawns in his war against humanity. 
Luther fights to stop the wave of cruelty and is eager to solve old grudges. As he plots his course, his path gets blocked by accusations against him. How on earth will he solve this crime spree?
There is never any doubt that Luther will track his man to the ends of the earth. That his sojourn and stoical determination will keep genre fans and adults hooked up to this cat and mouse killing spree for 2h 9m. As the pace quickens and quickens, your heart will pound anxiously for Luther and his saf. Elba has been in many films, some not up to his acting standards. Seeing him in this milieu puts his strengths into context. He needs to be the lead and given the space to let his persona unfurl. He needs a strong, imaginative director, like Jamie Payne, to give him the opportunity to be the alpha. 
Payne's style permeates every scene. Perfect staging, well-coordinated crowd scenes, well-choregraphed action sequences and expertly guides his cast. He even adds a touch of David Lynch flair when events lead to a wintry location and an icy pond reveals haunting images.  
The production elements are up to the challenge too. Tight editing (Justine Wright, The Last King of Scotland), captivating cinematography (Larry Smith, Eyes Wide Shut), music that intensifies on cue (Lorne Balfe), lived-in looking clothes (Susan Lyall, Molly's Game) and props and places that perfectly evoke settings (production designer Jon Gary Steele; set decoration Liz Ainley and Liz Griffiths) all serve their purposes well.
The supporting cast's mini dramas add worthy subplots to the main narrative. Cynthia Erivo as Luther's replacement DCI Odette Raine, Dermot Crowley as Martin Schenk, an old confidant, and the mysterious Thomas Coombes as Archie Woodward, Raine's colleague.
Luther: "One point of commonality between the victims and we'll find our killer." That's the plan. Search, discover, capture. But nothing goes as it should. A sadistic psychopath holds the reins, so nothing is predictable. As the forces of good and evil head for a clash, only a few moments with unlikely rescues or generic action scene gimmicks mar what's on view.
Once viewers start watching they won't stop. They won't turn off the TV until this overpowering storytelling gives them permission. And there is no safeword.
In select theaters February 24th. On Netflix March 10th.
Trailer: https://www.youtube.com/watch?v=EGK5qtXuc1Q
Visit NNPA News Wire Film Critic Dwight Brown at DwightBrownInk.com.