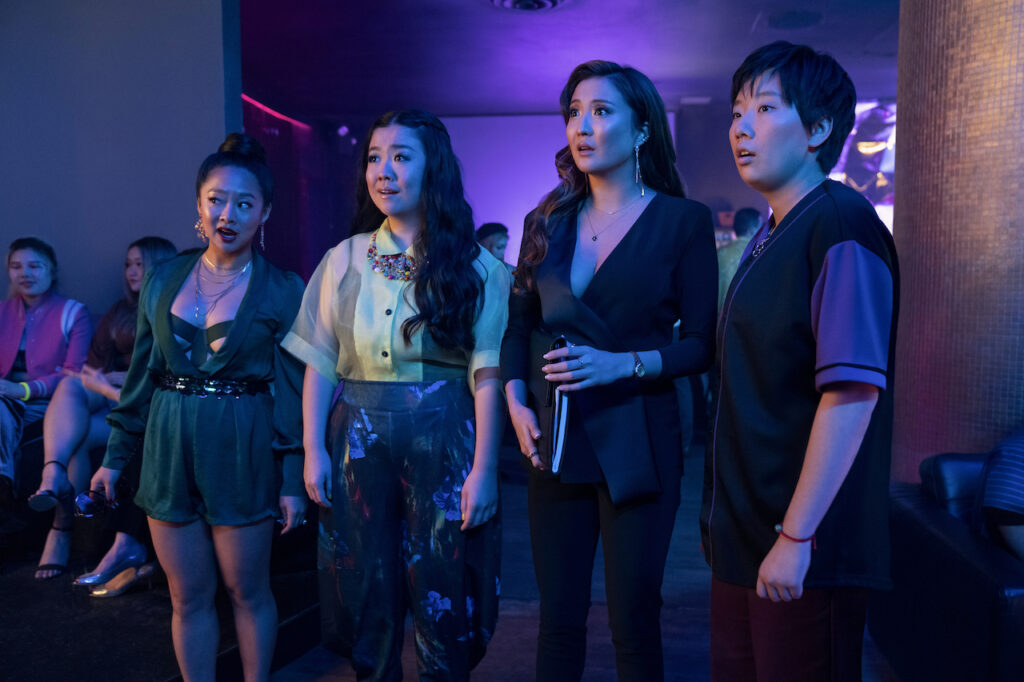 (***1/2)
They say girls just want to have fun. But these Asian women can really throw down.
If you're not into R-rated comedies, stay home. If you are, trust the demented tastes of writer/director Adele Lim (writer of Crazy Rich Asians), co-screenwriters Teresa Hsiao (Family Guy) and Cherry Chevapravatdumrong (Family Guy) and producer Seth Rogan. If you can handle watching their hilarious, touching and adults-only filmmaking, you will laugh yourself silly.
Little Audrey, an Asian kid, was adopted by Caucasian parents and felt like an outcast in her predominately white town. Until a Chinese American family moved in, and their daughter Lolo became her buddy and protector. Years later as young adults, Audrey (Ashley Park) is a successful lawyer looking to be a partner at her firm and her roommate Lolo (Sherry Cola) struggles to find her footing in life. Well, really, she's an artist fixated on making genital artifacts.
When Audrey's boss asks her to go to China to close a deal with a difficult client (Netflix comedian Ronny Chieng), Lolo comes along to translate, and she invites her non-binary cousin Deadeye (Sabrina Wu). In China they all hook up with Kat (Stephanie Hsu), Audrey's friend from college who is a very successful actress. Then this quartet gets into some raunchy, alcohol-fueled and drug-induced misadventures.
If the setup smells a little like Girl Trip or Bridesmaids, you're on to something. Throw in a touch of Hangover's outrageousness and that describes this film's bawdy nature. How wild is it? If hiding a condom of cocaine up a butthole, a menage a trois with basketball players and a devil's tattoo on a woman's private parts are any indication, the writers, producers, director and actors will do anything to make you laugh. Anything!!!
The very distinctive characters are dirty, flirty and bodacious. No matter how calm they may be in the beginning, they're going to shock you in the end. There are rivalries, jealousy, envy. Words are said, feelings are hurt. Break ups and make ups abound. Sometimes you chuckle. Sometimes guffaw. Sometimes tears well up in your eyes with sadness. That's a sign of layered, effective writing and versatile, emotionally charged acting.
The tight footage (editor Nene Erb) keeps a rhythm that's enhanced by Nathan Matthew David's musical score and a bumping playlist that keeps your toes tapping. A scene in which the four masquerade as a K-pop group to con their way through customs at an airport is a gem. They sing a version of Cardi B and Megan The Stallion's "WAP" like only four bad bitches could. The actresses ham it up, Lim directs the sequence like a music video (cinematographer Paul Yee) and that isn't the only time that images are jumbled up, fast-forwarded or mixed up to enliven the visuals. Lim has style.
Park, Cola, Wu and Hsu are equally talented comic and dramatic actresses. Chieng is animated as the pushy client. Desmond Chiam makes Kat's hunky virgin Jesus-freak fiancé Clarence seem suitably naive. So, when one of the ladies says, "No tongue until the wedding bell is rung," you believe it. Former B-ball pro Baron Davis and the entire cast of players add zest, Daniel Dae Kim's (Hawaii Five-0) cameo is sweet, and Meredith Hagner wreaks havoc as a troubled woman on a train.
In-between the hopelessly vulgar verbal, physical and visual humor, audiences experience an unapologetically Asian point of view. A rare perceptive and comic glimpse of life and living in the U.S.A. Audrey's thoughts, feelings and encounters as an Asian in a white family who is not tuned to her own culture, are surprisingly revealing. She didn't even know what "Linsanity" was, which will make Jeremy Lin and basketball fans scratch their heads collectively. So, if audiences listen as they laugh, they may learn something too. 
It is way too easy to fall in love with Joy Ride. The naughty characters, shocking situations and sisterhood drama disarm you. You'll want to have fun with it. Filthy, silly fun.

Trailer: https://www.youtube.com/watch?v=jyI-AM5VXDo
Visit NNPA News Wire Film Critic Dwight Brown at DwightBrownInk.com.