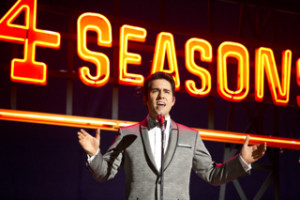 By Dwight Brown NNPA Film Critic
Four guys stand under a street lamp, singing their hearts out. That's the iconic vision of Doo-wop/pop groups like The Four Seasons. The Tony Award-winning Broadway musical Jersey Boys puts a name and face to that image. Clint Eastwood's screen adaptation, triumphantly for the most part, makes their tale cinematic.
Jersey Boys has been a mainstay on Broadway since 2005, spawning national tours and international productions. The heart of the story is the coming-of-age of four Italian teen singers from Newark who escaped mob life and eventually sold 100 million records over five decades. The Four Seasons' journey is an American success story steeped in personal drama, stormy group dynamics, setbacks and stardom. The musical told their tale, within the limits of four walls. The screen adaptation, sans those restrictions, gave Clint Eastwood carte blanche when he interpreted their lives. The director of Bird (the jazz-filled Charlie "Bird" Parker bio-drama), Unforgiven (an Oscar Award-winning classic western drama) and Changeling (a gorgeously shot period film) displays his strong suits: music, drama and evocative cinematography.
The temptation to make a fast buck got teenager Francesco "Frankie" Castelluccio (Tony Award winner John Lloyd Young) in trouble with the cops. But his love of music pointed him in the right direction. His older friend Tommy DeVito (Vincent Piazza) was both a bad role model and the key to a musical career. Frankie had the silky smooth falsetto. Tommy sang baritone, played the guitar and fancied himself the business manager. The two hungered to make it big in the music industry. They lucked out the day their buddy Joe "Joey" Pesci (Joseph Russo) introduced them to singer/songwriter/keyboardist Bob Gaudio (Erich Bergen). Bass player and bass-voiced Nick Massi (Michael Lomenda) completed the quartet. Now they had the voices, talent and the songs to start a career.
In some filmed Broadway musicals, like Dreamgirls, characters break into song in an instant. In this film adaptation, the guys only sing when they're rehearsing, in the studio or performing. This strategy lets Eastwood mount a real drama, which focuses on hustling for gigs, turbulent marriages, intimidating crooks, family problems and flamboyant producers. You get sucked into the musicians' rhythm of life: ambition, romance, betrayal, jealousy, comic moments…
The unsettling moments come when characters, in asides, talk to the camera lens, explaining their point of view. This device may have worked on stage, but it sticks out like a pimple on film. Also, a bothersome lengthy flashback sequence depicts Tony getting the group into debt, courtesy of ties to a mobster. These scenes halt momentum and should have been incorporated in the chronological telling of their story. Sometimes Eastwood's creative choices are questionable, though never completely detrimental. Eastwood's attention to technical elements-sound, art direction (Patrick M. Sullivan), production design (James J. Murakami) and cinematography (Tom Stern, Changeling)-is impeccable.
The teen group known as The Four Lovers becomes The Four Seasons. Francesco "Frankie" Castelluccio becomes Frankie Valli. And after every producer in New York turns them down, the group hooks up with producer/songwriter Bob Crewe (Mike Doyle), who helps them along as they finally have their first number one hit, "Sherry." That chart-topping success is followed by: "Walk Like A Man," "Big Girls Don't Cry," "Dawn (Go Away)," "Big Girls Don't Cry…" As they reach for stardom, nagging problems bring them back down to earth.
Marshall Brickman and Rick Elice were nominated for Tony Awards for writing the book for Jersey Boys. Their screenplay is solid though it never seems to expand on the stage play. For example, The Four Seasons were the first white group to be signed to Veejay Records, a major R&B label in the '50s and '60s whose recording artists included Jerry Butler, John Lee Hooker and Little Richard. It would have added a dimension to the movie if the viewers could see how the Italian kids from Newark interacted with black artists and dealt with social issues like race back in the '60s. As Bobby Crew puts it, "Listening to the group you couldn't figure out if it was three guys and a girl or four black guys singing." This was a missed opportunity.
John Lloyd Young's interpretation of Valli won him a Tony Award. He was the perfect actor for the lead role. He's a strong singer with a piercing voice, but you still miss Valli's distinctive, rich, nasal, trumpet-sounding tenor. Erich Bergen, Michael Lomenda and Vincent Piazza are fine. Christopher Walken as mobster Gyp DeCarlo gives an effete performance that doesn't gel. Donnie Kehr as mobster Norman Waxman is far more intimidating. Mike Doyle plays Bob Crewe with a smirk. Katharine Narducci as Franky's brassy girlfriend-turned-wife makes a believable transition.
As this 134-minute film comes to an end, you crave more of The Four Seasons. In fact, if you haven't seen the stage musical, the film won't spoil that experience. After witnessing the highs and lows of these street singers from Newark on screen, you will want to see their lives on stage all the more.
Visit NNPA Syndication Film Critic Dwight Brown at DwightBrownInk.com