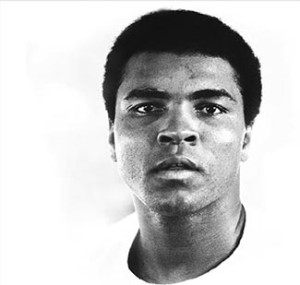 By Dwight Brown NNPA Film Critic
"I am the greatest!" Who can forget the cocky trademark phrase that was delivered by the most endearing boxer of all time? Retracing Muhammad Ali's vibrant life is an opportunity for audiences to reexamine American history, race relations, the civil rights movement, the antiwar movement and the sports world through the eyes of a perceptive black man. That's why I Am Ali is so thought provoking.
Back in 1996, the documentary When We Were Kings, focused on the 1974 heavyweight championship bout in Zaire, between Ali and Foreman, "The Rumble in the Jungle." This more encompassing bio-doc is filled with interviews, archival footage and unique intimate tape recordings made by Ali that feature conversations between him and his kids. Director Clare Lewins, film editor Reg Wrench and director of photography Stuart Luck use an engaging graphic of audio sound waves in the sequences where the championship boxer talks with his offspring. Surprisingly it's a visual that never gets monotonous, and hearing the voice of Ali, at various stages in his life, gives us a window into his kindness and generous spirit.
The footage, in the beginning, is an unsettling, mixed assemblage that doesn't proceed in a logical, chronological order. It jumps around between his childhood, the Olympics and interviews with his brother Rahaman Ali, who has been his lifelong sidekick. At age eight, in 1950, the strong-willed youngster known as Cassius Clay told this brother, "Rudy, one day I am going to be the most famous man on the planet." It didn't come easy, but it came true. World Heavyweight Championship in 1964 beating Sonny Liston; champ again in 1974 against George Foreman; champ again in 1978 in a rematch fight against Leon Spinks.
The fights were about as exhilarating as Ali's life. He joined the Nation of Islam, refused to fight in the Viet Nam war and became more articulate in press conferences than the journalists. Before Ali, sports writers wrote about boxing matches and the boxers. With Ali, for the first time, they wrote about what a boxer said. When he went to England to fight, Londoners took a while to warm up to him, but after he spoke, they loved him: "I am the king. You have a Queen (Elizabeth). But I am the king." They ate it up.
Relatives, friends, managers and journalists willingly share their recollections of Ali. His daughter (Maryum), son (Muhammad Ali, Jr.), trainer (the late Angelo Dundee), rival (George Foreman), fellow activist (Jim Brown) and heir to his throne (a very humble and star-struck Mike Tyson) are brimming with anecdotes.
You get to see vivid, iconic sports moments, like Ali's dazzling ability to evade Sonny Liston's punches in a championship match. There are other news worthy instances that you may have forgotten, like the Nine Black Athletes (e.g. Bill Russell and Lew Alcindor aka Kareem Abdul-Jabbar) who showed solidarity at a news conference with a beleaguered Ali after his refusal to be drafted into the Army.
This is a fine, educational and entertaining documentary. Thorough. Emotional. Historical. Ali, now silenced vocally by Parkinson's, relays his legacy in his private audio journals that reveal glimpses of his personal life and nurturing skills. They are clues to the greatness behind the man.
As George Forman says, "It's a privilege to see his life." Ditto this film.
Visit NNPA Syndication Film Critic Dwight Brown at DwightBrownInk.com