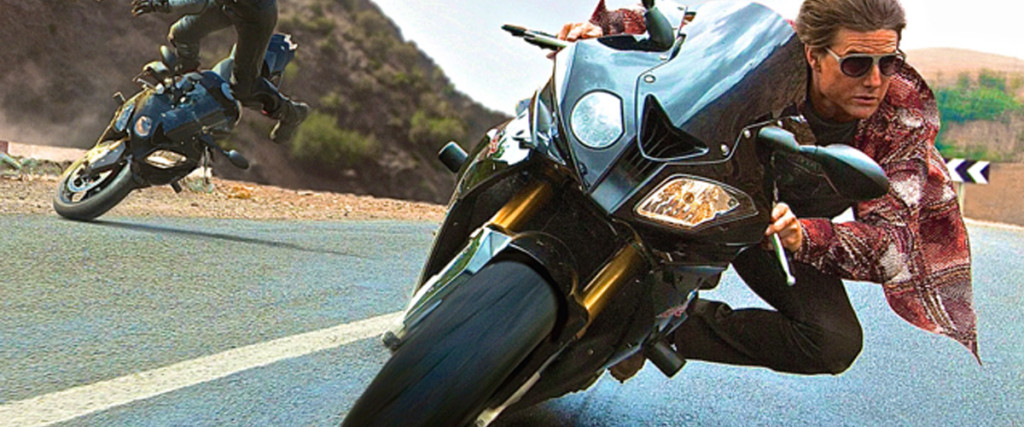 The first 15-30 minutes of this new Mission: Impossible entry lacks electricity. Yes it opens with the stunt that is on every trailer; Tom Cruise as IMF agent Ethan Hunt clutching the side of a cargo plane for dear life as it lifts off at over 100 MPH. This should be an OMG moment, but in the movie it seems tame. Writer/director Christopher McQuarrie (Jack Reacher) has a more tempered approach to the material than the franchise's preceding director, Brad Bird (Mission: Impossible—Ghost Protocol). Be patient. McQuarrie gets you there…
Whatever they pay Tom Cruise to star in these movies, it is not enough. It's all about him; his willingness to do death-defying stunts, his unwavering macho aura, his sense of drama, humor and those intangibles qualities that make him a movie star in the old Hollywood tradition, like it or not. Sure he is supported by the sultry actress Rebecca Ferguson (Hercules); the comic timing of Simon Pegg (Shaun of the Dead); the over-serious Jeremy Renner (The Bourne Legacy); and the calm got-your-back nature of Ving Rhames (Drop Squad). But Cruise's portrayal of IMF agent Ethan Hunt is what makes this series tick; he's the real parade.
Ethan and the deep-cover espionage agency IMF are on the hot seat with a congressional committee and the snippy head of the CIA (Alec Baldwin) wants to squash them. While Ethan is off in exotic locations, his cohort, the top analyst William Brandt (Renner), tries to make sure that the CIA doesn't gobble up the IMF.
A mysterious man, Solomon Lane (Sean Harris), and his thugs capture Ethan. The only thing that stands between life and death by deboning is a mystery woman named Ilsa Faust (Ferguson). Hunt escapes. Now he trails Lane whom he believes runs a rogue international organization called the Syndicate, which is hellbent on eradicating world leaders—and worse.
The script, written by McQuarrie, is serviceable. It starts with a nugget of a plot and builds on it scene by scene. There are enough villains to keep you engaged, but not so many that you can't discern whom you should hate. And they're vile enough to have reserved seats in hell. Credit McQuarrie for crafting colorful antagonists, even if the plotline is not all the impressive and the dialogue is only intermittently memorable. At some point you won't care.
Hunt is joined in various locations around the world as he trails Lane and Ilsa who is either in cahoots with him, or out to do him in. First Benji Dunn (Pegg) assists Ethan, bringing his tech skills to Austria and the Vienna State Opera house where Ethan is on to an assassination plot. Then Ethan's quest takes him and his sidekick to Morocco where they're joined by Brandt and Luther Stickell (Rhames). As the plot thickens, the guys and the lady pursue a list that holds incriminating evidence. They pursue. Or are they being played?
Cruise does many stunts in the film, all directed by McQuarrie. And as inventive as they get, the most thrilling scenes and most visually stunning background is an old-fashioned car/motorcycle chase through the streets of Casablanca, out in the beige sand countryside and up a steep, treacherously winding two-lane road that weaves around the Atlas Mountains. It will have your heart jumping up into your throat. It is one of the many reasons you should see this film in an IMAX theater where the eye-catching feats will make your hair stand up. McQuarrie's directing ranks behind Brian DePalma, John Woo and Brad Bird when it comes to this series. But it's not bad.
Joe Kraemer's score accentuates the tension and danger at the right moments. Robert Elswit's cinematography captures underwater sets, desert landscapes, cityscapes and apartment interiors with skill, but previous Mission: Impossible chapters have looked better. Eddie Hamilton's editing is paced like someone put his foot on an accelerator until it hit the floor. Overall production design by James D. Bissell, art direction, set decoration and costume design are solid.
Ving Rhames doesn't recite dialogue, he growls and that does the trick. Pegg's comic manner is a welcome relief from the constant peril. Ferguson, as an agent who can beat down a man, is believable, particularly as she warns her tormentor, "Trust me or kill me. But be a man and do it yourself." Sean Harris as the ultimate villain is suitably evil. Only Alec Baldwin's performance seems out of place, like he's doing a Broadway performance in the middle of an espionage film. Cruise is in his early fifties, but runs down alleys like an 18-year-old doing a 50-yard dash. He leaves his DNA in every scene.
In the beginning you'll think something is missing from Mission: Impossible—Rogue Nation. Excitement. Audacity. Edge. Visual splendor. Be patient. In it's own way, this action/thriller eventually gets the job done.
Visit NNPA Syndication Film Critic Dwight Brown at DwightBrownInk.com.