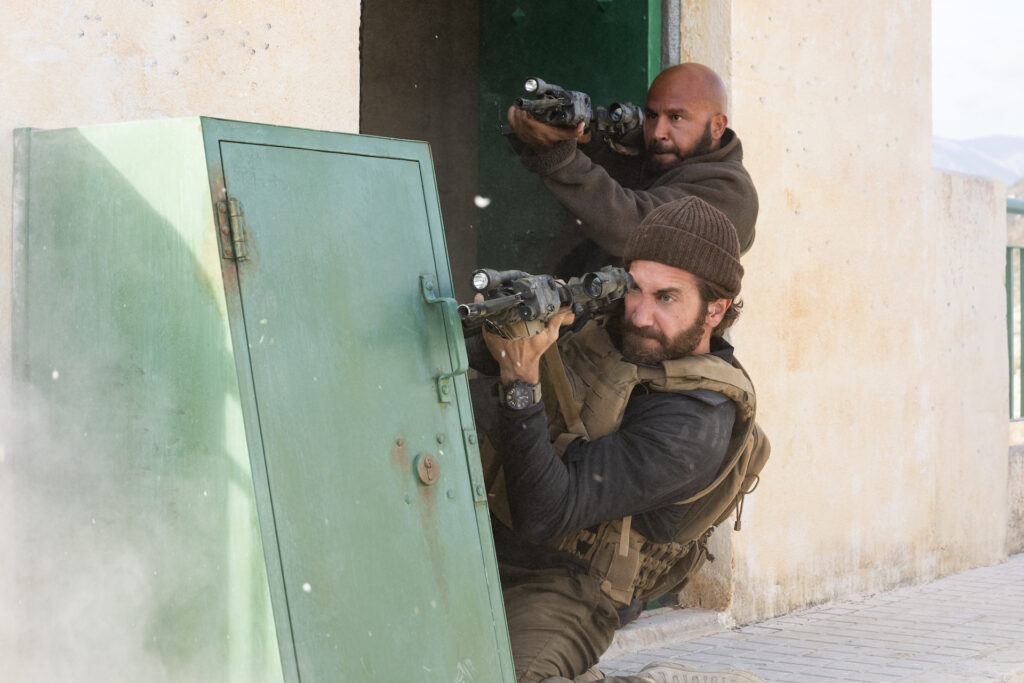 (***)
"No man left behind." During America's Revolutionary War that was the First Continental Army's motto. That credo is a driving force in this very engaging war/act/thr.
This film's unlikely creator is director Guy Ritchie, who's noted for making smug, densely plotted British capers (Lock, Stock and Two Smoking Barrels) and lavish family films (Aladdin). Serious dramas capturing the horrors of war and the humanity that can prevail aren't in his filmography. Yet somehow, he eschews his gimmicky camerawork and quirky style to tell a straightforward story about the debt that must be paid when someone saves your life. His version of a stripped-down war story isn't as close to the ground as Rod Lurie's The Outpost, but it's close enough. And Ritchie's efforts are aided greatly by co-screenwriters Ivan Atkinson and Marn Davies.
The War in Afghanistan rages in 2018 and American armed forces are on the ground. That's the set up. The story develops in four segments. Act I: U.S. Army Sergeant John Kinley (Jake Gyllenhaal) runs a specialist unit assigned to find and destroy the Taliban's hidden munitions sites. He hires a local interpreter, Ahmed (Dar Salim), who's fluent in four languages. Out on a mission there's a deadly ambush. Act II: One of the two men is severely injured, the other becomes his savior. Act III: One of the two men has survivor anxiety, anguish, PTSD and feelings of guilt that rattle his soul: Act IV: The final mission. A quest. A rescue attempt.
The very well written screenplay puts many characters in play. Kinley's unit is filled with dynamic personalities with catchy names whose bawdy banter is funny and disarming: Jizzy (Sean Sagar,) JJ (Jason Wong), Tom Cat (Rhys Yates) and Chow Chow (Christian Ochoa Lavernia). Within minutes it's apparent that locals in jobs as interpreters risk their lives to fight the Taliban and provide food for their families: Kalan (Walid Shahalami) who faces peril, Haadee (Reza Diako) who is vulnerable to bullying and Ahmed.
In typical, old Hollywood war movies, one guy is the hero, the alpha. This time there are two leads: A focused, rule-breaking Army sergeant whose wife and children are safe at home in California. And an Afghan mechanic turned interpreter who's lost a family member to the Taliban and seeks refuge in America. Though one is the boss, the other has knowledge of the culture, terrain and people. They need each other and that plays out as they take, relinquish and share power during perilous escape attempts for 2h 3m. It's very reminiscent of the 1958 Tony Curtis and Sidney Portier escape drama The Defiant Ones.
Of the four acts, Ritchie, as a director/writer, seems to have a viable plan for three. The third act is the weakest. That's when one of the protagonists displays inner turmoil and needs to settle an obligation. That's when the audiences' attention may drift. The filmmaking descends into quick edits, showing moods and grief. It's too obvious. Instead, maybe the guy should have ignored his responsibilities until someone or some event changed his mind, forcing him down the right path. That kind of conflict would have been more dramatic.
Which brings up the script's other weakness, the two leads character arcs. What if Kinley was a bigot at first and his experiences with Ahmed changed him? What if Ahmed was firmly anti-American at first, but his experiences with Kinley changed him? The two characters starting farther apart before they became brother in arms would have added more depth.
There are times, in the heat of battle, when string music plays softly. The music doesn't blare like it's in a Star Wars movie. Instead, it's restrained. It's a striking, effective contrast and a genius move by musical composer Christopher Benstead (Gravity). The gunfights, parched terrain, dirt streets and explosions are perceptively viewed through the lens of Ed Wild's (Rocketman) camerawork. The soldier's uniforms and the Afghans' clothes blend in (Loulou Bontemps, The Gentlemen) and audiences will never question the inside of a tent or Kinley's home in Santa Clarita CA (production designer Martyn John; set decorator Linda Wilson).
Gyllenhaal has become a consummate character actor. A chameleon. Roles in Brokeback Mountain and this war story are diametrically opposed, yet equally absorbing. Dar Salim as Ahmed comes across as a strong, silent type who lets glances and facial expressions display emotions and thoughts. The two leads feed off each other perfectly, a prime example is when Kinley cautions Ahmed to remember his position: "You're here to translate!" Ahmed corrects him: "Actually I'm here to interpret!" The viewer knows the difference. It's not just words or titles, it's who's really in charge and knows their worth.
This gripping look at war gets under your skin. Just enough realism to make you buy into the possibility that relationships between U.S. soldiers and local interpreters existed. They did. Just enough thrills and action to keep you visually engaged. Just enough heart to make you feel for the characters.
Nothing is taken for granted. Nothing left behind.
In select theaters April 21st.
Trailer: https://www.youtube.com/watch?v=9t4LnMEWE64
Visit NNPA News Wire Film Critic Dwight Brown at DwightBrownInk.com.