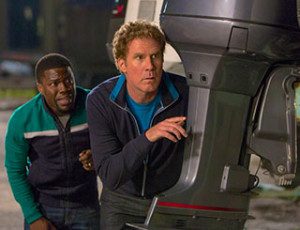 By Dwight Brown NNPA Film Critic
Pairing Kevin Hart and Will Ferrell is like mixing gasoline and fire. You know there's going to be an uncontrollable explosion. Though Get Hard's paint-by-numbers script is merely serviceable, and screen writer/turned director Etan Cohen (Tropic Thunder) hasn't a clue about what he's doing, the ebony and ivory actors pull this comedy off. They're so damn funny!
The story commences in two disparate parts of L.A: In upscale Bel Air, James (Ferrell), a millionaire hedge fund manager, is about to marry his super-wealthy boss's (Craig T Nelson) shallow daughter (Alison Brie, Mad Men). In the working class neighborhood of Crenshaw, Darnell (Hart) lives with his wife (Edwina Findley Dickerson), a nurse, and young daughter (Ariana Neal). He owns a small carwash/detailing business that operates out of the garage of James' high-rise office building.
James hardly notices that Darnell is the guy who services his car, until the rich dude is arrested and convicted of fraud. He's sentenced to 10-years hard time in San Quentin and is scared to death he won't survive. Assuming the man who washes his car has done time himself, he hires Darnell to teach him how to toughen up for the big house. James is wrong. Darnell is as middle class as the Brady Bunch, but he needs the dough to put a down payment on a new house. It's on!
Screenwriters Jay Martel and Ian Roberts (both vets of TV's Key and Pete), with the aid of Etan Cohen, have written a script, in the vein of Trading Places, that is a framework. They probably knocked the whole screenplay out over a game of poker and figured that the two comic actors could fill in the laughs. Cohen, who tries his hand at directing, shows little talent for the job. He sets up the camera, then he falls asleep. Minus some imaginative editing (Michael L. Sale, Tammy) in a staged prison riot scene, the film lacks style. It feels like a half-hour situation comedy that runs on for 100 minutes.
That said, it's not like Hart or Ferrell care. They work their shtick like champs regardless. Ferrell is arguably one of the best comic actors of his generation, and Hart is the same for his. They improvise this film out of the danger zone and make it an uproarious comedy that will keep you in stitches.
Ferrell's James is so aloof, naive and caught up in his whiteness that it is a joy to watch him transition from a snob, to a street-smart hoodlum with heart. Darnell tries to butch him up for two-thirds of the movie, but James just doesn't get it. By the time he catches on, he reels off hostile one-liners like he was a real prison thug. As he pretends to tell off a sexually aggressive con in prison, he warns, "Hope you brought your Costco Card because you are about to get d— in bulk!" Ferrell's characteristic charm goes a long way.
Hart moves around the set like an impish gazelle. You don't have time to target him because he is that fast. He uses his self-deprecation, animation, vulgarity and street smarts to play a middle-class man who is pretending to be a hoodlum. Sometimes he is the aggressor in a scene, and sometimes the foil. He punches Ferrell with conviction, and takes a slug from his wife like a wimp. Together Hart and Ferrell are as funny as Laurel and Hardy or Abbott and Costello.
As the story uncovers who stole the money and unravels Darnell's rouse, it peppers itself with nudity, cursing, violence, racial slurs (derogatory terms for Blacks, Latinos and Jewish people), oral sex, cruising in a gay bar, hoodwinking an Aryan Race gang and gung-toting gang scenes with Darnell's cousin Russell (T.I.). If offensive humor and situations bother you, stay home.
Check your social consciousness at the door. Forget the formulaic script and lackluster direction. Get Hard features two genius comic actors working their craft like magicians. Hart and Ferrell make this movie raunchy, silly, hysterical and fun.
Visit NNPA Syndication Film Critic Dwight Brown at DwightBrownInk.com