Filmmakers told a variety of stories at Sundance. Some were shocking. Some warm-hearted. Parent/child conflict was on view. The tech world ran amuck. That thin line between love and hate shrank. New tales. New twists. New messages. Lots to contemplate.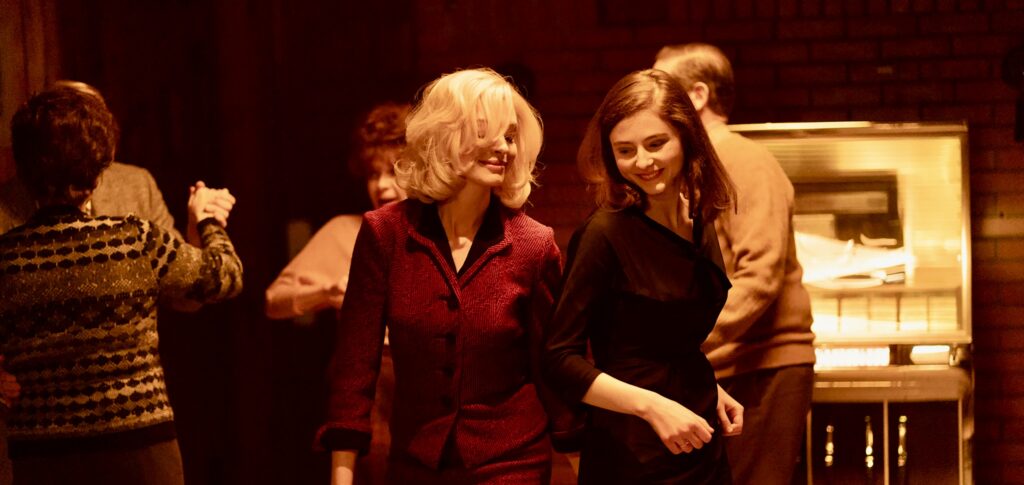 Eileen (****) She didn't see it coming. Eileen (Thomasin McKenzie), a small-town young Boston-area woman works as a secretary in a boys' prison. The day a blonde bombshell psychologist (Anne Hathaway) walks into the penitentiary, she's smitten and led astray.
Only an insane and accomplished writer could concoct what happens next. Credit or blame novelist Ottessa Moshfegh for the twisted tale and screenwriter Luke Goebel and that author for a script that will leave audiences flabbergasted. Rape, murder is just a shout away. And with director William Oldroyd (Lady MacBeth) in charge, shocking ensuing drama heats up the placid winter snow scenes.
The characters are indelible, and Eileen is the perfect protagonist. The world is against her and a femme fatale exploits her too. McKenzie excels as the quintessential blue-collar worker. Hathaway, with her wickedness, steals the movie. Her best performance ever. Cars, clothes and sets replicate 1960s New England. The musical playlist includes '60s gems like "How Glad I Am," by Nancy Wilson. What's on view has the period feel of a Todd Field movie but takes bolder and more outlandish risks.
Fair Play (***) Love and hate are so close in this rom/dra/thr that sometimes they're indistinguishable. Writer/director Chloe Domont deftly sets the time, place and atmosphere. The relationship between two aggressive hedge fund analysts (Phoebe Dynevor and Alden Ehrenreich) implodes and explodes over a job promotion. The icy mood in their office is scary and tense. Adding to that troubling energy is an eroticism that mixes work and play. How stressed do things get? One lover warns: "If I can't make you cry, I'm gonna make you bleed."
Examining the evils of corporate culture has been done before (The Wolf of Wall Street). But this time, a twisted feminist perspective adds fresh verve. It's tough to guess who will win and if winning is worth it. Very focused performances from the two leads. What passes off in the beginning as just another office romance becomes increasingly cruel. Just the way it was intended to be.
Fairyland (**1/2) Sweet, melancholic recollections of her gay dad and upbringing filled the pages of Alysia Abbott's 2013 memoir. Anecdotes describe a child growing up in a Bohemian atmosphere in 1970s San Francisco and how a communal approach to child rearing affected her. Scoot McNairy (C'mon C'mon) plays Steve, the low-key father, as a mildly compelling figure. Emilia Jones (Coda) as the teenage and young adult Alysia is a bit more engaging, especially as the daughter builds the courage to confront and forgive her dad.
Writer/director Andrew Durham captures the feel of a party-central S.F. when nonconformists permeated the city way before the tech industry arrived. When Aylsia becomes a caregiver for her AIDS-strickened father the film finds its heart. Aylsia: "Maybe it's not a good day to go out." Steve: "I should update you with my prognosis—there aren't any good days." The script needed more raw emotions. The kind that surfaced when a deadly plague decimated thousands. Still, a very touching remembrance of a time, place and loved one.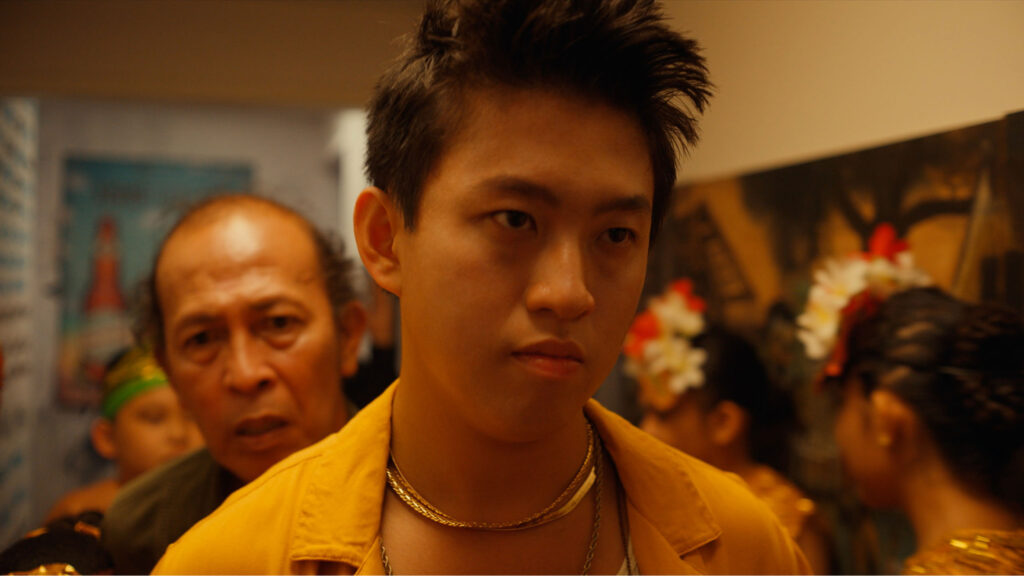 Jamojaya (**1/2) Battles between cultures, generations, family members and music biz partners rage in this record industry drama. James (Brian Imanuel Soewarno aka Rich Brian), a young Indonesian rapper, comes to Hawaii to do an album and kickstart his career. Michael (Henry Ian Cusick, TV's Lost), his new and very patronizing American manager, is bent on controlling him and steering him away from his helicopter dad (Yayu A.W. Unru). The father, who is James' former manager, clings tight. It's a fight. A test of wills that blocks the musician's future.
Credit director/writer Justin Chon (Gook) and co-writer Maegan Houang for the unusual premise and unique plotting that focuses on the clash between Asian and American values. The dad's clawing attempts to stay in his son's life are awkward and embarrassing. A testy father/son dynamic crescendos into a blowout confrontation that the two actors milk like pros. James: "You're a f—ing leech." The first 45 minutes seem slow. The last 15 reward audiences for their patience. Nicely made for a low budget film with only a few sets. Any filmmaker who adds Billy Holiday's "Strange Fruit" to a playlist filled with rap music is thinking out of the box.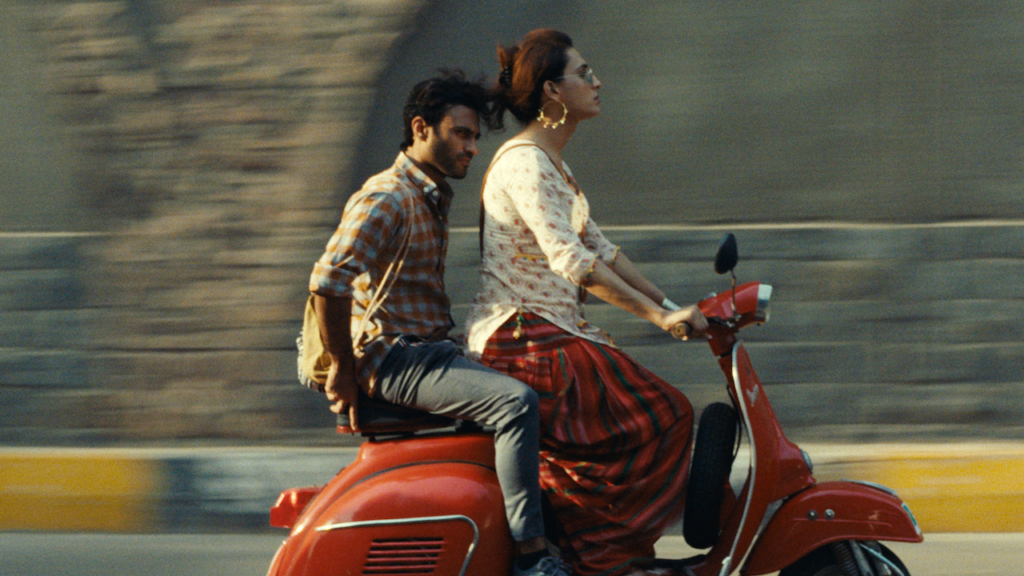 Joyland (****) Love runs amuck and askew in this fam/rom/dra set in a multigenerational home in Lahore, Pakistan. A wheelchair-bound patriarch rules over his two married adult sons. The youngest one, Haider (Ali Junejo), is the household's unappreciated servant. Then one day, he finds a job as a backup dancer at an erotic Bollywood-type theater. The sultry Biba (Alina Khan), a trans woman performer, is his boss. Haider's adaptation to a new career and love interest changes his world. Lies, charades, sibling rivalry, unfulfilled dreams and nosey neighbors abound. Old-world mores and modern times clash in a very engaging narrative.
As a director, Saim Sadiq knows when to pause, barge ahead, shy away, romanticize and be totally outrageous. Sadiq and cowriter Maggie Briggs' winsome script lets the familial, marital and work dramas play out to their zeniths. Junejo exhibits the right amount of naiveté and courage. Rasti Farooq, as his dreams-deferred wife Mumtaz, excels. The musical score adds sweetness and mystery. All visuals look inviting due to Joe Saade's tasteful cinematography. When a heartwarming family story unearths hidden desires and breaks new ground it's a winner.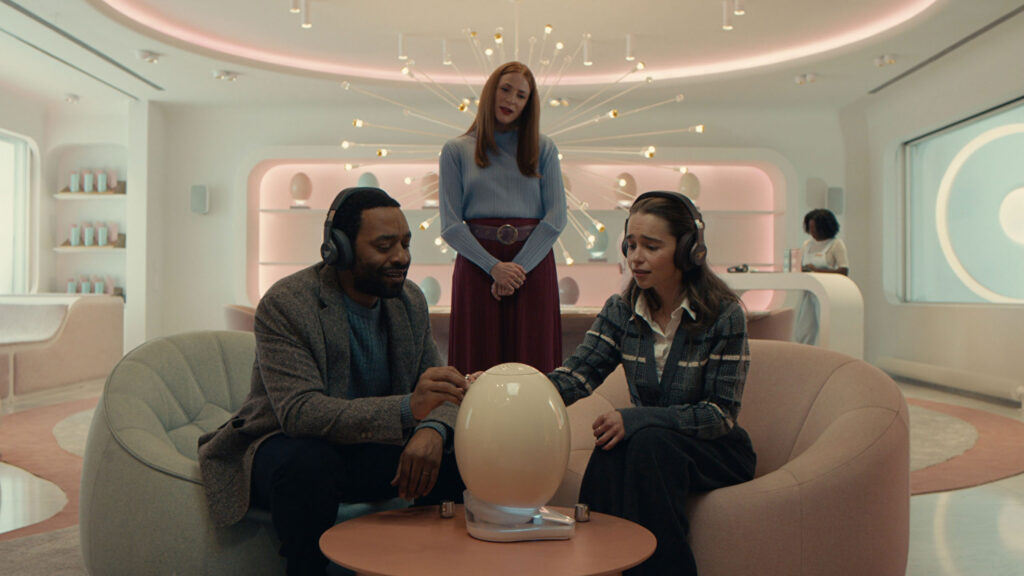 The Pod Generation (**1/2) The hegemony of big business and modern technology over human connections is the central theme of this futuristic parable. Rachel (Emilia Clarke) and Alvy (Chiwetel Ejiofor) live in New York and yearn to have children. She wants to do her pregnancy artificially, using a pod that will develop their embryo into a baby. The Womb Center she frequents is run by a cold conglomerate named Pegazus. What could go wrong?
The script (writer/director Sophie Barthes) takes a good swipe at how the tech world's dominance and big biz have obscured our most basic functions. It's a ploy that wears thin at times. Fortunately, Alvy, a botanist, fights for nature and his quest breaks the film's coldness. The satire peaks when dad frustratingly tries to assemble a baby pod carrier. It's like the trauma parents feel when installing an infant car seat. Actress Rosalie Craig gives a chilly performance as the Womb Center director who reminds the couple that they don't own the pod their baby is in. Pegazus does. Is that cause for alarm? Yes! After Yang did this theme a tad better. But The Pod Generation scores its own points.
For more information about the annual Sundance Film Festival go to: https://www.sundance.org/festivals/sundance-film-festival/about.
Visit NNPA News Wire Film Critic Dwight Brown at DwightBrownInk.com.