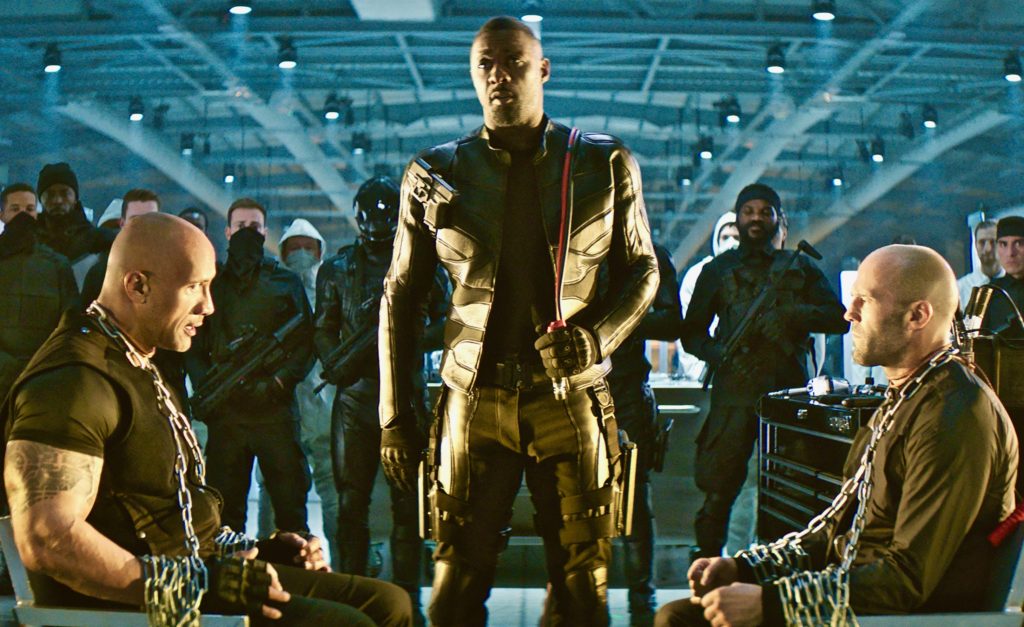 So, what's the big difference between the normal Fast & Furious franchise movies and this new spin-off? Well, when Hobbs & Shaw digs into the old F&F trick bag, it's as good as the real thing. When it reverts to Dwayne "The Rock" Johnson's brand of far-fetched action movies (Skyscraper), it's an inferior project—but not entirely bad.
Initial scenes, involving a stolen virus that can destroy humans, set a storyline in motion that carries the film for 2 hours and 15 minutes. Usually the first two acts of action films are slow, and the last act revs up to a cataclysmic frenzy. Oddly, with a script by Chris Morgan (The Fast and the Furious: Tokyo Drift), the first two-thirds of this production are far more fascinating and dynamic than the very routine last third, which dwindles into action-genre schtick.
Parallel stories in London and the U.S. unfold and follow former British military elite operative Deckard Shaw (Jason Statham) and the American Diplomatic Security Service (DSS) lawman Lou Hobbs (Johnson) going about their daily lives. One is a stiff-neck, anti-social loner and the other an affable, always-smiling single father. It's hard for either men to believe they will ever have to work together toward a common goal. But they will.
As the duo reluctantly takes on their assignment, stopping the potential spread of a deadly contagion, they trash talk each other unmercifully, like Floyd Merriweather and Conor McGregor hissing before a boxing match. Their banter is vile, bitter and funny as hell. Johnson and Statham should thank the script's chuckle-filled graphic dialogue for giving their performances a boost, or pat themselves on the back for their wicked adlibbing.
Also up for accolades is the extremely tight editing (Christopher Rouse, The Bourne Supremacy), which in the film's first two sections is about as precise as a surgeon's scalpel. The musical score (Tyler Bates, John Wick: Chapter 3 – Parabellum) kicks the proceedings up into high gear, as does the pop/urban/hip-hop playlist—and all of it evokes that F&F cooler-than-thou vibe. The cinematographer (Jonathan Sela, John Wick) shoots the action sequences with a great vigor, lights all the various complexions perfectly and infuses a color that is as rich as can be.
Most of the F&F films, in the past, were based in reality. Meaning, no one flew through the sky on their own. Why? Because it would be so fake. The villain in this chapter, a cyber-genetically enhanced anarchist named Brixton Lorr (Idris Elba), has characteristics that are not human and rides a shape-shifting motorcycle fueled by CGI. As the footage heads to its finale, Hobbs, with the strength of a couple of Clydesdale horses, tethers a helicopter to a truck. Really? This is a departure from the norm. Reality becomes a stepchild, and fantasy the favorite son. That may not be what F&F purists signed up for, but they may not care.
There's a part of filmmaker David Leitch's talent that helped him direct the superbly styled, ultra-violent and very kinetic Atomic Blonde. There's a weaker part of his skillset that led him to direct Deadpool 2's lame, stagnant and poorly-staged ending. For Hobbs & Shaw, the astute Leitch hypes the action in quick doses, ups the clever violence and makes the wicked banter a joy to hear. The less than astute Leitch over-extends scenes toward the film's end and lets them wallow in frivolous fantasy. It's as if his good angels and bad angels collide.
Johnson and Statham have a chemistry that's similar to two loud drunken patrons just before a bar brawl or frat guys hazing each other. They are completely brazen and charming. Elba, as the evil cyborg who is after what they want, hands in one of the most focused and character-appropriate performances he's ever done. The three alpha males shine.
Vanessa Kirby (The Crown), as rogue MI6 agent Hattie, is an equal badass. Helen Mirren as Shaw's mom and Eiza Gonzalez (Alita: Battle Angel) as Madam M fill out a supporting cast that includes surprise guest appearances by two scene-stealing actors.
One of the best lines in the film comes from a Samoan man who stares down his enemy and scowls: "Look into my eyes. I want to be the last thing you see before you die." Unfortunately for the audience, the last things they'll see before they leave the theater are near-laughable action scenes. But if they remember back to the beginning and middle of the movie, when the aura of Fast & Furious clung over every ultra-hip, violent and irreverent scene, they will walk out the exit doors with smiles on their faces.
Visit NNPA News Wire Film Critic Dwight Brown at DwightBrownInk.com and BlackPressUSA.com.