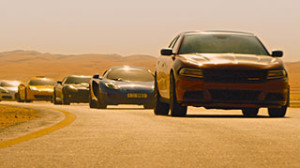 By Dwight Brown NNPA Film Critic
Walking into a theater to see the latest Fast & Furious episode is like saying hello to an old friend. Great and familiar cast, excellent script, superb production values and the direction is tight as a drum. Can't say this is the best film of the franchise, because so many of them have been excellent. But it's easily the most daring. Fasten your seat belts and test the airbags. This one accelerates real fast.
Deckard Shaw (Jason Statham), a British black ops assassin, has a bug up his ass. Dominic Toretto (Vin Diesel) and his crew killed his brother and he is out for revenge. First stop is the office of CIA agent Luke Hobbs (Dwayne Johnson), where Shaw and Hobbs get into a fight that leaves the hulky agent broken. Next, Shaw sends his blessings in the guise of a bomb to Dominic, his pal Brian (Paul Walker), his lady Mia (Jordana Brewster) and their kid. Kaboom!
Dom seeks answers. A government operative (Kurt Russell) has a plan. If Dom and his "family" hunt down a beta device called a God's Eye, which is capable of tracking down anybody through aggregated surveillance cameras and audio feeds, even from cell phones, he'll let them use it to catch Shaw. Says the operative: "It's like a tracking device on steroids." Says its inventor, Ramsey (Nathalie Emmanuel): "It uses every camera eye and audio device in this hemisphere." And off they go, into battle. Dom and his crew and their vehicles head to the mountains of Eastern Europe, Japan, the Middle East and L.A.
Director James Wan (Saw and The Conjuring) steps up to the camera along side cinematographers Marc Spicer and Stephen F. Windon (Fast & Furious 6) and displays an exceptional dexterity for car chases, fistfights and brawls. He uses a lot of close-ups, and that filmmaking strategy drags you into the characters, their actions and the movie. With the aid of editors Leigh Folsom Boyd, Dylan Highsmith, Kirk M. Morri and Christian Wagner, Wan assembles adrenalin-pumping footage that is near perfectly paced for 140 minutes. The action sequences are spellbinding. Cars jump out of planes, roll down mountains, are pummeled by missiles and skid through buildings. The car crew jumps out of moving trucks onto cars, drives super charged classic cars and evades gunshots. Punches are thrown, tire irons swung and machine guns are wielded around like toys. There is a precision to the proceedings that is astounding, invigorating and over-the top.
Screenwriter Chris Morgan, who penned four previous chapters, knows the drill. Personal drama (there are some awkward sentimental moments that linger too long), romance (Diesel and Michelle Rodriguez rekindle the love story between Dom and Letty), intrigue, revenge, evil doings, retribution and the final fight and chase scenes. He doesn't let the characters evolve much, compared to the originally one conjured by Gary Scott Thompson back in 2001. He's more faithful to their personalities, relationships and group dynamics. There are millions of fans waiting for whiney Roman (Tyrese Gibson) to crack jokes and Tej (Ludacris) to have a tech solution for a problem, and Morgan doesn't disappoint.
The direction, production elements and writing wouldn't mean a thing if the cast wasn't on their game, and they are. They've aged; fuller faces, softer muscles, and maybe they've slowed down a step or two. Diesel is laconic, strong, the alpha. Johnson has his customary bravura. Rodriguez has that perfect blend of strong Latina and vulnerable woman. Statham is a worthy villain. Kurt Russell is a welcome addition. If you didn't know that Paul Walker had passed, you couldn't guess from what's on view that his acting, stand-ins, his brother and movie magic filled out his entire role in the movie. It's easy to see that this film is a homage to his spirit.
This spring when you walk into your theater to see Fast & Furious 7, you will walk out thinking you just saw the first blockbuster event movie of the summer-only it isn't summer yet.
Wanna go for a ride?
Visit NNPA Syndication Film Critic Dwight Brown at DwightBrownInk.com