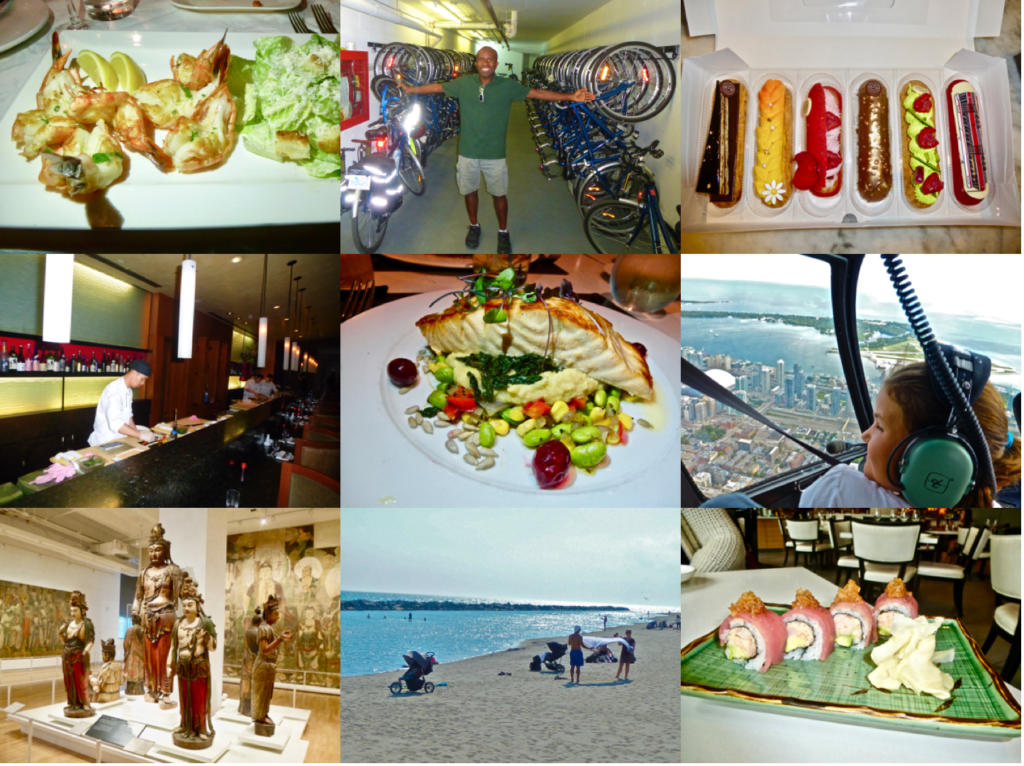 For 43 years the Toronto International Film Festival has been the epicenter of the film industry. This year at TIFF, 500,000 filmgoers previewed the highest quality films in the world before they are shown at their local theaters.
Many movie lovers come to Toronto, home to 2.5 million people from 200 distinct ethnic backgrounds, for a multicultural "film festival vacation." In-between premieres and mingling with celebrities on bustling sidewalks, they wine, dine, shop, sightsee and have fun. You can too.
Royal Ontario Museum–- Put on your walking shoes and get going. The Royal Ontario Museum at 100 Queen's Park was founded in 1914. Among the top 10 cultural institutions in North America, Canada's largest and most comprehensive museum is home to a world-class collection of 13 million artworks, cultural objects and natural history specimens featured in 40 gallery and exhibition spaces. Spiders: Fear & Fascination displays everything you would want to know about the creatures, with samples, demonstrations and a bright yellow robe made from spider silk. The Iris van Herpen: Transforming Fashion exhibit features the Dutch fashion designer's space age, non-conformist dresses that are often made from 3-D printing, whale bones and synthetic boat rigging. They're the kind of attire Labelle,  Grace Jones or Lady Gaga would wear. Permanent Galleries attract visitors all year long: Shreyas and Mina Ajmera Gallery of Africa, The Americas, and Asia-Pacific; Patricia Harris Gallery of Textiles & Costume; James and Louise Temerty Galleries of the Age of Dinosaurs.
Miku-–The Ningenmi philosophy is the cornerstone of Miku, an extremely innovative Japanese restaurant that is just a stone's throw away from the Toronto Harbour. Their mantra is "finding joy in one's life by bringing joy to others." Walk in the front door and the staff greets you a very welcoming hello. The restaurant's signature style of cuisine is 'Aburi,' which applies a flame to sushi, and that heat intensifies the sushi's flavor. If you know people who are squeamish about eating raw fish, this technique should calm their fears while giving them the kind of cuisine they will remember for a lifetime
Let the chef make all the hard choices and try the Kaiseki tasting menu: The Miku (five courses featuring a premium selection of the chef's favorite menu items with a sake pairing) or the Aburi (a unique kaiseki experience produced by the chef exploring original flavors).  Expect Aburi Oshi Sushi to be an integral part of these menus: Ebi Oshi Sushi(pressed prawn, lime zest, ume sauce), Salmon Oshi Sushi (pressed BC wild sockeye salmon, jalapeño, Miku Sauce). If you go it on your own, start with the delectable Miso Soup and make your main entrée the tender and rich flavored AAA Sterling Silver Prime Rib (slow roasted, wasabi brown butter sauce wild mushrooms, iwanori baked Yukon potato purée, baby carrots and broccolini). The most impressive dessert is the Warm Valrhona Chocolate Matcha Fondant. Stick your fork in it and a warm chocolate spurts out like lava from a volcano.
Nugateau – Walk around the Queen Street West neighborhood and the bohemian feel will remind you of San Francisco's Haight-Asbury or the streets of Seattle. Stop at 717 Queen Street West and you enter the gourmet eclair shop Nugateau. It's Canada's first all-eclair patisserie. Hand craftsmanship using French baking techniques with no artificial flavorings sets this bakery apart. Eyeing the selection through the showcase window tempts right away. Don't pick just one. Order a half-dozen and an assorted tray of goodies is placed in a luxurious box and bag. It's like you're buying precious jewelry at Tiffany's, but you're not. You get to eat these treasures.
These four will rock your taste buds:  Raspberry Rose Lychee (Red Crusted Eclair, Whipped Raspberry Rose Ganache, Whipped Lychee Opalys Ganache, Raspberry Lychee Gelee, Fresh Raspberries; Mango Passion (Fresh Mango Compote, Mango Cremeux, Whipped Valrhona Passion Chocolate); Romeo: Praline (Azélia & Hazelnut Praline Ganache, Praline Glaze with Chopped Hazelnuts and Praline Grains); L'Opera (Caraïbe 66% Chocolate and coffee Cremeux, Almond Sponge, Coffee Buttercream, Caraïbe Ganache.)
Toronto Island Park–- One of the most surprising and appealing tourist attractions in Toronto is its Toronto Islands. This 570-acre string of small isles (a former peninsula) is about a mile off shore in Lake Ontario. Back in the 1800s, Toronto's wealthiest gentry built summer homes here. The islands became a mini Las Vegas during Prohibition in the '20s. A movie theater, bowling alley and hotels were destroyed by hurricane Hazel in the '50s, and the land later became a national park with some residences. Canadian geese, deer and mink roam around.
Ward's Island and Island Park were developed as resort communities. Babe Ruth hit his first professional home run at a baseball stadium here, originally built in the early 1900s. These days you can take a sightseeing boat ride — you'll get the best view of the Toronto skyline through the glass ceiling — to these car-free islands where locals and visitors alike dine at outdoor cafes, sunbathe on beaches (including a nude beach), see fountains and view Bill Bishop Toronto City Airport. Rent a bike for $7 per hour and take a tour.
Toronto HeliTours A free ferry service from the Foot of Bathurst Street takes you on a short ride to the  Billy Bishop Airport on one of the Toronto Islands. The airport is where Toronto HeliTours offers 6 to 14-minute sky-high rides that give you an eagle's panorama of the downtown core. The helicopter lifts off like a feather before it flies around the downtown area and swirls around CN Tower, where you can see the CN EdgeWalkers trekking around on the roof (see CN Tower paragraph below).
Also, the Rogers Centre stadium (home of the Toronto Blue Jays baseball team) comes into view. This is a perfect trip for families and the kids will have a very unique contribution for their show and tell at school with the photos they can take from the front seat of the helicopter.
CN Tower –The stately looking CN Tower defines Toronto's skyline as its needlepoint architecture rises 1,815 feet into the sky. Dubbed one of the modern  Seven Wonders of the World by the American Society of Civil Engineers, this hollow, concrete, oatmeal-colored, hexagonal pillar is crowned by a metal broadcast antenna that emits TV and radio signals. If you're looking for an extreme urban adventure, for $225 (plus tax) you can get tethered to the tower and walk around the edge of the roof of the CN Tower's restaurant, which is 1,168 feet above the ground! It's a 20- to 30-minute outdoor walk that gives you bragging rights and membership in the lofty EdgeWalkers club; you get a keepsake video, photos and a certificate of achievement.
If you aren't so adventurous, wait until dinnertime and get a meal and panoramic city view indoors, at the Tower's 360 Restaurant. The circular, rotating room with floor-to-ceiling windows gives you a constantly changing expansive view of downtown, Lake Ontario and beyond. The Prix Fixe Menus offer two-course and three-course options. Choose the Bison Tartare (Cracked juniper and mustard seed aïoli, wild blueberries, beet chips). For a main course, the Atlantic Salmon Fillet is just fine. Dessert should be the Dark Chocolate Tower (Dark chocolate caramel fractals, whipped coconut cream, maple sugared strawberries). On your way out visit the LookOut and Glass Floor levels, which have glass floors so you can look down to the ground.
 Ki Modern-–Arguably, KI Modern is one of the best Japanese restaurants in North America. It sits at the base of the soaring Bay Wellington Tower. The clientele consists of fancy businesspeople, young hip white-collar workers and tourists who like fine cuisine, tasty sake and Japanese beer like Asahi 'Super Dry.' The cozy sushi bar features comfortable wingback chairs and provides a very intimate dining experience. Or you can sit at one of the many private booths for a more intimate atmosphere.
The four-star service makes you feel like royalty. Select the Seaweed Salad as a beginning, then transition to the Ginger-Glazed Canadian AAA Striploin Cubes skewers. Take a rest and try the Bistro Shrimp Tempura with spicy wasabi-garlic cream dip or Tobiko Flying Fish Roe. Then dig into the simply seasoned and oh so mouth-watering Striploin with yuzu-szechuan peppercorn rub + umeboshi shiso peppercorn sauce. End dinner with the Matcha Cheesecake.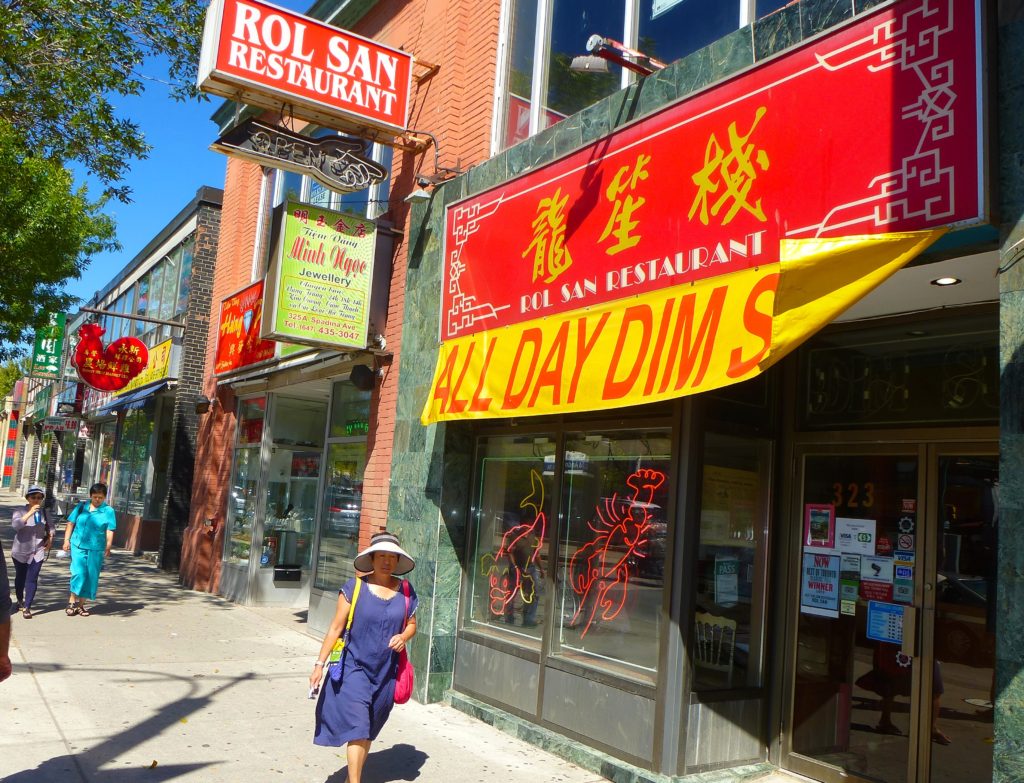 Toronto Bicycle Tours-– Under the guidance of owner Terrence Eta, Toronto Bicycle Tours takes customers on two-wheel rides all over the city. Whether you're a Tour de France champion, a bike novice or even bike-phobic, you'll feel at ease on any of TBT's eight scheduled tours. Their "Heart of Downtown" tour, affectionately known as "Toronto 101," is perfect for getting a feel for Downtown Toronto. Says Eta while starting the tour in Chinatown: "Toronto is the fourth largest city in North America by population (2M+). The original Chinatown, near Spadina Avenue, is the oldest and dates back to the late 19th century."
The Kensington Market neighborhood was first populated in the 1920s by Jewish refugees from Europe. Due to their need for kosher food and longing for items from their homelands, the market rose around their neighborhood with kosher food stores, tailors, bakeries, synagogues. These days there's a very casual, multicultural feel here, with Asian-run fruit and vegetable stands, taquerias owned by Latin immigrants that feature a variety of empanadas, international cuisine at the small intimate restaurants on Baldwin St. and sidewalks filled with college students. TBT's "Twilight" and "AM" tours to the Toronto Islands include a ferryboat trip, visiting the Gibraltar Point Lighthouse, the Royal Canadian Yacht club, the park and beach.
La Fenice—Executive Chef Luigi Orgera opened this Italian eatery back in 1984 on King Street West just cross the street and down the block from TIFF Bell Lightbox, the Toronto International Film Festival's home. Rich virgin Italian olive oils and cheeses are coupled with fresh local produce and provide the foundation for the delectable foods. After Orgera passed away in 2000, his daughter Rita and her husband Executive Chef Rocco Fosco took over the family business and have maintained his high standards.
Jump into the appetizer Calamaretti Positano(Sautéed Squid, Spicy Tomato Sauce, Garlic & Chili Peppers). For a pasta course you can't go wrong with Fettuccine con Ragu di Vitello e Funghi Porcini (White Veal Ragù, Porcini Mushrooms, Parmigiano-Reggiano). Top it off with a dessert of  Chocolate Raspberry Tartufo (Creamy Rich Chocolate Ice Cream with a Raspberry Ice Center).
Sheraton Centre Toronto Hotel–The Sheraton Centre Toronto is a perfectly located hotel on Queen Street West just across from Toronto's City Hall, which sits in Nathan Phillips Square. Many of its 1372 guest rooms and suites that ascend up 43 floors have spectacular views of Lake Ontario and the CN Tower. For people on business trips, families on vacation, or couples having a romantic weekend away, this hotel offers a variety of very special amenities. Tours to Niagara Falls and around town pick up guests at the front door. If you want to stay fit on your trip there is the largest hotel gym in Toronto on the 3rd floor and a near Olympic-size indoor/outdoor swimming pool. You start your laps inside by the seasonal pool bar and BBQ grill, and swim out to the garden area that is adorned with lounge chairs.
TIFF is the most fan-friendly film festival in the world. Torontonians and visitors from around the globe gather, interact and pack the theaters to screen world premieres with other filmgoers with very sophisticated tastes. Add in sightseeing, touring, top tier restaurants, eateries and museums and Toronto becomes a destination vacation with a full plethora of choices. Come for TIFF.  Stay for the city of Toronto.
Visit travel writer Dwight Brown at www.DwightBrownInk.com.