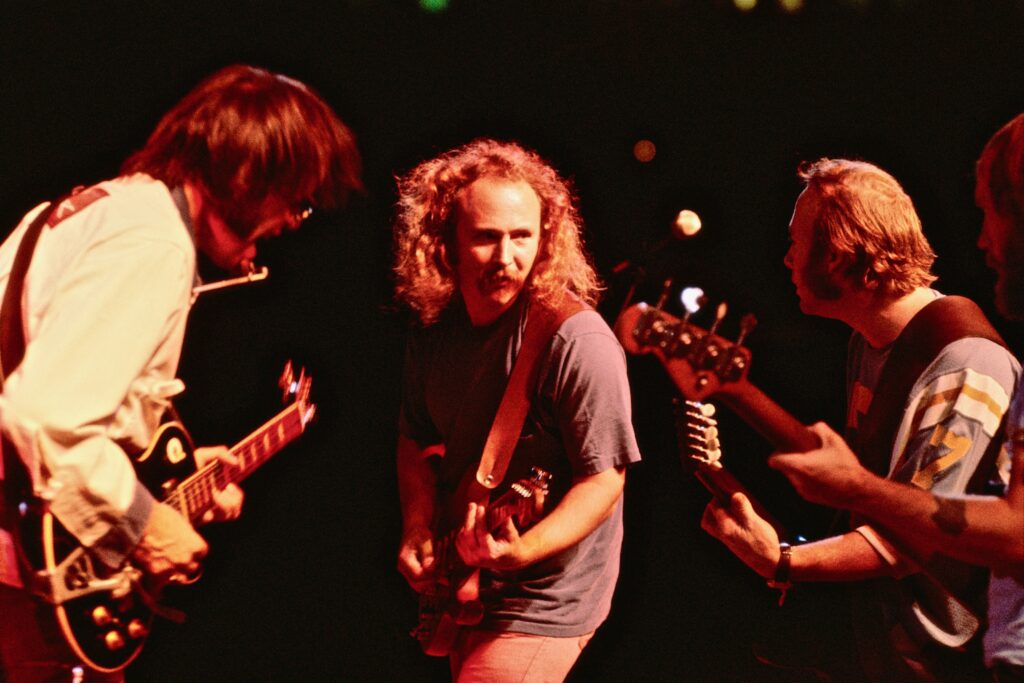 David Crosby's tenor voice is so angelic, it's hard to believe that he was the most antagonistic member of the band Crosby Stills Nash & Young. But according to his own self-reflection, he wasn't always such a nice guy.
Crosby wasn't the most popular member or highest record seller of CSN&Y; that would be Neil Young. Didn't have the most soulful voice; Stephen Stills. Wasn't the most affable; Graham Nash. So where does that leave him? Why would anyone want to see a documentary about a spoilsport who's a member of a group that doesn't even tour anymore?
A few good reasons: He's the musician who composed the timeless ethereal rock album "If I Could Only Remember My Name." It's a dreamy, hypnotic sketchy collection of riffs, chants and songs—some with no words. Nearly 50 years later, the album is just as haunting, contemplative and stylistically beautiful as it was when it hit the charts in 1971. He's the guy who consumed a mountain of drugs and survived near-death health scares. (Keith Richards and Crosby share the same guardian angel). Also, if you want the real scoop on America's first superstar rock group and the Southern California music scene of its era, he's the one who will tell all.
Director A.J. Eaton and producer/interviewer Cameron Crowe (Oscar winning screenwriter Almost Famous) bring various aspects of Crosby's life, relationships and musicianship to light with photos and archival footage. They also focus their camera (cinematographers Ian Coad and Edd Lukas) firmly on him, asking tough questions that would flummox many, but Crosby answers them without hesitation. He exposes the core of his existence with a surprising and fearless candor.
What's up for grabs? His strained relationship with his father. The genesis of the bands The Byrds, CS&N and CSNY. Affairs and friendships. Alignments with other famous musicians (Joni Mitchell, Jerry Garcia, Grace Slick,). Hepatitis C, diabetes and a liver transplant. Drug abuse, prison, rehab and very raw talk about addiction: "First time with heroin, you feel exalted. After that, you're always trying to catch up. It's never the same."
Other highlights of the doc include: CS&N doing one of their first performances ever at Woodstock, terrified as hell. Young and Crosby writing the classic anti-establishment song "Ohio" moments after the Kent State Massacre: "Tin soldiers and Nixon's comin', We're finally on our own, This summer I hear the drummin', Four dead in Ohio."
Crosby doesn't mince words. Doesn't keep secrets. He acknowledges that his grating personality, political/social rants and friction with band members have cost him dearly. He's even blunt about why he still tours as a solo act: "I tour because I love to sing," he boasts. Then he admits that because CSN&Y doesn't perform anymore, he's short on money.
If you didn't know anything about David Crosby, and you screened this doc cold, you'd still be impressed by his turbulent life, high-standard of musicianship (Coltrane was his idol), legendary career and counterculture-turned-conventional love life.
You'd be fascinated as you watched a young rebellious rocker age into a grumpy senior citizen. And if you heard the hypnotic sounds of his "If I Could Only Remember My Name" album for the first—or umpteenth—time, you'd be mesmerized.
Time has been very kind to David Crosby: First of all, he's still alive. Second, his voice, at age 77, is as silky and angelic as it ever was. But you don't have to take anyone's word on that. This straightforward, disarming, and evocative documentary makes that all perfectly clear.
Visit NNPA News Wire Film Critic Dwight Brown at DwightBrownInk.com and BlackPressUSA.com.