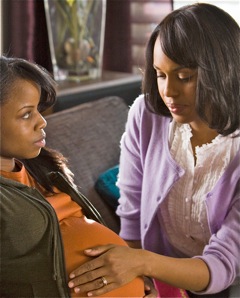 By Dwight Brown NNPA Film Critic
"When a mother bestows a name on her child, it reveals her hopes."
Black Nativity, a celebrated "gospel song-play" by acclaimed poet/novelist/playwright Langston Hughes, was first staged in the 1950s with Alvin Ailey and Carmen De Lavallade. Director/writer Kasi Lemmons (Eve's Bayou) adapts that piece into a modern, urban musical/drama where characters seek to mend old wounds and cleanse their souls. The spirit of Hughes' work endures. The music from this hybrid film will too.
A Baltimore single, working mom (Jennifer Hudson) and the teen son she named Langston (Jacob Latimore) have hit the wall. Money is tight and an eviction notice has put a crimp in their holiday season. Knowing she can no longer guarantee a roof over his head, she puts him on a bus headed north to Harlem to stay with his grandparents, from whom she's been estranged for years.
Upon his arrival, Langston is to meet the very stern and rigid Reverend Cornell Cobbs (Forest Whitaker) and his congenial wife Aretha (Angela Bassett). What should have been an easy rendez vous goes awry, and New York shows the adolescent its cruel side. He's arrested and jailed. Welcome to New York, city of hard knocks—Christmas be damned.
Turning a musical play into a viable movie is a difficult task. Kasi Lemmons' screenplay gallantly tries to mold a classic dramatic storyline involving a loving mother/son relationship, strained parent/adult child conflict and an abandoned son searching for his elusive father around show tunes. In between the drama, the cast earnestly breaks out in song. Surprisingly, the effect is jarring. It never quite blends effortlessly, like say Les Misérables. You almost wish the film had picked either drama or music,
While you question the overall format, what pulls you through the process is lively, energetic music that expresses thoughts and emotions the characters think or feel. The musical score by pop/soul singer/musician Raphael Saadiq (Precious) and co-composer Laura Karpman lifts spirits. Latimore, Whitaker and Bassett have decent voices, but it is Hudson and a cameo by Mary J. Blige that take the music and the movie to a higher level. The blend of pop, soul and gospel is absolutely enchanting and will make the film's soundtrack a holiday classic.
Bassett's take on Aretha feels a bit too theatrical for such a small movie. Whitaker is more in tune with his stern interpretation of the reverend. Hudson is sweet. Lattimore shows great strength and determination in a pivotal role. Vondie Curtis Hall plays a very wise pawnshop owner. Tyrese, as a smarmy jailbird, makes you wish he appeared in more movies. He's got what it takes.
Interspersed in the plotline are two homeless characters who wander the streets of Harlem. She is pregnant; he is a nurturing soon-to-be father. This element puts the "Nativity" in the movie, but it seems like an unnecessary device.
At the movie's heart is story of forgiveness that transcends the holidays. That's evident as the characters try to come to terms with old wounds and learn life lessons. Says Langston to his stressed mom: "You'd rather leave me here than forgive them (her parents)."
After the final credit's roll, you may not remember specific trials and tribulations for too long. But remembering the catchy inspirational tunes, like Rise Up sung by Mary J. Blige, will put a smile on your face that lasts past the New Year.
Ultimately, Black Nativity is a jubilant experience.
Verdant