Black actors, in all kinds of films, in all kinds of roles, left their mark on the 2023 Tribeca Film Festival. They starred in movies you can now see in theaters, on the Tribeca At Home app and various streaming services.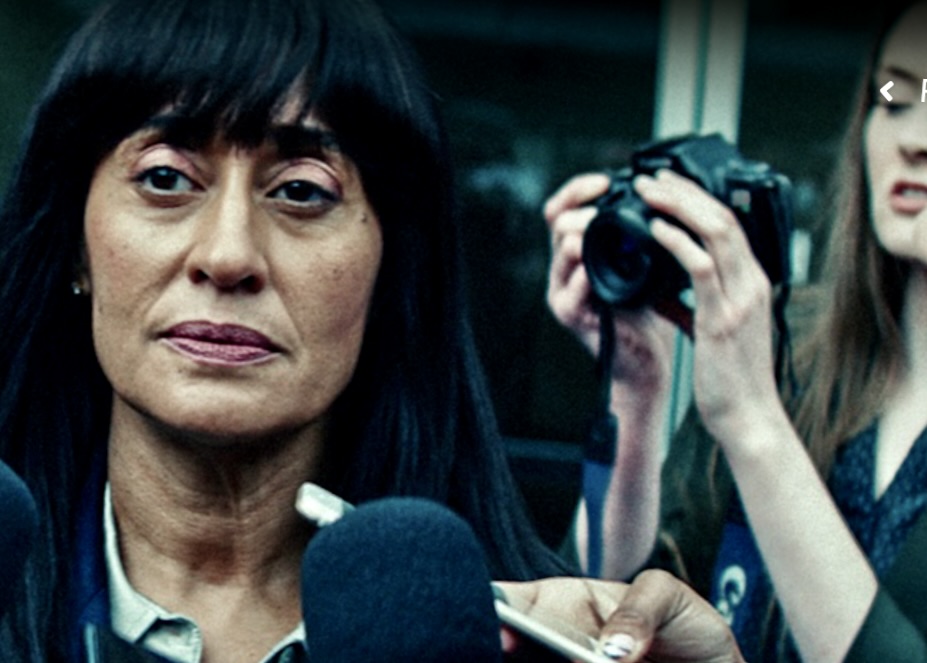 TV fans know the affable, clever and funny side of Tracee Ellis Ross. But if a part calls for her to be demonic, she's capable. Director/writer Roxine Helberg's brutal script places Ross in a tale about the smarmier part of journalism, the place where sharks swim. Diane Heger (Ross) is a lauded news reporter and professor with a heart of glass. Mia Scott (Bel Powley), a calculating and devious journalism student, cozies up to Heger, trying to become her intern. As she panders, the coldhearted newscaster verbally abuses her: "Have you ever been to a hammam (Turkish bath)? I'm not sure if humiliation sweats out—but you can try." 
Can't guess the plotline's direction or who the two leads will throw under the bus as they plot their careers. E.g., one of them interviews a teen (Jason Tremblay, Room) about his famous mother's death, without his father's permission. As the film progresses, an emotional/psychological war revs up and the venomous pair clash. Top notch production elements (cinematographer Matteo Coco; editor Arndt-Wulf Peemöller; composer Þórarinn Guðnason; production designer Tiana P. Gordon) seem wasted on the material. Entire cast is excellent, especially Powley and Ross as the vipers who must learn a lesson: "Dance with the devil and the devil always leads." No one to like. Little reason to watch. Hard to imagine a female audience being attracted to this antifeminist film. That's something the writer, director and producers should have contemplated before they shot the first scene.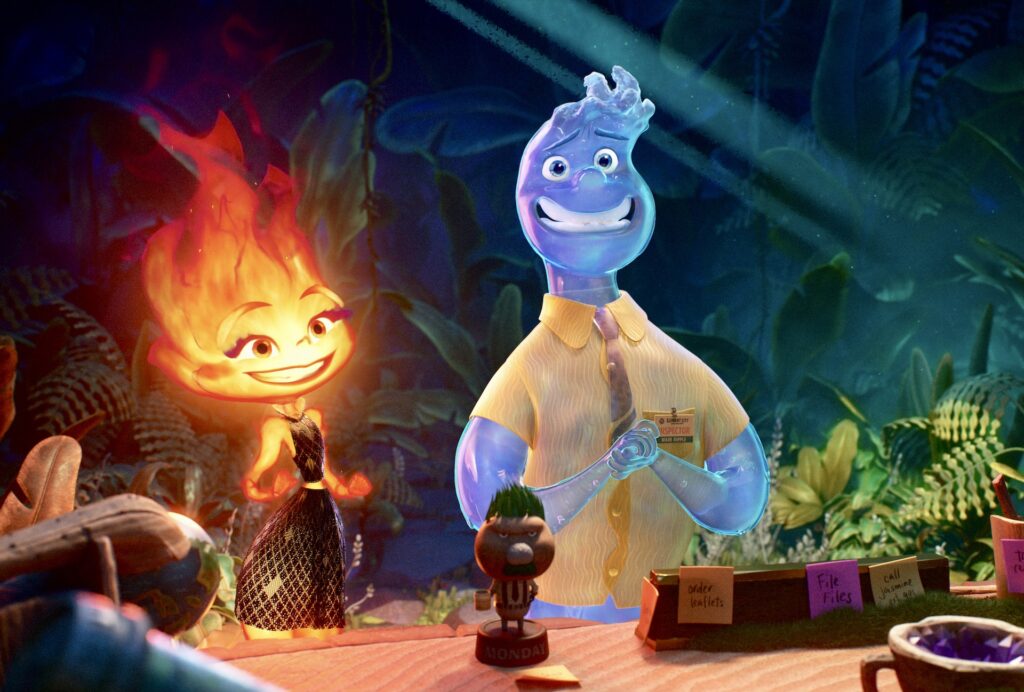 Korean/American director Peter Sohn poured his heart, soul and immigrant experience in The Bronx into this Pixar animated movie. In a thoughtfully written script, by John Hoberg, Kat Likkel and Brenda Hsueh, New York's northern borough becomes Elemental City and its divergent immigrant communities become elements: fire, water, earth and air. It's a wonderful notion that gets played out by two lost souls. Ember (Leah Lewis), a flammable type, works in her dad's store and is dismayed the day Wade (Mamoudou Athie, Jurassic World Dominion), a water meter man who's a city inspector, gives her shop a ticket. That sets off a string of mishaps, events and disasters that exacerbates tensions between the factional element communities.
This parable about love, tolerance and welcoming others is sweet and a perennial Disney theme that runs across all its platforms. Ember's fiery personality is infectious and volatile, and others coach her: "Your temper is trying to tell you something." The PG animation on view is innovative because it mimics elements and not people or animals. But not as inventive as the visuals in the frenzied Spider-man: Across the Spider-verse. Music, pacing, cinematography, direction and all the voices are captivating. The romance, comedy and drama blend well. Entertainment factor is high but not the highest. The 1h 49m length and complicated plot may challenge the attention spans of the targeted little people audience. A movie that encourages kids to be open-minded needed to be laid on our culturally divided doorsteps. Peter Sohn should take a bow.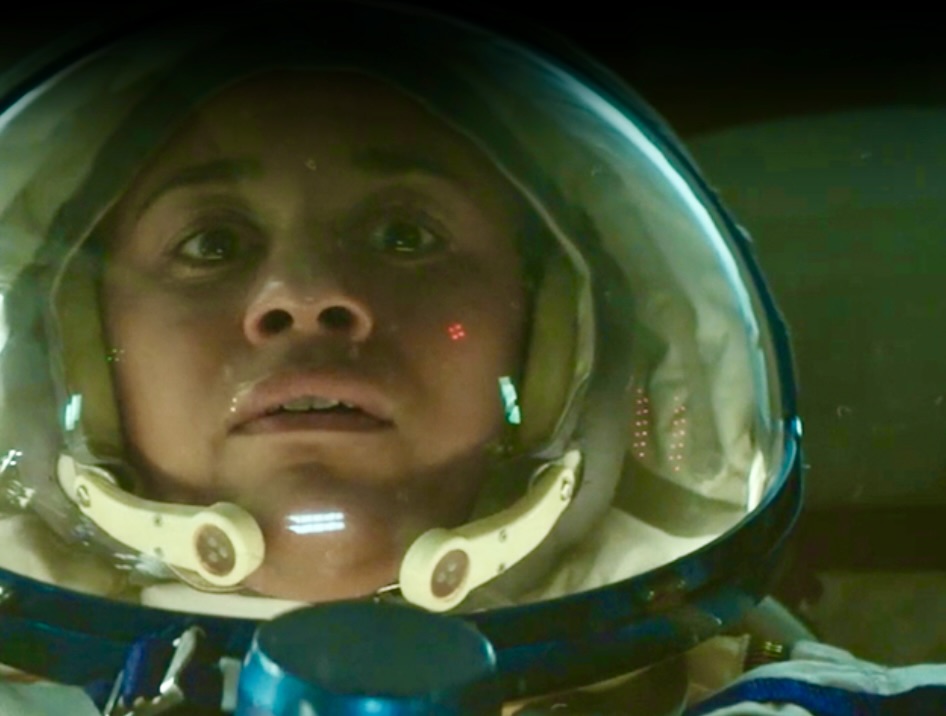 This gripping sci-fi/dra/thr holds attention from the moment astronaut Dr. Kira Foster (Ariana DeBose (West Side Story) enters the International Space Station. 
She's welcomed by fellow Americans Gordon (Chris Messina, King Richard) and Christian (John Gallagher) and introduced to Russian astronauts Alexey (Pilou Asbaek), Nicholai (Costa Ronin) and the other women at the station Weronika (Masha Mashkova).
That unique beginning of Nick Shafir's imaginative script pans out well. Director Gabriela Cowperthwaite takes that seed and develops it into a film that mixes suspense, drama and sabotage into a thrilling survival story.
The setting is claustrophobic. Messages from earth, which is aflame, push the crews into doing hostile things to each other. That creepy, uneasy dynamic doesn't dissipate until the movie ends. It's written like a play with movement that focuses on building the characters and not the action sequences. So, when there is an indiscretion, fight or attempted murder it's extremely intense. Like people making crucial decisions in a lifeboat that's sinking and suddenly someone gets pushed overboard.
On a small budget, Cowperthwaite makes a movie with as much gravitas as a blockbuster (Gravity). The actors establish comradery early on, as the jovial chatter turns into mistrustful accusations. The performances push the dread factor up to high levels that will fray nerves. Nick Remy Matthews' fluid camera work is as effective as Anne Nikitin's score and Colin Patton's precision editing. Very heady. Very scary. With U.S. Russian relationship on thin ice these days, this scenario hits close to home. Brilliant.
When you sign up for gay marriage, is there a clause that says what to do about a gay divorce? Lacking a blueprint for how to proceed, director/writer Bill Oliver and cowriter Peter Nickowiotz create a scenario that shows the way. Gabriel (Billy Porter), an unemployed actor (redundant?), has made a life with his husband of 13 years, Nicky (Luke Evans), a very successful realtor (rich). Their swank New York City life includes an eight-year-old son (Christopher Woodley). Trouble enters paradise when Gab confesses to Nick: "I met somebody. Someone I have feelings for." Oops! D-I-V-O-R-C-E.
The only unique aspect of this setup is that the two spouses are men, unlike Meryl Streep and Dustin Hoffman in Kramer vs. Kramer. It's an intriguing and contemporary hypothesis, but lots of the plot pieces don't make sense. 1.) Is an infatuation with someone else worth a divorce? 2.) Odd that the unfaithful one isn't the moneyed guy with nothing to lose. 3.) If Gab is such a financial drain, why are the two together? 4.) If Gab was a former Tony-winner down on his luck, the pairing of this gay power couple would make more sense. Instead, the couple's crybaby drama seems trumped-up. And the stilted dialogue doesn't help.
Nothing gels until the 45- minute mark. That's when the reality of divorce, separating and child custody issue sinks in. Porter and Evans pour on the heavy emotions, become quite convincing and convert skeptics. Anger, bitterness, sorrow and longing ensue, and the film finds its footing. Decent production elements abound. Supporting cast, from friends and lawyers to extended family members, fill in the cracks. Feels like you've been spying on a family that needs to learn that kids come first. The whole theme is so timely, and Nick's nephew points out the irony: "It must be hard fighting for the right to marriage then divorcing like everyone else." Evidently.
For more information about Tribeca Film Festival go to: https://www.tribecafilm.com
Visit NNPA News Wire Film Critic Dwight Brown at DwightBrownInk.com.