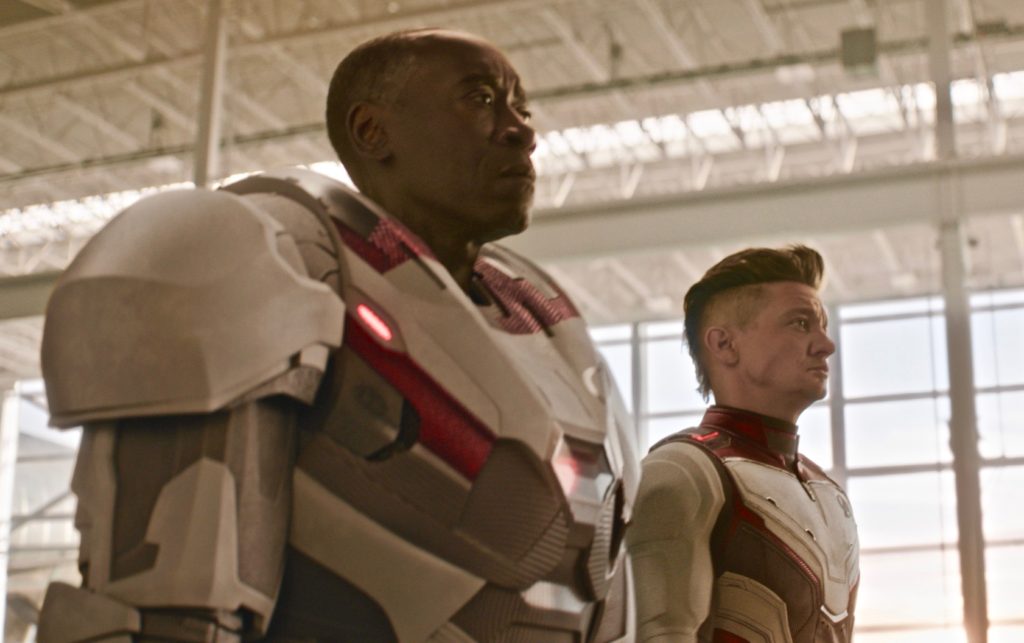 First, let's get this out of the way. Avengers: Endgame is fascinating from beginning to end. However, it is not a wall-to-wall action film. The writers (Christopher Markus and Stephen McFeely) and directors (Anthony and Joe Russo) take the time to set up and explore the characters' emotional state, develop their arcs, interlock their backstories, add a touch of cheeky humor and remind the audience how a ghastly incident changed everything.
The loss of billions of people and its emotionally draining aftermath have paralyzed the Marvel heroes. A few try to pick up the pieces: Veterans like Hawkeye (Jeremy Renner), Captain American (Chris Evans), Black Widow (Scarlett Johansson), War Machine (Don Cheadle), Thor (Chris Hemsworth), Iron Man (Robert Downey Jr.), Hulk (Mark Ruffalo), Nebula (Karen Gillan) and others.
It's been about a year since Avengers: Infinity War premiered and Marvel comic fanatics have been waiting for this reckoning ever since. Their anticipation is so strong it would be hard for any well-intentioned film to live up to their expectations. But this new, self-contained episode does. It's even more riveting than its predecessor as it heaps on the challenges and pushes plotlines forward. If admitting there's a problem is the first step to recovery, Tony Stark's (Iron Man) words mean a lot: "We lost."
Taking the time to prep the characters puts the audience deep into their mindset. When they galvanize, you understand their reluctance to experience more defeat, but want them to get it on.
Dreamy shots of the vast cosmos (cinematographer Trent Opaloch, District 9 and Avengers: Infinity War) mesmerize. An enchanting musical score (Alan Silvestri, Forest Gump) fills time and space. The costume design (Judianna Makovsky, Harry Potter and the Sorcerer's Stone) shines bright on the uniforms. Though the action scenes have been sparse for a while, you now feel that they're just around the corner. Captain America: "Let's go get this son of a bitch."
So far, you've been strung along and teased unmercifully. Subplots have been tied up, rivalries bared and vengeance or justice is on everyone's mind. The payoff has to begin. Inner and outer drama is nice, but you came here for the fireworks. Right?
The pacing (editors Jeffrey Ford and Matthew Schmidt) kicks into overdrive. The superheroes wield their magnificent powers (visual effects Dan Deleeuw, Avengers: Infinity War) sometimes on a setting that looks like the end of the earth (production designer Charles Wood), with eerie gray, black and brown tones (Ray Chan art direction). They're fearless. Mighty. One enemy warns: "I will shred this universe down to its last atom." But no amount of trash talk will stop them. Sit at the edge of your seat, keep your eyeballs on the screen and you'll be wonderstruck by the magnitude and emotion.
It's either a miracle, creative genius or both that Christopher Markus and Stephen McFeely have written a complex script that's easy enough to decipher even if you've only vaguely followed other Marvel movies. That same high caliber talent is displayed by Anthony and Joe Russo who are experts at choreographing fights, pulling perfect performances from their cast and maintaining a cohesive feel throughout. What the filmmakers exhibit is beyond the reach of most of their peers on this side of the industry. The exceptions being Ryan Coogler (Black Panther), Patty Jenkins (Wonder Woman), Christopher Nolan (The Dark Knight) and Tim Miller (Deadpool).
There isn't one standout performance in the entire cast, because the actors work together as a unit. This group accomplishment could win a SAG award for Outstanding Performance by a Cast in a Motion Picture. This big budget action/sci-fi/drama could get nominated for a Best Picture Oscar, now that a wall has been broken down by Black Panther. Also, anyone who was lukewarm about the very tepid but popular Captain Marvel movie, will now understand that the evolution of that character in that film sets up Captain Marvel for every Avengers film that will follow. She (Larson) is a breath of fresh air.
Twenty years ago, these kinds of comic book action films were dominated by white males in all the important roles. This very modern interpretation, where so many characters gather and storylines converge, includes more diversity than the United Nations and a co-ed softball team.
Marvel fans have watched and tracked around 20 movies over ten years that seemed to all lead up to this zenith. They will be dancing in the aisles. This euphoria will be shared equally by young, older, male, female, domestic and international audiences who can see a reflection of themselves in these super heroes. Box office potential? If you stand in front of a door to a movie theater that's showing this film you'll get trampled to death by the crowd surge.
Avengers: Endgame should make a lot of people happy for about three hours and one minute, solid. It's all that audiences could have possibly hoped for.
Visit NNPA News Wire Film Critic Dwight Brown at DwightBrownInk.com and BlackPressUSA.com.