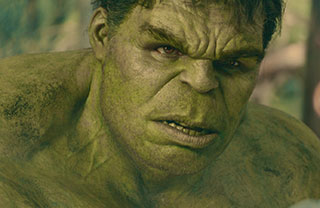 By Dwight Brown NNPA Film Critic
They're back. The chummy Marvel superheroes assemble once again to fight evil. In this case it's Ultron, a vicious technological villain hell-bent on ridding earth of human life. There is little in this film that is new, but that doesn't matter. The characters are still entertaining, the action scenes thrilling and near orgasmic, and the human relationships touching.
The crew, who nearly all have had movies on their own, are far more entertaining as a group: Tony Stark, aka Ironman (Robert Downey, Jr.), Captain America (Chris Evans), Thor (Chris Hemsworth), Natasha/Black Widow (Scarlet Johansson), Dr. Banner aka The Incredible Hulk (Mark Ruffalo) and Clint/Hawkeye (Jeremy Renner) the archer. Ultron (voiced by James Spader) is an Artificial Intelligence demon, ironically an offshoot of Stark's work. This fiend can be embodied in warrior robots that form a battalion of metal killers whose purpose is to fight the Avengers. Ultron's ultimate goal is to annihilate the world.
There was something so fresh and novel about the first Avengers movie. Imagine if Batman, Superman, Aquaman, Wonder Woman and Flash had mobilized into one army? The first film had that kind of comic book hero nirvana. This sequel lacks that kind of spontaneity, but it eventually gels. The know-it-all Stark character and his alter ego Iron Man are much more congestible paired with others who have their own egos. Captain America seems to be the conscience of the group. But in this episode, Hawkeye steps out from a supporting role and is the father figure. He also displays a sense of humor that is catchy. Thor, also usually in the shadow of Iron Man, is on his own mission. Black Widow and The Hulk court and cultivate a romance that is engagingly flirtatious. You almost wonder if they will mate and have little Widow Hulks.
The screenplay by writer director Joss Whedon is serviceable. You can decipher what is going on and who is after whom. There are enough layers of discovery to pique interests, but the plotting is not so complicated a casual viewer can't keep track of who needs to be killed, who is betraying a trust, who will rise to the occasion and where the storyline must go if mankind is to survive. There are necessary bumps along the road and some second-guessing. "Every time someone tries to win a war before it starts, innocent people die," says Captain America.
Supporting actors Sam Jackson, Don Cheadle and Anthony Mackie wait in the wings and make entrances when necessary. Of the main cast, Renner seems to steal the movie. Aaron Taylor-Jackson as the speedy Quicksilver and Elizabeth Olsen as his twin sister Scarlet Witch, who has the powers of telekinesis and telepathy and messes with people's minds, are decent add-on villains/heroes, but not all that exciting.
The technical team is up to snuff for the most part. Director of photography Ben Davis (Marvel's "Guardians of the Galaxy") production designer Charles Wood (Marvel's "Guardians of the Galaxy") and visual effects supervisor Christopher Townsend (Marvel's "Iron Man 3") make what you see on the screen an eyeful. Costume designer Alexandra Byrne ("Elizabeth: The Golden Age"), uses her thread wisely. Stunt coordinator Greg Powell ("Skyfall") gets the fists to fly in the right directions. The editors, Jeffrey Ford and Lisa Lassek make 141 minutes flash by faster than Quicksilver.
If there is a flaw in this movie, it is that the casting seems dated in this day and age. Most of the A-team cast is male; all are white. The actors who are people of color are regulated to lesser, supporting roles. Viewers get a hint that the next Avengers sequel may feature the bench-warming B-team taking center stage to play the big game. That would be a welcome and modern way to move forward.
Action junkies, who thought they would have a long break between Fast & Furious 7 and the next adrenaline-pumping movie, can relax. They will get their fill of fight scenes. The most amazing is Iron Man against an out-of-control The Hulk. They tear up a city during their brotherly spat. The finale leads to a barrage of death, destruction, peril and rescues worthy of this franchise. You will leave the theater wanting more. And in a couple of years The Avengers will return, after basking in the glow of this sure to be monster hit, to fight the good fight.
Visit NNPA Syndication Film Critic Dwight Brown at DwightBrownInk.com