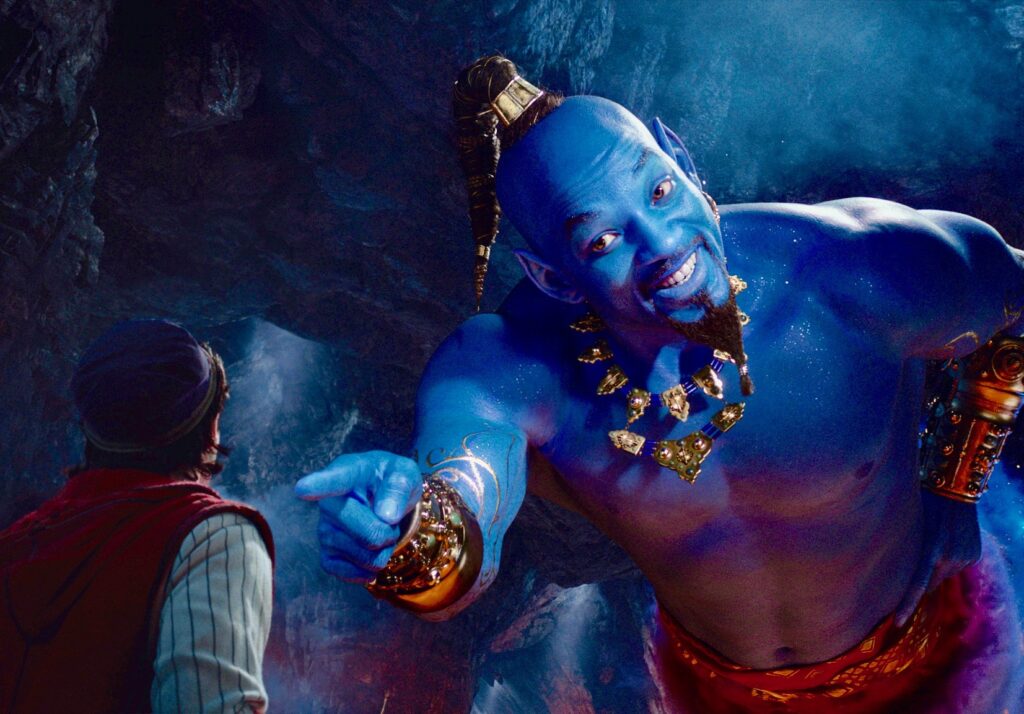 Billed as a "live-action adaption of an animated classic," the carpet gets pulled out from under this weak and formulaic production early on.
The basic story is about a poor young man who gets involved with a royal family, encounters a magic lamp and meets a genie. Purportedly, the origins of the fable come from One Thousand and One Nights, a collection of oral then written Arab and Indian folk tales that date back to the first century and have been curated ever since by various writers.
In this part of the world the most famous tales are Ali Baba, Sinbad and of course Aladdin. The latter story was not part of the first collections, and originally Aladdin was the son of a deceased Chinese tailor and widow who met an African magician who led him to the magic lamp.
Disney's 1992 animated version took place in the fictional Middle Easternish city of Agrabah. A street urchin and a Sultan's Grand Vizier (head of state) vied for the powers of a magic lamp inhabited by a genie who could grant wishes. It should be noted that white actors provided the voiceovers for the main characters who looked tan or brown.
Once upon a time in this live version: Aladdin (Mena Massoud, Tom Clancy's Jack Ryan) is a petty thief who shares his life of crime with his pet monkey Abu. One day he meets a young woman in the marketplace and saves her from an angry merchant. Unbeknownst to him, she's the Sultan's (Navid Negahban, Osprey) daughter, Princess Jasmine (Naomi Scott, Power Rangers). She'd been visiting the people of her land, incognito.
Driven by romance, Aladdin tracks his mysterious friend back to the palace, where he gets involved in a powerplay between the Sultan's cunning advisor Jafar (Marwan Kenzari, Murder on the Orient Express) and Princess Jasmine. She longs to be the next Sultan, but is not taken seriously because—drum roll—she's a woman. Fast forward to a cave, a lamp and the appearance of a blue-cloud looking genie named Mariner (Will Smith). Add in a whole lot of characters, with mediocre voices, breaking into song and that fills out the rest of the film.
With the very electric and cheeky director Guy Ritchie (Lock, Stock and Two Smoking Barrels, Sherlock Holmes) in charge you'd expect fireworks and a pinch of sarcasm sprinkled everywhere. None of any significance shows up. Instead there are a series of elaborate set pieces, with garish production design, lavish costumes and a very familiar musical score by Alan Menken, which peaks with the song "A Whole New World." No other song in the film sticks out.
Fantasy movies should warm your heart and give you chills in a dreamy kind of way. Little of that happens until the magic carpet shows up and lifts the drama. The rest of the illusions are pretty tepid. The adventure scenes (Aladdin tries to escape from cave) are routine, if not boring.
All this from a script by John August (Frankenweenie) and Ritchie that tends to stay in one lane, outside of a subplot involving class consciousness: "You can't escape what you were born into," says Jafar. Otherwise the dialogue is unremarkable, the tricks are lazy, the action is ho-hum and the rivalries shallow. The only fresh aspect is Jasmine's determination to be the next leader, which is modern and palpable.
The performances are uneven: Mena Massoud lacks leading man charisma. His voice belongs in a high school choir—and not as the soloist. Kenzari as the mean Jafar puts pizazz into his role and certainly comes off as evil. Nasim Pedrad (SNL) plays Dalia, the assistant to the princess, with a sly wit. Scott has the most beguiling singing voice, one fit for Broadway, and it's leagues above the rest.
The film needs a focal point, a character that will leave a lasting impression that distinguishes Aladdin from other musicals. Undoubtedly the producers and director were counting on Will Smith to bring a unique, stand-out touch to the pivotal role of the genie. Instead, Smith's interpretation, of the sky-blue cloud man who is forced to live in cramped quarters, wavers.
Sometimes it's campy, like he belongs in a John Waters movie. Sometimes he's informative like a teacher as he spouts off what he can and cannot do with his abilities. He can be fickle, nurturing, temperamental, accommodating and timid about using his power. That creative strategy fails to give the Genie a stable persona that is consistently fun to watch.
Also, the film starts with Smith singing, making it clear that he's a rapper and not a vocalist. The limp vocals also make the character wish-washy. When James Monroe Igelhart performed the role on Broadway and won a Tony, it was for his steady, larger-than life persona, big sing-to-the-back-seats voice and the power he displayed. He was the alpha male and scene-stealer in that production. He is missed.
There are many cringe worthy moments in this adaptation. One of the first, and most glaring, is when Will Smith utters these testicle-shrinking words to Aladdin: "You my master!" It's hard to imagine how he could read that line in the script and not demand updating or an edit.
If Jasmine can be a 21stcentury spunky interpretation of a first century princess, then Mariner should be a more modern depiction of a genie, too. If they'd cast Snoop Dogg as in the role, (it would have been fun to see him rap his way through Agrabah), it's doubtful he would have spoken those words and he probably would have figured out a clever way to make Mariner a complete badass!
Awful? No, the film is not absolutely dreadful. It's just not original or fascinating which is not a punishable offense in most states.
Visit NNPA News Wire Film Critic Dwight Brown at DwightBrownInk.com and BlackPressUSA.com.