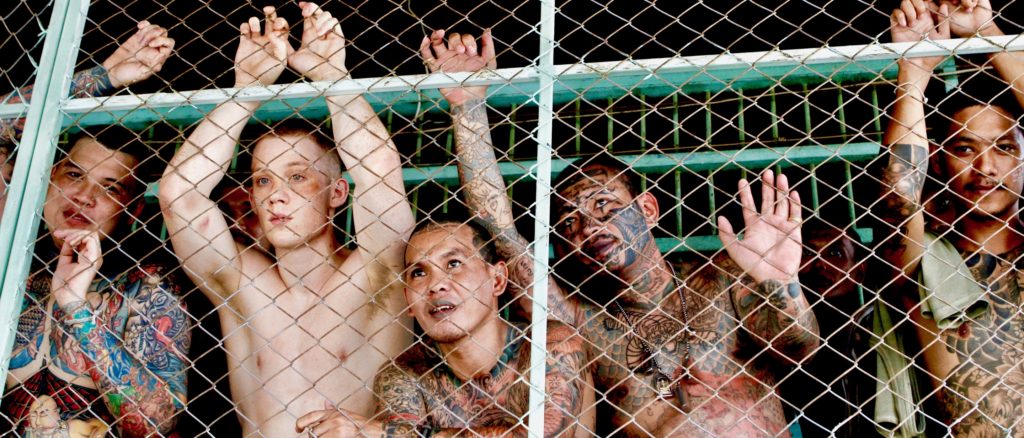 HBO's OZ set the bar high for views of prison life. Few convict TV series or movies have approached that rarified level until A Prayer Before Dawn took this twisted trip to a hellish penal institution in Thailand.
In Bangkok, young British boxer Billy Moore (Joe Cole) fights both opponents and personal demons. He has better luck with his martial arts rivals than he does with his drug of choice "Yaba" (methamphetamines), which kicks his ass.
Living the gutter life leads to an arrest and finds the powdery white-skinned young man imprisoned in Bangkok's netherworld penitentiary. He shares group cells with tatted-up brown-skinned inmates whose values have sunk to primal survival skills. The place and the prisoners are tainted with violence, intimidation, drug dealing, rape and a gang mentality that functions as a strict clan system. Billy is an obvious interloper. A target.
Seemingly no one is trustworthy. Certainly not the guards who supply and bribe Billy with drugs. Addiction stymies him. Solitary confinement is routine for major or minor transgressions. If it weren't for an intimate relationship with a transsexual inmate named Fame (Pornchanok Mabklang), he'd have no one in his corner. Billy has no reason to live or stay sober until he weasels his way onto the prison's Muay Thai boxing team.  Fighting made him a living. Fighting may be his saving grace.
The script by Jonathan Hirschbein and Nick Saltrese takes its cues from the bestselling memoir A Prayer Before Dawn: A Nightmare in Thailand, written by the real Billy Moore. The book and storyline chronicle the misdirected life of a pugilist far from home who is his own enemy. No friends. No hopes. No family in clear sight. Outwardly he boxes in cage matches that are no better than fight clubs. Inwardly he wrestles with an inner being that has no allegiance to anyone.  It comes as a surprise when he cozies up to Fame, a very delicate, sensitive and wounded person, his polar opposite.
Director/writer Jean-Stéphane Sauvaire drew international attention with his first film Johnny Mad Dog, a foray into child soldiers that was set in the Democratic Republic of the Congo and won a Prix de l'Espoir award at the Cannes Film Festival. His style in this film can best be described as "Brutal Artistic Realism." There is nothing pretty about Billy's gutter lifestyle or the animalistic behavior he encounters at a prison that is seamier than hell. Yet you can't take your eyes off the screen because the visuals are so amazing.
Somehow the camera (cinematographer David Ungaro, Black Robe) intensifies the colors (greens and browns) and the bleak interior lighting highlights the gloom. The set design (Lek Chaiyan Chunsuttiwat, American Gangster) in the prison scenes, which were shot on location in a real pen, leave a feeling of impending doom, especially the solitary confinement cage which is only waist high. The editing (Marc Boucrot) gives you little time to breath and is particularly astute at making the Muay matches intense and astonishing to watch (fight/stunt coordinator David Ismalone). The atmosphere is so authentic you can almost smell Billy's body odor.
Jean-Stéphane Sauvaire is the painter of this nightmare. British actor Joe Cole has the task of bringing Billy to life, if that's what you want to call his marginal existence. The fight sequences he endures make Stallone in the Rocky series look like a princess ballerina. If anything, Cole's mangy performance is more raw and reminiscent of Micky Rourke in The Wrestler.
There is nothing neat or tidy about the protagonist's martial arts skills. As interpreted by Cole, in each harrowing fight, it's like Billy isn't battling just to win, he's brawling for his life.  Cole expresses a fragile balance of defeatism and courage seamlessly. Even tougher for the actor is finding that right touch of vulnerability that leads the brute of a man into a loving relationship with an aloof delicate figure, played perfectly by Pornchanok Mabklang. A supporting cast of actual prisoners makes what's on view all the more riveting.
If you didn't know this film was based on a true story, and if the real, now elderly, Billy Moore hadn't made a cameo appearance as young Billy's dad, you'd think that no one could survive this horrific ordeal.
Credit filmmaker Jean-Stéphane Sauvaire for the gut-wrenching brutal artistic realism and actor Joe Cole for making Billy Moore immortal.
Visit NNPA News Wire Film Critic Dwight Brown at DwightBrownInk.com and BlackPressUSA.com.